CPI to hold protests over farmers' issues, accuses NDA govt of failing to prevent farmers' deaths
The Communist Party of India (CPI) would hold nation-wide demonstrations including picketing of central and state government offices and 'jail bharo' for three-days from tomorrow, over farmers issues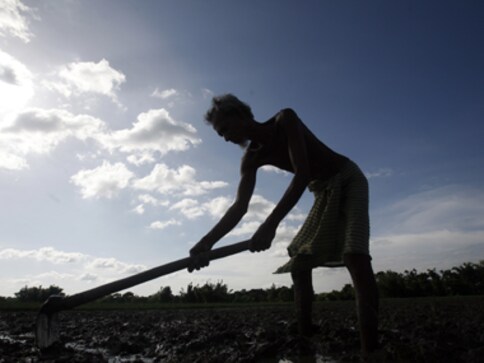 Hyderabad: The Communist Party of India (CPI) would hold nation-wide demonstrations including picketing of central and state government offices and 'jail bharo' for three-days from tomorrow, over farmers issues.
The CPI's state, districts and other units will organise 'jail bharo', picketings, dharnas throughout the country from 24 to 26 July in support of farmers, a release quoting CPI national council secretary Atul Kumar Anjaan said.
"The Communist Party of India supports the ongoing agitations of farmers in different states on genuine demands of agrarian sectors and rural people," he said.
Anjaan alleged that the farmers were hit hard due to the central government's economic and agrarian policies and accused the BJP-led NDA government of "miserably failing" to check the ongoing farmers' suicides in the country.
The Indian Agriculture and Farmers welfare ministry in its record said that during 2016 in BJP-ruled state of Maharashtra more than 1,841 farmers committed suicides, the CPI leader claimed.
The protests will be for fulfillment of demands including the immediate implementation of recommendations in totality of the Swaminathan Commission, reducing growing agriculture input cost.
"Seeds, fertilisers, pesticides, diesel, electricity, pumping set and generators must have zero tax, which means they should be out of GST," he said.
Other demands include creation of Rs 1 lakh crore price stabilising fund by the government to check the downward prices of agri-produce. "Loans taken from all nationalised and cooperative, banks and other agencies be brought under loan waiver scheme," the CPI leader demanded.
Sports
The Blasters stretched their unbeaten streak to nine games and moved to the top owing to a better goal difference than Mumbai City FC. Both teams are on 17 points from 10 games
World
As Taiwan's Opposition begins to reinvent itself away from a policy of engagement with China, New Delhi must step in now to build the political relationships necessary for any alliance to have legs
India
It was a major fire and based on preliminary investigation the cause of the fire is suspected to be a short circuit, a police official said