Congress strategy of cementing state-level alliances could dent Rahul Gandhi's chances of becoming prime minister
The Congress also faces the risk of conceding that it is no longer a pan-India party and has lost significant base to regional outfits.
At the extended Congress Working Committee meeting on 22 July, the All India Congress Committee authorised Rahul Gandhi to seal alliances with like-minded parties for the 2019 Lok Sabha elections. While the Congress hopes to checkmate the Bharatiya Janata Party (BJP) and the Narendra Modi government with this strategy, it could have far-reaching implications for the party's presence as a pan-India entity as well as Rahul's chances of fulfilling his dream to become prime minister of the country in 2019.
Before the coalition era from 1951 to 1996, the Congress contested nearly all Lok Sabha seats. During this period, it was only in 1971 that the party fielded candidates from only 85 percent of the constituencies. This was the result of a split in the Congress, when Morarji Desai and other members of the "Syndicate" left the party to form the Indian National Congress (Organisation), or INC(O). In this election, former prime minister Indira Gandhi had entered into strategic alliances in Tamil Nadu and Kerala and backed a few candidates in other states to defeat Desai's Syndicate and establish her dominance over the party organisation and machinery.
The lowest number of seats the Congress contested was in 2004 (77 percent of the total) when it tied up with several regional parties to defeat the National Democratic Alliance. In 2014, the Congress contested from 464 constituencies.
2019 Alliance story
The Congress' alliance strategy for the 2019 general elections is two-fold: One, it aims to tie up with regional parties in states where it is weak to defeat the BJP. This would be in Uttar Pradesh, Bihar, Tamil Nadu and West Bengal. The second is to form alliances with regional parties in states where there is a triangular, quadrangular, or multi-corner contest to strengthen its chances of victory. This would be in Maharashtra, Jharkhand, Andhra Pradesh, Telangana, Karnataka and Jammu and Kashmir.The four states where the Congress is weak are Uttar Pradesh, Bihar, Tamil Nadu and West Bengal, which account for 200 Lok Sabha seats. Here, the party is likely to get not more than 40 seats to contest.
In other states where the Congress will probably seal alliances, it could get another 70 to 80 seats to contest, according to the table below. On an average, the party is likely to contest from 115 constituencies in these 10 states.
| | | | |
| --- | --- | --- | --- |
| State | Alliance Partner | Total No. of Seats | No. of Seats Congress is likely to contest |
| Bihar | RJD, HAM | 40 | 8-10 |
| Uttar Pradesh | BSP, SP, RLD | 80 | 8-10 |
| West Bengal | Trinamool Congress | 42 | 8-10 |
| Tamil Nadu | DMK | 39 | 7-9 |
| Andhra Pradesh | Telugu Desam Party | 25 |  8-10 |
| Telangana | Telugu Desam Party | 17 |  10-12 |
| Maharashtra | NCP | 48 | 24-26 |
| Jammu and Kashmir | National Conference | 6 | 3 |
| Jharkhand | JMM | 14 |  10-12 |
| Karnataka | JD(S) | 28 | 20-22 |
| Total | | 339 | 106-124 |
Congress could contest considerably fewer seats in 2019
If the Congress can firm up these alliances, it is likely to field candidates from 319 constituencies — its lowest contesting tally ever at just 59 percent of the Lok Sabha seats.
While it all looks good, with the Congress making compromises for a united Opposition and the larger cause of defeating the BJP, it jeopardises the party's hopes of leading the grand alliance. The number of seats it is likely to contest in 2019 in around 150 lower than the figure from 2014.
2014
2019
No. of Seats
% of Seats 
No. of Seats
% of Seats
Congress
464
85%
319
59%
Allies
79
15%
224
41%
Total
543
100%
543
100%
Possibility of rebellions and end of Rahul's prime ministerial hopes
This strategy is fraught with risks as it encourages rebels (150 odd in number) who could jump boat to contest on tickets from other parties, or as independents, and harm the party and its alliances. The figure is around one-third of total number of candidates the party fielded in 2014.
With its plan, the Congress also faces the potential risk of conceding that it is no longer a pan-India party and has lost significant base to regional outfits.Contesting from a significantly lower number of Lok Sabha seats also raises the risk of the party ending up with fewer seats than the regional parties it joins hands with. The Congress needs to win around 150 seats (+100 vs 2014) to seek the prime minister's chair in case the grand alliance wins the polls. It requires a very high strike rate of 47 percent (150 of 319) to achieve this.
Since 1996, the average strike rate of the Congress has been 29 percent. Even after removing the 2014 Lok Sabha elections from the count — considering it an outlier — its average strike rate comes to only 33 percent. In 2009, the party did manage this figure, but the conditions were much different at the time. Back then, the Congress was in the driver's seat, not the allies, contesting from 440 seats.
With Congress being the main Opposition party, what complicates matters are the regional outfits that may not join the grand alliance. This includes the Shiv Sena, Communist Party of India, Aam Aadmi Party, Communist Party of India (Marxist), Biju Janata Dal and Telangana Rashtra Samithi. If such a scenario does arise, many may not back the Congress because of the dynamics in their backyard.
To sum up, the strategy of sealing state-level alliances could put a significant dent in the Congress' ability to push for Rahul as the prime ministerial candidate for the grand alliance.
The author is a former corporate and investment banker. He tweets @politicalbaaba
Find latest and upcoming tech gadgets online on Tech2 Gadgets. Get technology news, gadgets reviews & ratings. Popular gadgets including laptop, tablet and mobile specifications, features, prices, comparison.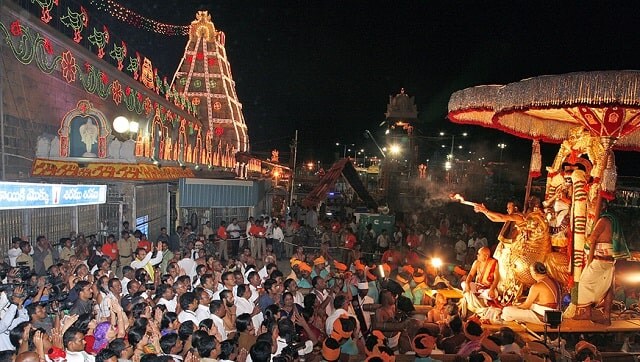 India
On 9 August, the Tirumala Tirupati Devasthanams reported that a staggering 743 members of their staff had tested positive for COVID-19 since the temple reopened on 11 June.
India
The lockdown augmented poverty, uncertainty and domestic anxiety; now more children may move toward the streets; away from home or searching for work.
World
It was a tweet that mattered, and couldn't be ignored, even by many Republicans who have long given Trump a pass.