New Delhi: Congress has approached Ethics Committee of Lok Sabha seeking "action" against BJP MP Vitthal Radadia for allegedly kicking an old man during a musical function in Gujarat.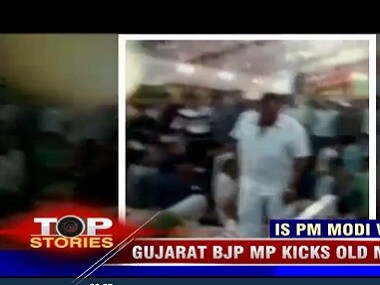 This is the second such complaint by Congress against BJP MPs within a week before the Ethics committee headed by LK Advani that is examining a complaint against Congress vice president Rahul Gandhi over citizenship row.
The party, on 1 April, had approached the panel seeking "expulsion" of Union Minister Jitendra Singh over reports alleging that an absconding murder accused was present at his residence last month.
In the latest complaint, the AICC submitted newspaper clippings and a video footage of the Porbandar MP Radadia "repeatedly attacking an old man" during the musical function at Jamkandorna in Rajkot.
In the complaint, AICC Legal Department Secretary KC Mittal said "undoubtedly, the conduct of Radadia is contrary to the standards laid down under the Code of Conduct for MPs. In fact it amounts to an offence punishable under the penal code.
"As a responsible citizen of India, holding the position of a Member of Parliament, kicking an old man in public view is certainly a matter for the Ethics Committee of the Lok Sabha to look into and take action against him."
The video of Radadia kicking an old man had gone viral on social media in last week of March.
Quoting media reports, Congress said it was not the first time that Radadia engaged in such "offensive behaviour" and referred to another video of 2012.
Updated Date: Apr 05, 2016 22:55 PM