Concerted efforts by NIA, J&K Police, army has Kashmir's separatists on the back foot
Be it eliminating terrorists or curbing terror funding, there have been a series of substantial and meaningful developments emerging from the Kashmir Valley
Indian authorities haven't displayed as much determination and resolve in the recent past as they did in the last one week while dealing with the Kashmir unrest. Be it eliminating terrorists or curbing terror funding, there have been a series of substantial and meaningful developments.
In a bold move, the National Investigation Agency (NIA) arrested seven separatist leaders from the Hurriyat Conference on Monday. Those arrested included the son-in-law of Syed Ali Shah Geelani and a close accomplice of Mirwaiz Umar Farooq, both on charges of perceived terror funding from Pakistan. Those apprehended include Altaf Ahmad Shah alias Funtoosh, Ayaz Akbar Khandey, Raja Mehrajuddin Kalwal, Peer Saifullah, Nayeem Khan, Farooq Ahmad Dar alias Bitta Karate, and Aftab Hilali Shah alias Shahid ul Islam. Incidentally, the latter is Mirwaiz's press secretary.
Protesting the arrests, separatists called for a bandh in Kashmir on Tuesday. However, with authorities clearly in no mood to relent, the bandh is unlikely to have the desired effect. The NIA has registered cases against those arrested and charged them with raising funds through unlawful means, including hawala, for financing terror acts in the Valley. They have also been accused of several acts of subversion, including pelting stones at security forces, burning schools, and most importantly, waging war against India.
Meanwhile, various media reports have also highlighted how terrorists are increasingly on the run in areas of Kashmir like Budgam. The intelligence fraternity is now more proactive, constantly being on the offensive and promptly sharing actionable intelligence which has often resulted in tangible outcome against members of Hizbul Mujahideen and their affiliates, which had been operating in the Valley.
But security forces are now more energised — especially the Jammu and Kashmir police, which seems determined to avenge the mob lynching of DSP Ayub Pandith. The Inspector-General of Kashmir held a press conference on Monday, where he claimed the recovery of Pandith's mobile phone. It is more than evident now that the state police means business. Their anger was also stoked by the earlier killing of comrade-in-arms Lt Umar Fayaz.
One can therefore afford to be optimistic, with a reasonably large section of the population and the local police now focussed on taking on the militants with a robust resolve to eliminate terror. The CRPF and army columns are all present, but the state police coming on board means a lot. Also, there hasn't been any spurt in stone pelting cases in the last few weeks. Nor have we come across any acrimonious rhetoric against the Indian government or military. Bad blood still exists, but it hasn't surfaced in the fresh cases.
In the midst of all this, National Conference (NC) leader and former chief minister Farooq Abdullah was rather tactless in calling for China and Pakistan to mediate in the issue. Considering the country is already engaged in aggression with China, while relations with Pakistan are at their worst ebb, Abdullah's comments have caused huge damage to efforts to contain violence in the Valley.
Why did he choose this particular time to make these statements though? The same tenor and syntax was noted in Abdullah's previous statements as well, which came around the Srinagar and Anantnag by-elections earlier this year.
But even more surprisingly, the ruling party in the state, the PDP, appeared to resonate these views. The pattern is beginning to emerge, where the present scene is a concerted attempt to derail any positive moves. But fortunately, opportunists like Abdullah are miniscule in number. Through intelligence operations, links with his "mentors" must also be severed. This will have the added advantage of acting as an effective deterrent.
If the local populace is in control, then even the best efforts and subversive designs by Pakistan or the ISI will continue to be foiled. With the US drastically slashing funding to Pakistan on terror and terror-related projects, ISI will face a cash crunch, since most of the money it receives is generally considered to be channeled to foment terror in Kashmir.
Arrests of separatist leaders by the NIA, regular encounters, and taking the Jammu and Kashmir state police on board all mean that the scene looks brighter. It can only be hoped that there is no lowering of guard and the authorities continue to pursue their goals aggressively.
The writer is a retired IPS officer and has also been a member of the intelligence community. Views expressed are personal
India
The police have recovered incriminating materials, arms and ammunition from the site of the encounter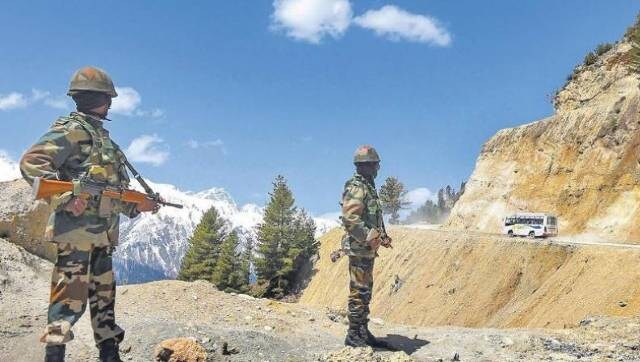 India
The ceremony was a solemn occasion to appreciate and recognise the professionalism in operational roles performed by the units during their tenure in northern Command, a defence spokesman said
India
19 January 2022 marks the beginning of the 32nd year of exile of the Pandits. This day in 1990 brought misery to the community and subsequently led to their ethnic cleansing from Kashmir