Concern for Hinduism or publicity stunt: Now Bengal BJP leader says produce 5 kids and not four
After Sakshi Maharaj, another BJP leader in Bengal said Hindu mothers should produce five children. Are BJP leaders racing for who can stoop the lowest?
Mirror, mirror on the wall, who is the most dedicated Hindutva leader of all?
It almost seems like a few BJP workers have a internal contest going on — Who is the most dedicated to the cause of ensuring that Hindu wombs are producing more children for the benefit of the religion? Because despite the BJP leadership condemning and even issuing a show cause notice to reign in MPs like Sakshi Maharaj who made the controversial 'Hum do humare chaar' comment, another BJP Bengal leader has chimed in, echoing Maharaj's comment and even increasing the number of desired children from four to five.
An NDTV report quoted BJP leader in Bengal Shyamal Goswami as saying: "I want to tell my Hindu mothers and sisters that if they don't have five children, there will be no balance in India in future. Don't misunderstand me. If my Hindu mothers and sisters don't have five children, hardly any Hindus will be left in India. To protect Hinduism and Sanatan Dharma it is necessary for all Hindus to give birth to 5 children."
The statement was made at a public rally in Birbhum district on Monday.
Nor is Goswami alone.
After Maharaj made his comment, despite widespread condemnation and outrage, VHP leader Sadhvi Prachi supported his remark and added: "(If Hindu women) have four children, one can become an engineer, one can become a doctor, one can protect the borders and one can be devoted to the cause of social service."
The sadhvi reportedly made the statement during a public gathering organised by the VHP in Bhilwara. Her reason for endorsing the theory? "Their" population is rising while "ours" is decreasing.
In fact, on Tuesday the leader told a news channel that she "stands by her statement."
So why this sudden defiant stand for the increment of the Hindu population? In a word, publicity.
When Sakshi Maharaj made the 4-kid remark, every news channel covered it. We tweeted and retweeted. Otherwise obscure leaders are now household names, thanks to all the media and social outrage. So what if such statements are condemned from everyone from the Congress to the president of the BJP? At least they are on the radar.
The question of course is if the BJP will be willing to go the extra mile and actually take action beyond the perfunctionary 'show cause' notice.
Politics
The 57-year-old former Bengal BJP chief is the candidate from Habra which falls under the Barasat Lok Sabha constituency of North 24 Pargana district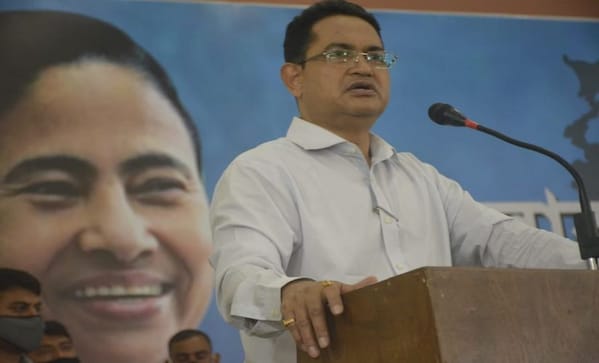 Politics
Humayun Kabir joined the TMC in February after quitting the police. A decorated officer, Kabir was the Police Commissioner of Chandannagar and has held many senior positions within the force
Politics
The prolific Bengali Dalit writer has been influenced by the work of Left labour leader Shankar Guha Niyogi and is also a disciple of noted Bengali author Mahashweta Dev