India's foreign minister Sushma Swaraj, foreign secretary Dr S Jaishankar, former president of Sri Lanka Chandrika Badaranaike Kumaratunga and former president of Afghanistan Hamid Karzai are some of the marquee speakers at #Raisina - India's first MEA sponsored global conclave on geo politics and geo economics starting in New Delhi from 1 -3 March which is readying to rival the Shangri-La Dialogue (SLD) in content and intellectual heft.
The SLD is a 'Track One'  inter-governmental security forum held annually by an independent think tank, the International Institute for Strategic Studies (IISS) attended by defense ministers, permanent heads of ministries and military chiefs of 28 Asia-Pacific states. The forum gets its name from the Shangri-La Hotel in Singapore where it has been held since 2002.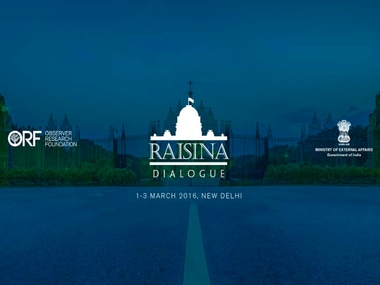 "The Raisina Dialogue is designed to explore and examine the prospects and opportunities for Asian integration as well as Asia's integration with the larger world. It is predicated on India's vital role in the Indian Ocean Region and how India along with its partners in the region and beyond can build a stable and prosperous world order," says ORF. In 3 days, more than 100 speakers from over 35 countries will take the stage at #Raisina.
Reporting on Indian think tanks and their place in the world, Hindustan Times says key thinkers on foreign policy at ORF have added to its sheen. ORF senior fellow and Padma Shri award winner for 2016, Ashok Malik will share the stage of top 8 speakers in the inaugural panel.
"ORF's engagement with the government has also grown over the years. It now receives project-specific funding from the Ministry of External Affairs for studies on BRICS, Russia, climate and other thematic issues. It hosts a range of Track 2 dialogues with France, Egypt, Saudi Arabia, Australia, BRICS and Track 1.5 dialogues where officials from both sides are present but without a formal agenda and format. It also hosts the Indian Ocean Dialogue and Blue Economies Forum and has other projects lined up with the government," reports HT.
"ORF has grown five times in the last five years, and now has a budget of Rs 25 crore. By annual spending alone, this makes it the biggest think-tank in town." says Prashant Jha in HT.
Links:
Complete list of speakers at Raisina Dialogue
How Pakistan played with secularism creed, by Ashok Malik
One belt, One Road policy will be lynchpin of China's engagement with the world
Hot topics and breakout sessions at #Raisina 2016
-- Whither European Union
-- Jehangir Roundtables: Competing Globalisations: Managing Economic And Trade Regimes in Asia
-- DiplomaShe: Gender, Policy and Politics
-- Securing Digital Asia: Threats And Opportunities for a Smart Realm
-- Light of Asia: The Future of Energy
-- South by South-West: The Threat in the Neighbourhood
-- Waters of Asia
-- Asia's Strategic Order
The inaugural #Raisina 2016 will focus on Asia's physical, economic, human and digital connectivity and will attempt to discover opportunities and challenges for the region to manage its common spaces, as well as the global partnerships needed to develop common pathways in this century.
Designed as India's flagship conference of geopolitics and geoeconomics, the Raisina Dialogue 2016 is designed to explore prospects and opportunities for Asian integration as well as Asia's integration with the larger world. It is predicated on India's vital role in the Indian Ocean region and how India along with its partners can build a stable regional and world order. The 2016 conclave will focus on Asia's physical, economic, digital connectivity and fostering common global spaces with an emphasis on Asia.
FirstPost is the media partner of #Raisina Dialogue
Firstpost is now on WhatsApp. For the latest analysis, commentary and news updates, sign up for our WhatsApp services. Just go to Firstpost.com/Whatsapp and hit the Subscribe button.
Updated Date: Feb 27, 2016 03:51:03 IST