CJI Dipak Misra meets dissenting Supreme Court judges to come up with solutions; talks expected to continue tomorrow
The Chief Justice initiated talks with the four dissenting judges and in a meeting which lasted 15 minutes, the judges discusses the issues which had been brought up.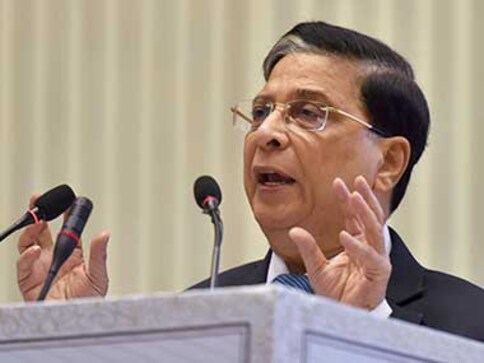 The Supreme Court took initial steps towards normalcy after the Chief Justice initiated talks with the four dissenting judges. In a meeting which lasted 15 minutes, the judges discusses the issues which were brought up in the extraordinary press conference on Friday.
The tone of the meeting has been cordial and everyone agreed that the issues were more important than the personalities.
However, the matter has not been resolved yet and the judges are expected to meet on Wednesday as well.
Earlier on Tuesday, the highly-anticipated hearing around the circumstances surrounding the death of CBI special Judge BH Loya ended in five minutes, with the apex court saying that the petitioners "must know everything". The court did not fix any specific date but listed the matter for hearing after a week.
The Maharashtra government placed the documents related to death of Judge Loya in a sealed cover before the court. It told the court that barring certain confidential reports placed by it, the petitioners can access other documents.
The hearings were being conducted on two petitions, one filed by BR Lone, a Maharashtra-based journalist and the other by activist Tehseen Poonawala.
Loya case one of the reasons for judges' rebellion
The Judge Loya death case was one of the reasons which prompted four senior to take their grievance about case allotment to the public on 12 January. A crisis had erupted after four senior judges — Justices J Chelameswar, Ranjan Gogoi, Madan B Lokur and Kurian Joseph — openly castigated the functioning of the top court headed by Chief Justice of India Dipak Misra.
On Tuesday, the Bar Council of India said there was "absolutely no crisis now" in the Supreme Court and normalcy will be restored soon in the higher judiciary. BCI Chairman Manan Kumar Mishra told PTI that a seven-member delegation on Monday met Justice Ranjan Gogoi, one of the four judges who held the 12 January presser, and he assured him that there was no crisis at all. "Justice Gogoi said the crisis is over. He said there is no dispute at all," Manan said when asked about reports which projected a contrary situation.
This was in contradiction to the statement made by Attorney-General KK Venugopal who said the crisis seems to be unresolved and hoped it will be "fully settled" in a couple of days. On Tuesday, Venugopal told PTI, "Yes, I think it has not been settled. Lets hope things will be fully settled within 2-3 days."
With inputs from agencies
India
The survivor said that the case before the Unnao court is being pursued with the 'oblique motive to intimidate, silence and harass' her and claimed that there is a grave threat to her life
India
Several petitions have been filed in the apex court against the Karnataka High Court verdict holding that wearing of hijab is not a part of the essential religious practice, which can be protected under Article 25 of the Constitution
India
Bar President Vikas Singh suggested a law to bar people with criminal backgrounds from entering politics since political parties can not take the initiative