Church and sexual abuse: Pope has never done much about these incidents, says ex-nun Mary Chandy
The nuns may have to face all sorts of difficulties because they are out protesting, says former nun Mary Chandy.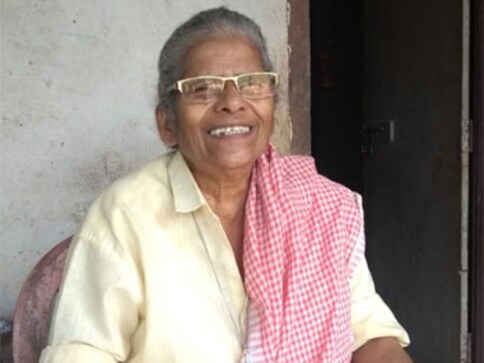 Editor's note: This is multi-part series that investigates sexual abuse in the church and the institutions that it runs. The articles that follow rely on interviews with victims, abusers, those accused of abuse, church elders, parish members and state officials to examine the role of the three institutions that are critical to the issue: The Church, the community, and the State.
In 2012, Sister Mary Chandy, who was part of the congregation of the Daughters of Presentation of Mary in Chevayur, Calicut published her autobiography titled Nanma Niranjavale Swasthi. This book revealed details of the author's experiences in the 45 years she spent in the Catholic convent, which included accounts of sexual abuse and misuse of power.
Today, a 72-year-old Mary Chandy runs a children's home for around 40 children in Pulppally, situated in Wayanad district of Kerala. In an exclusive interview to Firstpost, Chandy talks about the lives of those within the institution she was once part of, the struggles they face and about the ongoing public battle being waged by five nuns against an alleged sexual offender.
Chandy doesn't want to speak too much about her book. The nuns she was close to have expired and nobody from the institution came to meet her after she left the Church, she says. But Sister Chandy feels that the protest being led by the nuns should have happened sooner, as these things have been happening for years.
When did you feel like writing the book?
I didn't 'feel' like writing the book. People came to me. I spoke to them. Later, whatever I said was compiled into a book. It was difficult for me to write it myself. But major details are missing from the book. They didn't include many things I told. I spoke more about my life experiences, but they reduced it to some of my convent life experiences.
What are the things which were missed out from the book?
There are a lot of things. There is no point in talking about that. It is difficult to keep such things in one's memory too. I am poor. I don't have money. I am more worried about that.
Sister Jesme also wrote a similar book about experiences of nuns inside the congregation.
Sister Jesme left the convent, which is true. But when she wrote, she didn't write everything. For her, money was a priority. For me, money is not a priority. I want to work for others. I am not worried about making money. So, it is difficult for me to compare these two books.  She made money out of this and then left the convent.
When nuns join the Church, all their property, like land, joins Church's property.  But the Church ensures that this property will not be given back if the nun decides to leave the Church. They make us sign a contract. From then on, we are left with no option to claim anything even though we deserve it. No proof of these transfers will be there.
Isn't that unconstitutional?
Yes. Constitutional rights and laws don't apply to us. There is no right left to question. They will include it in the contract, that this can't be questioned. Even if you question this before becoming a nun, you have no right to claim your property. That is how it works in the Church.
These days not many young men and women join the Church to become priests or nuns. So, they are being provided with a good sum of money. Once you join the Church there will be counselling, this was not there before. No personal or closed interactions happened. These days there are counselling sessions, between a priest and a nun, for students, etc. During the counselling, all the untoward things that can happen to a person, happen. If anybody opposes this, his or her case is gone. Even boys who enter the seminary to learn, who would be 15 or 16, do not know much things about the world. They come in contact with the priests in the seminary, once they reach class 12. These boys routinely get sexually exploited by the higher authorities, by priests. Not all of them would be in a position to oppose it, most of them may not be courageous enough to resist the exploitation. If they speak out, they will be threatened that their family will be wiped out. That is the threat. Nobody will speak out of this fear.
Now, these nuns are protesting against a bishop at Ernakulam. They should have stepped out and spoken much earlier. They should have opposed it from the beginning.  Mar Papa (the Pope) who sits in Rome has never done much about these incidents. He can't do things because he is too old, he never opposed these priests, he will just agree to whatever the priests say. He will not even make the reasons for not opposing clear. We can't blame everyone for this. There are good priests as well. But they are also counted as bad. They can't do anything about that. They will have to suffer all this and live.
These protests by the nuns are happening for the first time. They may have to face all sorts of difficulties because they are out protesting. People like PC George don't know what really happens in a nun's life. George is an elected MLA. If it was George's daughter or sister who is sexually assaulted, would George make the same statements? Will he watch it? Will he succumb to the threats by the priests and the Church? He won't do that. He only cares about money and power. That is how petty he is.
Why can't the government move even a little finger against Bishop Franco? Why is he still free? George is Franco's close aide. That is it. We know who George is and what he does. Nothing new in it.
CPM MLA PK Sasi is facing a sexual abuse complaint. A woman who had worked with him filed this complaint. They tried to hide the complaint but it didn't work. No mass protest happened from inside the party against Sasi. But the nuns came out to protest. How do you see that?
Be it any political party, if any member commits a crime, the party will try to hide it and protect the one who committed the crime.
Then what does the dignity of a woman mean?
Only those women who have divinity inside can oppose such things. This also includes a majority of those who say there is no God. Those with deep-rooted faith can fight any injustice in the world. Faith is a strong thing. It is powerful. A patient can survive any disease if that person has some amount of faith in the doctor. Not just medicine is going to help. God's hand is important. A Christian is the follower of Christ. In the modern world, the numbers of believers are bigger. But they just chant prayers. This is applicable to Hindus, Muslims, and Christians. These Christians, once they get out of the church after prayers would be talking about several other things like sexually fantasizing over male and female bodies, about youngsters, etc. and then, they go back to their convents and seminaries.
Nuns are restricted from talking to each other. Those who face any mental stress can't open up about it to another nun. That has been my experience.
Why is it so?
I don't know why. I have asked the same question. They couldn't answer me. Women can't talk to each other inside. When I was part of the Church, I was restricted from talking to other women. If I talk to a nun more than three times, I would be warned.  I was not allowed to meet two nuns who were on their death bed. I wanted to meet them but I couldn't. This was at Sulthan Battery SH Convent. I questioned them, they told me they can't talk. They were very close to me. That is how it works.
I still feel that these nuns should have come out a bit earlier. Maybe it is too late now.
But don't you think they took time because past generations couldn't come out and protest? Isn't that what makes the nuns' protest historic?
That is the cruelty these nuns had to go through. If a higher authority had warned an abusive priest before, no other priest would dare to do the same thing to a nun. These priests take it for granted. They continue to exploit. They live thinking that they will be protected by the Church. The churches have turned into business centres. Kerala was an exception. If this continues, even churches in Kerala will too be turned into business centres. If this protest can't make any difference, there is no meaning in anything. 

A nun's dead body was found inside a well a day after the protest started. How do you view this?
They say she committed suicide by cutting her vein. How could she cut her vein, then walk through her room, then walk to the well to jump in? If she had walked through her room, wouldn't her blood be found in the room? Who forced the family to say that she had mental issues, even before the news about it came out and a discussion ensued?  The church is behind this, they may have threatened her family. Nobody in the family would be spared if they speak the truth. This has been happening for long. Let us not forget Sister Abhaya's case. (On 27 March, 1992, the body of Sr. Abhaya was found in a well within the premises of St Pius Convent in Kottayam).The truth was silenced with money.
What happened to Jomon Puthenpurakkal? How many times have they tried to kill him? He is still alive. I don't know where he is now. For the past two years, I have no information about him. He had come here to meet me. Those who stand by the side of truth will suffer forever. The Catholic Church was behind the murder of Sister Abhaya. If the cardinal and those above him had stood by the side of truth, the case wouldn't have turned into what it is now.
I am also completely against Confession. I am against confessing to a priest. For 45 years, I had been asking people not to confess at Church. But I was blamed for saying that. They asked me "how dare you question nuns?  How dare you question priests?"
When I wrote the book, priests with their advocates came to meet me here and told me that I all I did was cook. Yes, I was a nun who cooked. But being a nun also means staying a virgin. One fails if one fails to keep their virginity.
Isn't it ironical that the very idea of being a nun is being violated inside the church itself?
I have been asking the same question from my earlier days as a nun. I didn't get an answer to that.
What do you think will happen to the relationship between nuns and the church?
The church will not get many women willing to join as nuns. They can't expect men to stay till they attain priesthood. They will get very few and this few will get fed up by the system and leave.
The money they spend on luxuries for a day can be used to feed my children. Their one-day expenses make up the cost of a day's meals for all my children. While we struggle to survive, those in the church will have a spread of dishes with wine. I have cried for nights thinking over how I will feed my children some meat on Christmas. When I approached a few nuns for help with this orphanage, one of them kicked my leg. I didn't fall down luckily.
When I started Shanti Sadan, the priests opposed saying an orphanage can't be run by an ex-nun, it is supposed to be run by priests and nuns. If they say that on my face, I might accept it. But they are running a hate campaign against me. They gave pastoral letters against me in churches at Kannur, Thamarasshery, Mananthavady and so on. The church socially boycotted me. Did I print fake currency? Or was I running a brothel here? Did I sell drugs? Why couldn't they come to talk to me instead of spreading hatred? Arch Bishop Alanchery was sent from Rome to talk to me. Alanchery didn't even enter this region. Right now, I have nothing else to think of except these children.
Also Read
Church and sexual abuse: Catholics, State have been silent for too long; Kerala rape must cause Vatican to act
The author is a freelance journalist from Kerala.