Child-trafficking in Telangana's temple town of Yadagarigutta unveils rampant commodification of children
Eleven girls were rescued from a brothel in Yadagarigutta, a temple town located 60 kilometres from Hyderabad on Sunday
"I was lured with chocolate at a railway station," says the girl, "This happened four years ago."
But beyond this detail, the child who must be around eight years old, had no recollection of the railway station in question, what was she doing there and all that happened soon after. This girl is among the 11 girls — four of whom are under the age of seven, while the others are between eight and 10 years of age — who were rescued from a brothel in Yadagarigutta, a temple town located 60 kilometres from Hyderabad on Sunday.
Another girl told a social activist who was part of the rescue team that when she was lost in a crowded place, she was picked up by a man and sold to another person. It is after two more men resold her that she landed at the brothel.
Two girls were dressed in school uniform when a police team reached them. In order to guard against suspicion, the kingpins of the racket used to send the children to a private school nearby, pretending they were their offspring. Eight traffickers — two men and six women — were arrested.
In a shocking case of child-trafficking, the Rachakonda Police stumbled upon this prostitution racket that was being planned in the temple town, that is being ambitiously developed on the lines of Tirumala-Tirupati. The police claims a doctor's services had been enlisted to inject hormones to trigger early menstruation and this person, a certain Dr Swamy reportedly charged Rs 25,000 from the racketeers for the injections.
While the police claims none of the girls had been pushed into prostitution yet, activists say, medical tests will be necessary to establish the veracity of this claim. Eyewitnesses say the older girls understood what they were trapped in and were visibly traumatised.
The kingpins are members of the Dommara community. While this community in Maharashtra engages minors in street acrobatics, it indulges in the illegal activity of prostitution in Telangana. Girls born in the community are pushed into prostitution while the males act as pimps. These brothels were inside homes in Ganesh Nagar which is a colony where members of the community live, ensuring no one else is privy to the nefarious activity going on.
"It is not uncommon for extremely young children to be pushed into prostitution. The youngest I have rescued was three years old," says Sunitha Krishnan of the NGO Prajwala, "For the Dommaras, prostitution is a way of life but in recent times, they have reduced pushing their own daughters into the sex trade and have instead started buying."
In this case, nine of the 11 children are not from the community. Investigations so far have revealed that they were purchased from other agents for Rs one to two lakh each, the understanding being that the younger the girl, the higher price she will fetch. All the children, from what has been gleaned so far, came from poor or broken families."The whole thing was revealed when one of the pimps called Kalyani bit a child to punish her. Our child helpline got the information through another source and we mobilised our women police teams as well as the district welfare officers," says Mahesh Bhagwat, Commissioner of Rachakonda Police.
Ironically, this case has come to light just days after the Lok Sabha passed the landmark Trafficking of Persons (Prevention, Protection and Rehabilitation) Bill 2018. The Yadagarigutta expose also highlights the data provided by the National Crime Records Bureau that points out that in 2016, 15,379 victims were trafficked for exploitative purposes. Among those, 6,345 were children. In fact, over 63,000 children went missing in 2016. Child activists estimate between 24 lakh and 36 lakh minors are trapped in commercial sex trade.
"One huge gap is the near-absence of village-level children protection committees, who can identify vulnerability, keep an eye on parents pushing their children into labour or prostitution and report them to the authorities," says Isidore Phillips, child rights activist, "Governments have failed miserably in investing in such committees. This is what has resulted in the commodification of children."
The children have been sent to a Child Welfare Committee-monitored rescue home where they will undergo counselling. On Wednesday, over a thousand college students will undertake a pledge at the Charminar in Hyderabad that they will not buy sex and activists plan to showcase this group as 'real men'. A small step towards making sure terms like demand and supply and market economics are not used to justify use of children like birds inside cages in a poultry farm.
India
According to the revised 'Guidelines for International Arrivals' released on Thursday, the new norm will apply from 22 January till further order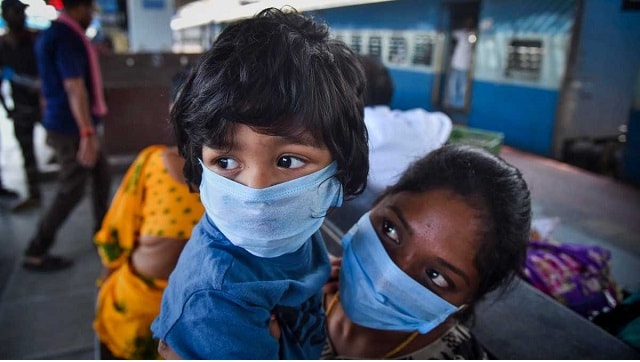 India
In view of the increasing number of coronavirus cases in the country and the state, the government has decided to extend the holidays for all private, aided and government institutions, except medical colleges
India
Rukmini's 326-pages long book explores little-argued angles to investigate the complete truth about the country, starting with its dealings with crime