Chhattisgarh Police say IEDs pose big challenge in counter-insurgency operations
1,232 IEDs have been recovered by security forces in different pockets of Bastar from 2010 to 30 June, this year
Improvised Explosive Devices (IEDs) planted randomly in forests and places where frequent de-mining operations are not feasible pose a big challenge in the counter-insurgency operations in Chhattisgarh's Bastar division, says a senior police official
At least 1,232 IEDs have been recovered by security forces in different pockets of Bastar from 2010 to 30 June this year, as per the figures of the state police department. As many as 66 security personnel were killed and 205 injured in the IED blasts during the period, according to the statistics.
An IED is commonly used as roadside bombs. The Maoists have largely resorted to the use of IEDs to inflict casualties on security personnel. The devices sometimes are hidden underground or in bushes for years before the ultras use them in ambushes on national highways, important state roads and near the camps of security forces, according to police.
Some landmine detection vehicles have also been blown up by the insurgents by planting the IEDs in the past. "The pressure IEDs planted randomly inside the forests in unpredictable places, where frequent de-mining operations are not feasible, remain a challenge (for the security forces)," Deputy Inspector General of Police (Dantewada range) Sundarraj P told PTI.
He, however, pointed out that the number of casualties due to IED blasts has gone down with the enhanced recovery of the explosives. Asked about the need for advanced mine detection systems
to tackle the IED threats, the DIG said, "Right now we have adequate equipment for detecting the IEDs (landmines). However, there is always scope for improvement in technology.This holds good for IED detection also."
According to police data, nearly 22 security personnel sustained injuries in 31 IED blasts triggered by Naxals in the first six months this year in Bastar range, though no casualty was reported.
Security men recovered at least 170 IEDs of various nature (like pressure IEDs, pipe bombs) in the same period from the region, which comprises seven districts - Bastar, Kanker, Kondagaon, Narayanpur, Dantewada, Sukma and Bijapur - spread across 40,000 sq kms.
Apart from the regular mine detection operations, the police have been making efforts to stop the supply chain of explosives.
"The Bastar police is taking all possible measures to block the supply of explosives to Naxals. But, in a few incidents in areas where mining is underway, the Maoists looted huge cache of explosives in the past," the DIG said. "We are trying to check the leaking points (loopholes) also in order to totally clamp down on the supply chain of explosives," he said.
In March last year, seven personnel of the Central Reserve Police Force (CRPF) were killed after Maoists blew up their vehicle with an IED in Dantewada district.
Five policemen were killedand seven others injured when Naxals blew up their anti-land mine vehicle in the same district in April 2015.
Seven members of a polling team were killed when the rebels attacked their bus with an IED in Bijapur district on 12 April, 2014. Besides, five CRPF personnel and two ambulance staff were killed when the Naxals blew up the vehicle with an IED in Bastar district on the same day.
The security forces have been recovering and destroying IEDs on a regular basis with the support of trained personnel carrying detection equipment and sniffer dogs in Bastar, according to police.
Find latest and upcoming tech gadgets online on Tech2 Gadgets. Get technology news, gadgets reviews & ratings. Popular gadgets including laptop, tablet and mobile specifications, features, prices, comparison.
India
Coronavirus LIVE Updates: The BMC on Tuesday said that a serological surveillance for COVID-19 infection was commissioned by NITI-Aayog, Municipal Corporation of Greater Mumbai and Tata Institute of Fundamental Research.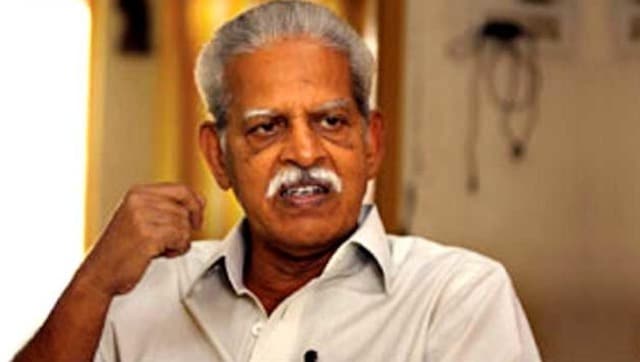 Arts & Culture
Varavara Rao's poetry, which evolved over six decades, reflects and critiques modern social history, balancing it with a consistent and hopeful quest for freedom.
India
Mitra was among the most firebrand Congress leaders of the 1960s and 1970s and played a crucial role in the fight against the Naxals in Kolkata