Chhattisgarh: 9 CRPF personnel killed after Naxals blow up vehicle in Sukma; Rajnath Singh condemns attack
Nine CRPF personnel were killed in a suspected Naxal attack on Tuesday in Chhattisgarh's Sukma district.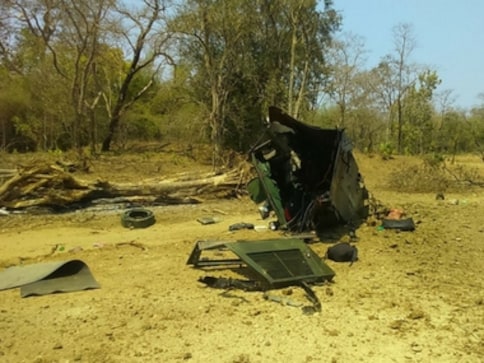 Nine Central Reserve Police Force (CRPF) personnel were killed on Tuesday in a suspected Naxal attack on their mine-protected vehicle in the Kistaram area in Chhattisgarh's Sukma district, according to media reports.
Two jawans out of eleven in the vehicle sustained injuries and were airlifted to Raipur for treatment. The names of the jawans killed: ASI RKS Tomar, Constable Ajay KR Yadav, Constable Manoranjan Lanka, Constable Jitendra Singh, Constable Shobhit Sharma, Constable Manoj Singh, Constable Dharmendra Singh, Constable Chandra HS, Head constable Lakshman.
Officials said the incident occurred around 12:30 pm along the district's Kistaram-Palodi road when troops of the CRPF's 212th battalion were out on an operation.
According to officials, the security men were conducting an area-domination operation in the forest area when the the attackers blew up the CRPF vehicle through multiple improvised explosive devices (IEDs) concealed under the dirt track. CRPF director-general RR Bhatnagar, who was in Delhi, left for Raipur.
Times Now reported that the attack is being seen by officials as a response to the last few encounters in Sukma and other districts.
Times Now further quoted local CRFF sources as saying that there could be a heavy number of people who have been injured in the attack. Soon after the incident, reinforcement was rushed to the spot.
Anti-Naxal operations special DG DM Awasthi told reporters that there is no firing in the area at present. Officials added that the first encounter took place at 8 am and later this contingent was targeted.
Doctors treating the wounded CRPF jawans in Raipur said that the jawans suffered injuries due to the IED blast and not due to any firing. They added that no bullets have been detected in the two injured personnel.
Bodies of those killed in the attack will be brought to Raipur for post mortem. Chhattisgarh chief minister Raman Singh said that he was "overwhelmed with grief" with the loss of the nine officials.
"The martyrdom of security personnel who sacrificed their lives while discharging their duties will always be remembered," the chief minister said in a statement. "Maoists feared that the development works in Bastar will uproot them from the region, therefore, they committed such a cowardly and shameful attack," he said.
Prime Minister Narendra Modi and President Ram Nath Kovind offered condolences over the attack on the paramilitary officials.
Home Minister Rajnath Singh took to Twitter to condemn the attack.
Congress president Rahul Gandhi said that the incident "reflects a deteriorating internal security due to flawed policies."
With inputs from PTI