Chef Garima Arora, India's first woman with a Michelin Star, on her culinary journey and food philosophy
"What I want for my guests is for them to enjoy an experience they have never had before and hopefully never will outside my restaurant," – says Chef Garima Arora, of the dining experience at her one Michelin star restaurant Gaa in Bangkok,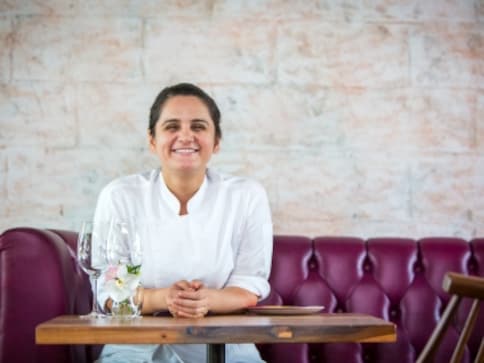 If there is a tidal wave of news that has hit the culinary world recently, it has been that of Chef Garima Arora securing for her 1.5-year-old restaurant Gaa, in Bangkok, its first Michelin star. That she is the first Indian woman chef to do so has been an even bigger matter of pride for all.
Speaking to Chef Arora, exactly at lunchtime, somehow seemed right. In her soft, yet confident voice, she told me a story that is by now familiar, to me, and to many who have followed their passion – of growing up in Mumbai, pursuing a degree in Mass Media and even working as a journalist for a bit, all the while hearing the call of the kitchen. "When I was working as a journalist I realised that if I wanted to open my own restaurant one day and be a chef I needed to start young, and that's when I decided to change careers and move to Paris to study at Le Corden Bleu. Since then, I worked in a couple of different restaurants and countries and finally I found myself in Bangkok and opened Gaa," Arora deftly summarises a story she has repeated quite often in the last few days.
Arora has worked at Noma in Copenhagen with René Redzepi, and with Gordon Ramsay in the United Kingdom, before moving to Bangkok to work with Gaggan Anand at his restaurant. This line-up in a career spanning a decade is immense and Arora feels that it is her time at Noma and with Redzepi that has had the biggest influence. "I spent the initial years of my career there and it changed me not just as a cook but as a person as well. It gave me the tools and the resources to think about food in a very systematic manner. It made cooking a cerebral experience rather than it being a blue collared job. It completely changed the way I looked at food and I cook today," she says.
Gaa today offers tasting menus to its guests and is a restaurant that captures the vibrancy of Bangkok and its amalgamation of cultural influences. Speaking on her food philosophy and approach to food, Arora explains how they start with produce or technique, and break that down. "If crab comes in, we will do everything possible with our skill sets to see which way we can cook it best and which agrees with us most. And the same thing we do with technique – for example – the use of lactic acid techniques in fermentation – we look at how we can break that down. And somewhere along the line the produce and technique meet and the result is something unique".
Of Arora's favourite dishes on her menu today are the Unripe Jackfruit, Roti, Pickles, which has both unripe and ripe jackfruit and is reflective of Indian and Thai cultures in the same dish. "Indians eat it unripe and the Thais eat it ripe, and one set of people doesn't get why it's the other way round", she says amused. "It all comes together really well. You have a Thai roti and pickles which you put together into a spring roll of sorts and you eat. It is completely vegetarian, yet is so high in umami that when you eat it, it's meaty and hearty, but 100 percent vegetarian, in fact, vegan. It's my favourite dish on the menu. Another is the Blue Swimmer Crab, Long Peppercorn and Macademia milk course. It embodies everything that Gaa is. When you look at it, it's completely white. When you eat it, it has a punch of peppercorn, jaggery and a luxurious nut milk. It looks so simple, but it packs so much of flavour," explains Arora so passionately of her dishes.
Gaa offers 10 and 14-course tasting menus of which Arora recommends the latter for a first timer at the restaurant as it is playful and gives you the whole Gaa experience. "I think that a lot of guests that have eaten here will vouch for it, that Gaa is something they have never tasted before and that it will surprise you — the flavours, textures and combinations and technique. That is what I want for my guests, for them to enjoy an experience they have never had before and hopefully never will outside my restaurant," she says.
With so much of work going into every minute detail at Gaa, was there a conscious effort of working towards the Michelin star, I asked. To which Arora replied saying that it was not something they worked towards at the restaurant because at the end of the day, you never know when the inspectors come in. "But I had a very clear mind on what I wanted my restaurant and my food to be and I am glad I never gave up on that principle, and never compromised on what the food should taste like. This is a great stamp of approval that all that we did in the last year and a half is a move in the right direction," she says proudly.
And proud she should be, because not only has her restaurant secured a Michelin star but she is the only Indian woman to have achieved this. So I wondered, what it's been like as a woman in a male-dominated space. Here is what she said, "Men and women are different, as are their sensibilities. If anyone says men and women are the same, I strongly disagree. I think we each have our own strengths. I for one, have never faced any discrimination or sexism based on who I am or where I am from. And that is only solely because I have worked with some amazing people. I am not saying it doesn't exist, it's just that I haven't faced it. But all I can say is as a woman I feel extremely proud. And I hope women, especially from my country can go seize the day. We are all sick apologising for the choices we make in life – what we wear, what we do, what we eat, who we choose to marry. I am done, we are all done. So if I can open the door towards the right direction, then I am happy I did."
Arora and the team at Gaa are still basking in their success and are taking it one day at a time. Arora believes that there are still so many things to be done and that they have barely scratched the surface. She wants things to take its own pace and see where the journey takes them. And if you want to know what's next for Gaa, Arora suggests that you come on over and join them for a meal!
Entertainment
The alleged couple has meanwhile been tight-lipped about their relationship. However, the social media seemed to have erupted following Gomez and Malik's dating rumours.
World
In a development that could ideally mean the end of world hunger, a team of food tech experts have made the world's first edible 3D-printed cheesecake. Experiments like these help improve food safety, and the ability for users to control nutrient intake more easily.