Chabahar Port: Why future of India-Iran project hinges on outcome of Narendra Modi-Donald Trump meet
The trilateral engagement between India, Iran and Afghanistan during the visit of Prime Minister Narendra Modi to Iran in May 2016 expanded avenues of trade for India with Iran, Afghanistan, Central Asia and Russia through the INSTC
The trilateral engagement between India, Iran and Afghanistan during the visit of Prime Minister Narendra Modi to Iran in May 2016 expanded avenues of trade for India with Iran, Afghanistan, Central Asia and Russia through the International North South Transportation Corridor (INSTC). Chabahar, Iran's only oceanic port, consists of two separate ports named 'Shahid Kalantari' and 'Shahid Beheshti' — each of which have five berths.
India and Iran first agreed upon plans to further develop 'Shahid Beheshti' port in 2003, but India was deterred by sanctions against Iran. Under the India-Iran agreement of May 2016, India is to refurbish one of the berths at 'Shahid Beheshti', and reconstruct a 600-metre-long container handling facility at the port. The bilateral agreement between India and Iran gives India the right to develop two berths of Chabahar as agreed in 2015, allowing them to be operated for 10 years by India Ports Global — a joint venture between Jawaharlal Nehru Port Trust and Kandla Port Trust, in partnership with Iran's Aria Banader.
Along with the development of Chabahar Port, India is also to construct a railway line linking Chabahar with Zahedan on the Iran-Afghanistan border, which beyond Zahedan will be linked to the Iranian Railway running west and then north close to the Iran-Afghanistan border, avoiding the volatile Helmand Province of Afghanistan. India's development of Chabahar will be at a cost of $85 million over the course of 18 months. Upon completion of upgrade work agreed to in May 2016, Chabahar's capacity will be increased to eight million tonnes from the current 2.5 million-ton capacity.
India's investment is supplemented with a $150 million credit line to Iran through Exim Bank of India. India has also offered to supply $400 million worth of steel towards the construction of the rail link between Chabahar-Zahedan. Chabahar Port and the INSTC give India the strategic access for trade with Afghanistan and Eurasia, faced with denial of the land route through Pakistan.
Prior to the Indo-Iranian agreement on Chabahar, Iran had offered the same project to China and Pakistan also in addition to India, with China, Pakistan not responding. Iranians grudge that India agreed to develop Chabahar in 2003 but despite US being amenable to India doing so, India remained complacent. However, it did emerge in 2015 that there were problems in clearing backlog payments for imported Iranian oil even through European banks because of the sanctions.
But the fresh agreement of May 2016 implies that India should complete the project within the stipulated 18 months — by November 2017. However, this appears impossible with US-Iran relations gone sour and the threat of sanctions by the Trump administrations. Trump has called the agreement between Iran and six major world powers restricting Tehran's nuclear program in exchange for lifting of sanctions "the worst deal ever negotiated".
India committed $500 million to speed up development of Chahabar after sanctions on Iran were lifted but India's Ports Global Pvt Ltd has not been able to award a single tender for cranes and forklifts etc. Swiss engineering group Liebherr and Finland's Konecranes and Cargotec, both of which dominate the market for customised equipment to develop jetties and container terminals, maintain they are unable to take part in the bids as their banks are not ready to facilitate transactions involving Iran due to the uncertainty over US policy. The lifting of UN and EU sanctions in 2016 partly reconnected Iran with the international financial system but large international bankers remain unwilling because of the US stance, especially due to possibility of unilateral US sanctions that may be imposed irrespective of the nuclear deal.
There is little progress on the Iranian side as well; even an initial credit line of $150 million that India wants to extend to Iran for development of Chabahar has remained a non-starter as Tehran has not been able to do its part of the work. So, the 18-month deadline for completion is impractical, especially with the Indian Ambassador to Iran stating that "some of the customised cranes needed take up to 20 months to build".
In 2011, Beijing and Tehran signed a deal giving China exclusive rights to multiple several Iranian oil and gas fields through 2024, including rights to build necessary infrastructure. In return, China promised to treat any foreign attack against these regions as attacks against its own sovereign territory, and defend them as such. China needs no prior permission from Iranian government to maintain and increase its military presence in Iran, and will control the movement of Iranians in and out of these territories.
According to Green Experts of Iran, this agreement was the basis for PLA's General Zhang Zhaozhong stating, "China will not hesitate to protect Iran even with a Third World War." China and Iran aim to increase bilateral trade to $600 billion within the next decade, even though economists feel it is not attainable. Just last week, the Chinese and Iranian navies undertook joint exercise in the strategic Straits of Hormuz, preceded by a China-Pakistan joint naval exercise off the coast of Karachi.
According to James M Dorsey, senior fellow at the S Rajaratnam School of International Studies in Singapore, the Donald Trump administration appears to take be getting ready to back Saudi Arabia and the UAE to destabilise Iran, possibly topple its Islamic government and force Qatar to fall into line with Gulf policies that target Iran. If that were to happen, the US in all probability may re-impose unilateral sanctions.
This would adversely affect India's development of the Chabahar Port and consequently trade with Afghanistan, Central Asia and beyond through the INSTC. India will need to find a way to continue developing the Chahabar Port even in the event of fresh sanctions against Iran. This will require sustained high-level diplomacy including perhaps discussion of the issue between Modi and Trump.
The author is a retired lieutenant-general of the Indian Army
Find latest and upcoming tech gadgets online on Tech2 Gadgets. Get technology news, gadgets reviews & ratings. Popular gadgets including laptop, tablet and mobile specifications, features, prices, comparison.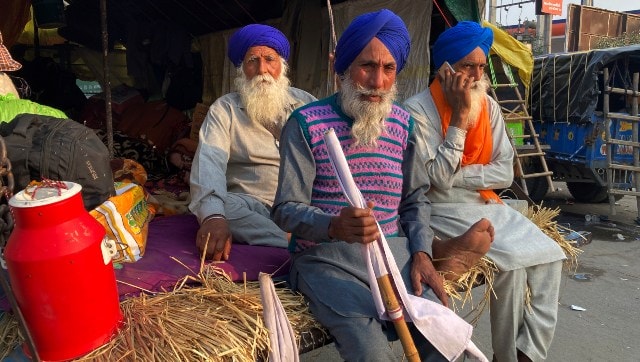 India
The fear among farmers is that the next step in the agriculture reform process will be the doing away of government procurement process as well as the MSP
India
This pandemic sounds an alarm about the consequences of inefficient planning and management of cities and poses an opportunity to rethink and rebuild the areas that are most important to the country's growth
Lifestyle
'As I read Emily Ratajkowski's tale, I thought of many of the stories I had heard amongst the models I had interviewed that struck a similar chord,' writes Manjima Bhattacharjya in her monthly column, 'Curious Fashion'