Rajnath Singh says Centre will hold 'sustained dialogue' on Kashmir, to appoint ex-IB chief Dineshwar Sharma as representative
A sustained dialogue will be initiated by the government to find a solution to the Kashmir issue, Union Home minister Rajnath Singh said
A sustained dialogue will be initiated by the government to find a solution to the Kashmir issue, Union Home Minister Rajnath Singh said on Monday.
Government has decided to start a sustained dialogue in J&K. Former IB Director Dineshwar Sharma will be Govt of India's representative: HM pic.twitter.com/kQE5Ek5ioP

— ANI (@ANI) October 23, 2017
Addressing a hurriedly-convened press conference, Singh said former director of the Intelligence Bureau (IB) Dineshwar Sharma will be the government's representative to initiate dialogue with all stakeholders in Jammu and Kashmir.
Sharma, a 1979-batch (retired) officer of the Indian Police Service, served as the IB director between December 2014 and 2016.
As per an ANI tweet, Singh said, "Rank of former IB director Dineshwar Sharma will be equivalent to that of a Cabinet secretary."
The Centre's representative will engage with all walks of life in Jammu and Kashmir and understand their legitimate aspirations, Rajnath added.
"Dineshwar Sharma will initiate dialogue with elected representatives of Jammu and Kashmir, political parties, different organisations and people," Singh said as per another ANI tweet.
Rajnath added that Sharma will be free to decide whom he wishes to hold talks with, according to a report in India Today.
Sharma took charge as the mediator for peace talks with insurgent groups in Assam, including the United Liberation Front of Asom (ULFA).
After a long spell of violence, following the killing of Hizbul commander Burhan Wani, Rajnath Singh led an all-party delegation to Kashmir, according to the India Today report.
The initiative has been taken as per Prime Minister Narendra Modi's Independence Day address, Singh said.
With inputs from PTI
Politics
This is the first such meeting that will be held since Jammu and Kashmir's special status was scrapped and it was divided into two Union Territories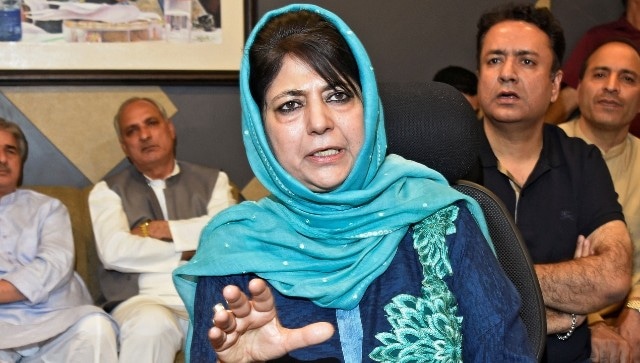 India
The PDP's political affairs committee, headed by Mehbooba Mufti, will take a final call on its participation in the meeting to be chaired by Narendra Modi on 24 June
Politics
The Congress' decision comes after the People's Alliance for Gupkar Declaration (PAGD) confirmed Tuesday that its members too will attend the all-party meeting called by Modi in New Delhi on Thursday