Centre says 'status quo' with China unaltered at Doka La: Border dispute refuses to die down, five months after standoff
The Congress asked the government to come clear on allegations about fresh Chinese troops build-up in the Doka La region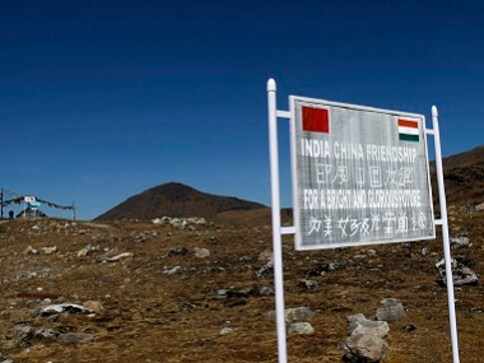 It's been five months since the Doka La stand-off between India and China at the tri-border junction came to an end, but it appears that questions raised following the dispute are still far from being resolved.
The Ministry of External Affairs (MEA) once again addressed media reports of a build-up of Chinese troops in the Doka La plateau on Thursday, and said that status quo has not been altered at the face-off site.
The ministry asserted that the status quo at Doka La, where Indian and Chinese troops were locked in a stand-off for over two months last year, was not altered and strongly rejected any suggestion to the contrary as "inaccurate and mischievous".
"Our attention has been drawn to some reports that question the accuracy of the position stated by the government in respect to the situation in Doka La," MEA spokesperson Raveesh Kumar was quoted as saying at the press conference on Thursday.
In response to repeated questions about any change in the status quo at the face-off site, the government has stated that there was no basis for such imputations. "The government would once again reiterate that status quo at the face-off site has not been altered. Any suggestion to the contrary is inaccurate and mischievous," he said.
Spike in Chinese military presence at Doka La
The MEA's response comes in the wake of reports about China carrying out infrastructure development in the disputed region. On Wednesday, NDTV reported that five months after the stand-off ended, recent satellite images showed a "massive, full-fledged Chinese military complex (is) being built within" Doka La. For years, the nearest road the Chinese have been building 10 kilometres east of the Indian position in Sikkim. The report also mentioned that trenches, two helipads, gun emplacements and other military structures were clearly visible in the satellite images.
Congress dissatisfied with MEA's response
Following the MEA statement on Doka La, the Congress on Thursday asked the government to come clear on allegations about fresh Chinese troops' build-up in the region and demanded it specifically state whether some helipads or bunkers have been established.
"MEA statement does not say a word about the alleged construction by Chinese army as depicted in satellite imagery. Please be specific if Chinese have constructed concrete posts, seven helipads, new trenches and placed several dozen armoured vehicles in Doka La," Congress leader Randeep Singh Surjewala said in a tweet.
MEA Statement does not say a word about the alleged construction by Chinese Army as depicted in satellite imagery.

Plz be specific if Chinese have constructed concrete posts,seven helipads, new trenches & placed several dozen armoured vehicles in Doklam.https://t.co/1ujXT6LKXt

— Randeep S Surjewala (@rssurjewala) January 18, 2018
Earlier in the day, the Congress had also accused Prime Minister Narendra Modi and External Affairs Minister Sushma Swaraj of misleading the nation over Chinese troops occupying Doka La plateau, saying that India's security and strategic interests have been compromised.
"It seems that the government was snoozing while the Chinese troops occupied the Doka La plateau as suggested by satellite images. And it seems China is planning a Doka La 2.0 like retreat near the Indian border," Surjewala said.
He further took a jibe at Modi and said, "The prime minister has mastered the art of electoral rhetoric as he has failed miserably to ensure the protection of our borders."
The Congress had earlier criticised the central government over reports of China's road building activities in Arunachal Pradesh and asked if New Delhi had "granted China a franchise" to construct roads.
Chinese incursion in Arunachal Pradesh
On 28 December, Chinese road-building teams entered around one kilometre inside Indian territory in Tuting area of Arunachal Pradesh along the Line of Actual Control (LAC) but returned after being confronted by Indian troops, government sources said. The sources added the Chinese civilian teams had come for track alignment activities and returned when confronted by the Indian troops, leaving behind various road building equipment including two excavators.
According to local villagers in Arunachal Pradesh, the Chinese team members included civilians as well as uniformed personnel. They also said that Indian security personnel intercepted them near Bising village under Tuting sub-division.
Indian border patrolling personnel (ITBP) maintained there was "no face-off" between the two sides and that the issue was resolved through an established mechanism.
Nyomin Tekseng of Zido village near the frontier and Pema Nyisir of Gelling village had said that two excavators were confiscated. "Indian and Chinese troops had pitched tents at the freshly cut road and had erected a boulder wall," Nyisir said.
China later approached the Indian side and requested that the equipment be returned, which includes a JCB and a water tanker.
A few days later, a National Security Council report stated that the recent Chinese intrusion into Arunachal Pradesh was an "inadvertent border crosswalk" by some labourers and did not involve Chinese troops. The report said the group was tasked with construction work and was unaware they were on Indian territory before they were confronted by the ITBP.
It added the group had no involvement with the Chinese People's Liberation Army.
Following reports of Chinese incursion into Indian territory, China said it had "never acknowledged" the existence of Arunachal Pradesh and kept mum over reports that its troops intruded into the Indian side of the border in the frontier state.
"First of all on the border issue, our position is clear and consistent. We never acknowledged the existence of 'so-called' Arunachal Pradesh," Chinese foreign ministry spokesperson Geng Shuang told a media briefing.
"I want to mention that between China and India there is a well-developed mechanism for border related affairs. Through this mechanism, China and India could manage the border affairs. Maintaining peace and stability at the border suits both China and India," Geng had said, adding that the Doka La stand-off "which happened last year has been resolved properly".
China's plans to divert water from Brahmaputra river
Shortly after the Doka La stand-off ended, Chinese engineers began testing techniques that could be used to build a 1,000-kilometre long tunnel, the world's longest, to divert water from Brahmaputra river in Tibet close to Arunachal Pradesh to the parched Xinjiang region, according to Hong Kong-based South China Morning Post reported.
India, a riparian state, has already flagged its concerns to China about various dams being built by Beijing on the Brahmaputra, which is known as 'Yarlung Tsangpo' in China. Beijing has been assuring India and Bangladesh, which is also a recipient of the waters from the river, that its dams were of the run of river projects and not designed to storing water.
The proposed tunnel, which would drop down from the world's highest plateau in multiple sections connected by waterfalls, would provide water in China's largest administrative division, comprising vast swathes of deserts and dry grasslands.
India and China share a 4,000-kilometre long boundary, and except for a small portion in the middle, the borders have not been settled. In the East, China claims India's Arunachal Pradesh as its own while New Delhi lays claim to Aksai Chin in the West, which is now with Beijing.
Both defence and home ministries have on several occasions called the lack of a fixed boundary the reason behind incidents of transgression by Chinese troops.
With inputs from PTI and IANS
Sports
The felicitation program was attended most of the CWG-returned athletes, including the wrestlers, weightlifters, boxers, shuttlers and table-tennis players.
Politics
Nitish Kumar's move to ditch the BJP in Bihar could shape national politics. The veteran politician has nursed the ambition to become the prime minister for years. There's a strong chance that he could emerge as the Opposition face to take on Narendra Modi in the 2024 general elections
India
Sushil Modi claimed Nitish Kumar has reached a saturation point in state politics