Death of Burhan Wani and what it means to Hizbul Mujahideen, Kashmir
The death of Burhan Wani, the poster boy of Kashmir's new militancy, is likely to bring the Valley to an emotional boil over the next few days.
The death of Burhan Wani, the poster boy of Kashmir's new militancy, is likely to bring the Valley to an emotional boil over the next few days. His funeral will bring out a vast throng, and mourning will be loud and highly visible. The young man (in his early twenties) had become a larger-than-life hero, particularly among young Kashmiris.
When the dust settles, militancy will continue to build. Very senior army officers said privately soon after his death was confirmed, that they expected little change in the level of militancy; they are prepared for the fight to go on as before. District commanders in south Kashmir remain active, they say.
Although Burhan was designated divisional commander for south Kashmir, control apparently remained loose, and militant units that were under his command are expected to remain active. A replacement for Burhan will probably be announced in the next few weeks after deliberations in Pakistan.
To be sure, there have apparently been fewer militant recruits in recent months compared with last year. But that is not to say that fresh recruits are not joining. A video that was released on social media just a few days ago showed Burhan playing cricket with his comrades in a remote field. Among the players was a young man who had joined the ranks of militancy just a few days ago.
The focus has been back on Burhan for the past five weeks, after a prolonged break during which not much had been heard about him. In fact, many had speculated that he had crossed the Line of Control or had gone into hiding in a safe house.
That sort of speculation was put to rest after Burhan engaged in an attack at Anantnag on 4 June – just a couple of weeks after Mehbooba Mufti won a by-election from there. Soon after that bold attack, a video of Burhan went viral on social media. Among other things, he called in that video recording on policemen not to participate in counter-insurgency actions.
A senior officer said that the army got information that he was in the wooded Kokernag area of south Kashmir, not far off the Dooru road. They tried to eliminate him in a surprise attack about a week ago, but the engagement did not work out as the army had planned. Burhan got away. He was finally killed after a firefight in the same area on Friday evening.
Wani had taken to militancy after 2010, when he had barely completed his Matric (class 10) studies. People from his native village say he had been a shy but respectful boy until then, and went largely noticed.
Even as a militant, he continued to remain unknown outside his native Tral area until his elder brother, Khalid, was killed by the army 15 months ago. Khalid was apparently returning after meeting Burhan in the second week of April 2015. His body bore horrible torture marks, which enraged common people in Kashmir and brought a wave of support for the younger brother, Burhan, who was designated a Hizb-ul Mujahideen commander.
His handlers projected him smartly over the next few months, mainly on social media. During the summer of 2015, Burhan became an unparalleled icon of Kashmiri rebellion. Although former JKLF chief commander Ishfaq Majid, who was killed on 30 March, 1990, may have had a higher profile, Burhan belonged to an age of extraordinary media coverage and reach.
A picture of Burhan with a dozen of his comrades had gone viral on social media last year, causing amazement at the brazenness with which the new-age militants were willing to be identified. Now, just about all those in that picture have been killed by the army and police.
Many analysts had advised over the past year that the army should try and capture Burhan alive. During last winter, the funerals of many leading militants had become magnets for emotional young Kashmiris, and led to fresh recruitment. However, recruitment appears to have tapered down somewhat over recent months.
Militant attacks have become far more lethal and focused than in the past, however, despite the elimination of many leading figures of south Kashmir's militancy. Just a fortnight ago, a large number of CRPF jawans were killed and injured as their convoy traversed the main national highway just outside Srinagar city.
also read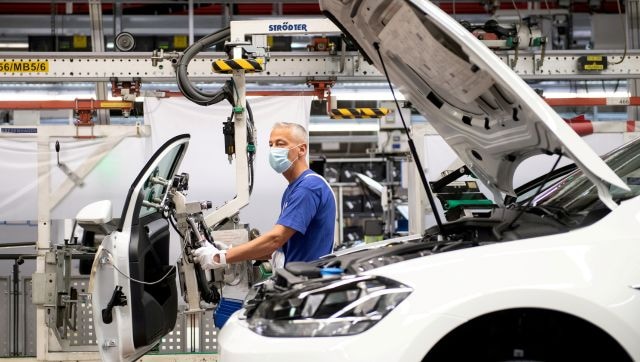 Explainers
Germany's GDP fell .3 per cent in the first quarter of 2023 following a .5 per cent decline in the last quarter of 2022. Though Chancellor Olaf Scholz described the outlook for the economy as 'very good' experts say this is a rude awakening for the country and the entire continent
Explainers
Elon Musk's brain-computer interface company Neuralink has received approval from the FDA to conduct its first in-human clinical study. The firm wants to put coin-sized implants into human beings, which will allow people with paralysis regain motor function, restore vision, and treat brain diseases
Explainers
Tipu Sultan, the 18th Century Mysore ruler, slept in a hammock suspended from the ceiling of his locked bedchamber with this sword by his side. Found in his private apartments after his defeat at the battle of Seringapatam in May 1799, it was previously owned by Vijay Mallya