Bungled blood transfusions infect 2,234 with HIV virus in India
Almost 2,234 people across the country have been infected with human immunodeficiency virus (HIV) during the blood transfusions in the past 17 months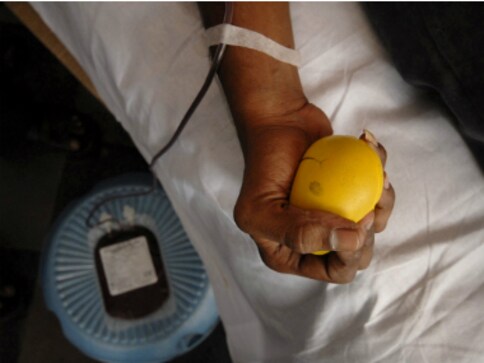 Nothing can be more scarier than to be on the receiving end of a bungled blood transfusion procedure. This report published in The Hindu, states that since the past 17 months almost 2,234 people across the country have been infected with human immunodeficiency virus (HIV) during the blood transfusions.
The cited data released by the National AIDS Control Organization (NACO) further reveals that Uttar Pradesh has 361 such botched up blood transfusion cases, the highest, with Gujarat, Maharashtra and Delhi trailing behind with 292, 276 and 264 cases respectively.
NACO revealed the numbers in response to a query raised by an Right to Information activist Chetan Kothari, states the report.
"No action has been taken against hospitals or blood banks yet," Kothari was quoted as saying by the newspaper.
According to NACO's Deputy Director General, Naresh Goyal, the HIV-infected blood would be transfused because the donor would be in that stage where the viral load would still not be detected during the screening process.
"These are unfortunate cases and we are working towards the goal of zero transmission. Having said that, these numbers must be looked in the context of the scale of our HIV programme. For example, 20 years ago, nearly 8-10 percent of total HIV infections were coming to transfusions. Currently, that figure is below 1 percent. We have conquered this route of infection. It is now legally mandatory for every blood bank to screening the units before giving it to a patient," he said.
Earlier in May, a three-year-old boy in Assam contracted HIV after he underwent multiple blood transfusions for serious burn injuries at Gauhati Medical College Hospital, The Times of India reported.
Although it is said that blood transfusions can be life-saving, we should not ignore the possible risks involved in it.  This report lists down several reactions one might attract if the transfusion doesn't agree with the receiver. Apart from HIV infection, sudden fever, acute lung injury, Hepatitis B and C and bacterial contamination are some of the fatal infections to name a few.
NACO's 2015 annual report states that the total number of people living with HIV/AIDS (PLHIVs) in India was estimated at around 20.9 lakh in 2011. About 86 percent of these fall under the age-group of 15-49. Also, children with less than 15 years of age accounted for 7 percent while 39 percent 8.16 lakh were among women.
Life
In a major breakthrough, new research has identified how HIV infection causes mass suicide of immune cells and how an existing anti-inflammatory drug can block cellular self-destruction.
Politics
Faced with so many scams, scandals, and galloping inflation, our minister might just have been trying to change the headlines by playing the homosexuality card.
science
This new development is the second biggest breakthrough in HIV medicine since antiretroviral treatment itself.