After SpiceJet flight, now buffalo blocks Rajdhani in Surat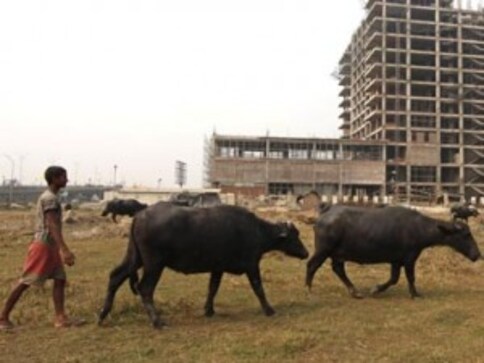 It's raining buffaloes in Surat and they have a strange liking for planes and trains.
A second incident has now come to light where a buffalo strayed into the path of  the Mumbai-Delhi Rajdhani express. Despite slowing down the driver could not help colliding with it and dragged its carcass for a kilometre.
The train had to be repaired before it could continue on its journey, according to a report by the Indian Express.
Last Thursday, a SpiceJet flight from Bhavnagar to Delhi had a miraculous escape after the 140-passenger plane collided with a buffalo just mere seconds away from take off. This incident endangered the lives of the passengers and crew members, causing lasting damage and grounding the plane.
Investigation of the accident  found that parts of the boundary wall around the airport had collapsed and the makeshift fence had also broken at several places, leaving it completely open for cattle to sneak in.
The incident has also resulted in the Surat Airport director S D Sharma's transfer to the remote outpost of Lilabari in Assam, as well as the stoppage of all SpiceJet flights from Surat indefinitely.
The blame for the accident was put squarely on Sharma's shoulders and even he didn't seem to surprised with the news of his transfer. "Everybody knows the reasons for my transfer," Sharma was quoted as saying in The Telegraph.
In both the cases the owners of the buffaloes have yet to come forward and claim compensation.
India
The ship 'Surat' is the fourth and last of the stealth destroyers under the 'Project 15B' programme, while the second ship, 'Udaygiri' is part of the 'Project 17A' frigate programme
World
The suspect in the shooting, an Asian man in his 60s, was in custody and deputies recovered two handguns at the scene, Undersheriff Jeff Hallock said
World
The gunman wore body armor and military-style clothing during the attack in the supermarket in Buffalo, New York, where mostly Blacks shoppers and workers at Tops Friendly Market were present. He even aired the shooting live on Twitch