Budget 2014: Narendra Modi gives biggest push to fiscal federalism
At one stroke, the Arun Jaitley budget transfer nearly 1.6 percent of GDP in terms of central funds to state plans. This is the biggest dose of fiscal federalism ever outside the Finance Commission's recommendations
Amidst all the hullabaloo over multiple suboptimal Rs 100 crore outlays and the perceived lack of radical reforms in the first Modi budget unveiled by Arun Jaitley yesterday (10 July), many members of the commentariat missed the biggest bang political reform of them all: a strong shift to fiscal federalism.
At one stroke, the NDA government has shifted huge outlays to states by transferring large chunks of central plan outlays, including the flagship UPA scheme – the Mahatma Gandhi National Rural Employment Guarantee Act (MGNREGA). Suddenly, state plans financed by the Centre have moved up from 26 percent of the total plan expenditure to 59 percent.
This is a massive transfer of fiscal implementation power to states in just one year. In P Chidambaram's last fiscal year (2013-14), states got Rs 1,19,039 crore out of the Rs 4,75,532 crore plan outlays; this year (2014-15), they get a huge Rs 3,38,408 crore from the total plan kitty of Rs 5,75,000 crore.
In terms of magnitude, it means resources equal to nearly 1.6 percent of GDP have been shifted from centre to states. In 2013-14, central assistance to state plans was 1 percent of GDP; this year it is 2.6 percent.
There are three major implications from this new federalism push even though the money is still coming from the centre.
One, states get greater freedom to use the money coming from the centre for implementing the latter's schemes. Since the Planning Commision's role is also being whittled down, the states need not deal with any intermediary in dealing with such central fund devolutions.
Two, with a little wink and a nod, big central schemes like MGNREGA can now be refashioned at the state level to dovetail into their own plans and priorities.
Third, if this can be done with the Food Security Act, too, states can refashion the scheme like they think fit. It is foolish to believe that 1.25 billion people spread over 29 states and many Union territories all need the same kind of scheme.
The one-cap-fits-all approach of the UPA years, dictated by dynastic and centralising feudal considerations, is now being whittled down by a former state chief minister who is now prime minister.
In his budget speech, Jaitley made only a generic reference to MGNREGA, the 100-days job guarantee scheme, which is one of the schemes shifted this year to state plans. He said: "The government is committed to providing wage and self-employment opportunities in rural areas. However, wage employment would be provided under MGNREGA through works that are more productive, asset creating and substantially linked to agriculture and allied activities."
What he did not say, and which could be discovered only by looking at the detailed expenditure statements of the budget, was that a substantial chunk of the central plan had also gone to states. Surjit Bhalla gives this measure a score of 10/10 in his Indian Express column today (11 July).
According to a Business Standard report, effectively the number of centrally-sponsored schemes has been whittled down from 126 to 66 by Jaitley. Though the move was initiated during the UPA regime, it has been implemented now because the federal push under Modi is stronger.
A Business Line report notes that, with the shift of MGNREGA to the state plans head, states which want to tweak the scheme to suit their preferences may now be able to do so. Madhya Pradesh, which has been unhappy with the central scheme that provided rigid rules on how much of the funds can be used for wages and how much for material and other resources, will now be able to reshape it.
Since the focus of MGNREGA has now been changed from merely providing boondoggle jobs to real asset creation, the federal funding shift will "allow state governments to implement the scheme in a flexible manner to suit their specific local conditions. States can use the MGNREGA funds to dovetail it with their own schemes for rural development," notes BusinessLine.
The tendency to centralise schemes meant for implementation by states was accelerated under the UPA, where the Dynasty felt the need to take credit for such schemes. In the name of being pro-poor, huge outlays under MGNREGA, Food Security and other schemes were made central in nature even though only states had the responsibility to implement them. No state was actually consulted while drafting these schemes. The UPA effectively de-federalised a federalising trend that had begun earlier in the last decade.
Narendra Modi has clearly reversed this trend. It offers hope that many rigid laws and schemes of the past — including labour, land acquisition and rigid social welfare schemes — can now be amended at state level to create momentum for reform and change. Way to go.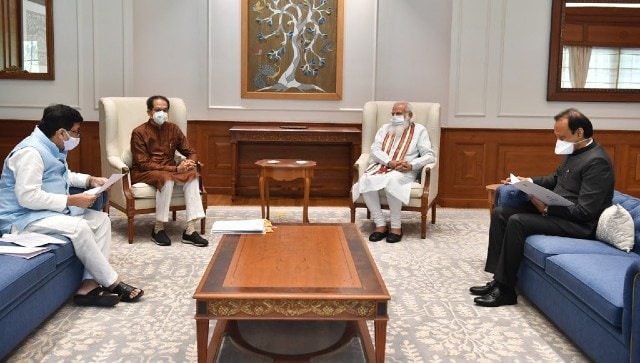 India
Maharashtra deputy chief minister and senior NCP leader Ajit Pawar and senior Congress leader Ashok Chavan also accompanied Thackeray during the meeting with the prime minister
India
Meanwhile, a slew of BJP leaders including JP Nadda, Rajnath Singh and Smriti Irani praised the prime minister's announcements and said the decisions showed the government's committment to the public
India
The resounding success of the Aspirational Districts Programme is a testament to the efforts of the national, state and district level administrations