British musician Stefan Kaye on being asked to leave India: 'My family, friends, work are here'
Stefan Kaye, who has been accused of violating visa norms, speaks to Firstpost about the time he spent in Tihar Jail and how he can't imagine resettling in the UK
New Delhi-based musician Stefan Kaye has been asked by the Foreigners Regional Registration Office (FRRO) to take an exit permit within two weeks and leave India, on the claims that he has violated visa norms. These violations, they claim, include living illegally in India since 2010, as well as taking on business opportunities.
The FRRO's order has come after the High Court's 29 June order, in which it had asked authorities to consider Kaye's application for a visa extension and Overseas Citizenship of India (OCI), reports The Indian Express. The FRRO's order, passed on 18 July, said that "[his] last employment visa was extended up to February 2010, and [he has been] illegally overstaying since then."
Kaye left his UK hometown in 2000 and arrived in India as a project director for a market research firm in 2006. He lived in Barcelona, Spain for five years, where he worked as an actor and English teacher, before coming here. "[The UK] is not my home anymore. India is. My family is here, my network of friends, my work… everything is here," he told Firstpost. After moving to India, Kaye took to the Indian music scene almost immediately and formed The Ska Vengers, an eight-piece ska outfit from New Delhi. He is also a member of jazz trio The Jass B'stards. He eventually quit his job to pursue music full-time.
He also met his now-wife Ritika in India and married her in December 2009. His visa expired after he was unable to get his marriage registered, which is a prerequisite for obtaining a Person of Indian Origin (PIO) visa. He was arrested in 2011 for overstaying, and spent three weeks in Tihar Jail. "There were no mattresses, just a few blankets, and it was cold. I wasn't allowed belts or shoelaces for fear that I might try to hang myself, and lights were left on all the time...," he told BBC.
After his time at the Tihar Jail, Kaye's visa issue continued to haunt him. He was convicted once more by a trial court in July 2016 and sentenced to six months in jail, followed by deportation. He appealed against this, and the HC reduced his sentence to the time he had already spent behind bars but maintained the order to deport him. He appealed against the deportation order and was granted a single-stay permit, which allowed him to remain in India until 31 March, in order for him to be present for the birth of his child.
The courts asked the FRRO to consider Kaye's application for Overseas Citizenship of India (OCI) status with a 'sympathetic' view, but not take coercive measures. This was said on the basis of he and his wife being artists, the future of an Indian citizen being at stake, and that he poses no threat to national security. The FRRO passed an order on 18 July which stated, "Instead of taking Exit Permit from FRRO and going back to your country, you misused the overstay by engaging yourself in business activities by forming a private band, The Ska Vengers, in violation of visa norms, and did not fulfill the statutory compliances, like tax towards government of India."
However, according to Kaye, this order ignores what he terms paradoxes in the Indian bureaucratic system. During the five-year duration of his first trial, he was not allowed to leave the country. "How can you be living illegally somewhere, if not allowed to leave?" he asked. The accusations suggest that he was living here without a visa. But according to Kaye, this is not because he did not apply for one. One of the documents needed to apply for the visa was his marriage registration certificate, which was not granted to him for many years. "I am living here without a visa because the government did not give me a visa," he says. He says he was not allowed to work for the duration of his trials, which he states is the reason why he has not been able to earn enough to pay any taxes. "Any money that I have goes to my legal bills, or towards the care of my child."
Kaye says that the FRRO's decision lacks a little humanity. He added that the FRRO should consider his contributions to Indian society before coming to any decision. "They have seemingly forgotten that I have made meaningful contributions to Indian art, or that I have worked to raise awareness of so many social issues, or even just that I am a father and a husband trying to support my family with all these restrictions placed on me."
However, Kaye and his family have no plans of leaving India. After 18 years of not being in the UK, he says that it will be next to impossible to restart his life there. "Maybe it's easier if you're 20 or something. You spend years and years building up relations and contacts and networks, and you can't really go back to square one after a certain age," he said. Additionally, he says his wife's entire family is in India, and she has no plans of settling down in the UK. "Her work, her life, all of that is in India. Why should she be taken away from her home?" he asked.
Kaye has mentioned in the past that he has considered moving the Supreme Court. But considering the costs involved, he says that even if he is able to raise the funds, the state will find a way to use this against him. He remains unsure of his next step in his fight to stay in India.
Find latest and upcoming tech gadgets online on Tech2 Gadgets. Get technology news, gadgets reviews & ratings. Popular gadgets including laptop, tablet and mobile specifications, features, prices, comparison.
Arts & Culture
Hamlet is a self-centred, entitled, manipulative, callous bully. However, he is also intensely charismatic, so much so that he has persuaded the world to share his Hamlet-centric view. That is what makes him a villain of genius.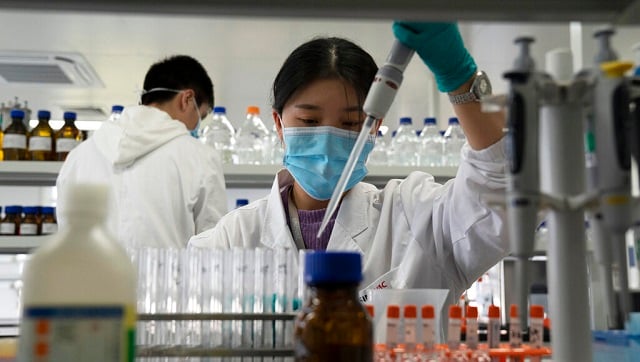 World
European authorities are facing the dilemma of calibrating a response that meets the urgent health care requirements and at the same time appeases a public increasingly experiencing fatigue about COVID-19 restrictions
Entertainment
The rock musical Jagged Little Pill is based on Alanis Morissette's 1995 breakthrough album to tell a story of an American family spiraling out of control.