Bring places of worship under POSH, says lawyer Flavia Agnes as NCW seeks to review 2013 Act
Flavia Agnes was among experts who attended the one-day consultation at the New Delhi office of the National Commission for Women (NCW) to review the POSH Act, 2013.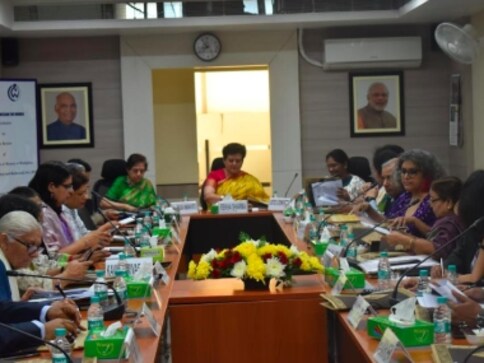 Senior women's rights advocate Flavia Agnes on Saturday said there's an immediate need to bring religious bodies, including Catholic educational institutions and governing bodies of temples, mosque and other places of worship, under the Sexual Harassment of Women at Workplace (Prevention, Prohibition and Redressal) Act, 2013 to prevent abuse of women.
Agnes was among experts, including Justice Sujata Manohar (retd), who helped frame the Vishakha Guidelines that sets procedural rules in dealing with cases of sexual harassment, Justice G Rohini (retd), Prof (Dr) GS Bajpai, Registrar, NLU, and advocate Madhu Mehra, who attended the one-day consultation at the New Delhi office of the National Commission for Women (NCW) to review the POSH Act, 2013.
The alleged rape of a nun by a Roman Catholic bishop in Kerala shook up the country last month, especially after a witness was found dead. Bishop Franco Mulakkal, the main accused in the rape of the nun over a period of two years, is out on bail. Mulakkal denied all charges.
"Nobody is above this and we have said again and again that courts, Catholic institutions, religious places must be covered but nothing like this has happened and even when they have a policy, like the church has a policy, they put it under lock and key and they have not made it public because they don't want people to use it," Agnes said.
"Did the nun who was abused know that there was a policy? She did not know. Is there a mandate on that? And how do we ensure that mandate is enforced? This is just one case out of hundreds. In all religious institutions imagine the power they hold over the women devotees and subordinates. There's no committee and nobody is bothered. Go to any mandir, mosque, there is no committee," Agnes said stressing on the need to institute Internal Complaints Committees (ICC) and Local Complaints Committees (LCC).
NCW has decided to take up the review of the 2013 Act to give it more teeth and accept recommendations for its proper implementation in addressing sexual harassment of women.
Here are some of the suggestions that NCW compiled from the discussions.
• Though the title of Act is 'Sexual Harassment of Women at Workplace (Prevention, Prohibition, and Redressal) Act, 2013', the law is not clear on prevention.
• Lack of a proper mechanism for monitoring the implementation of the Act. There is no authority specified to enquire and inspect the proper implementation of the Act as per the provisions and the monitoring authority for sexual harassment at workplace in the corporate sector is not clearly defined in the Act.
• Dissatisfaction with the composition of ICC/LCC.
• Options available to victim, if she is not satisfied with the process of inquiry and report by the ICC/LCC, is not clearly defined in the Act. Monitoring Authority and Appellate Authority must be defined and established, like a nodal agency.
• Conciliation clause in the Act has to be reviewed.
• Lack of awareness among majority of the employees working both in organised and unorganised sector. It was decided that the National Commission for Women would organise sector and state-wise consultations across the country and take up the matter of constitution of Local Complaints Committees (LCC) with State Governments. The National Commission for Women will also develop a standard training module on Sexual Harassment at Workplace.
To highlight the inadequacy of LCCs, Agnes cited the example of journalist Tarun Tejpal, an accused in a rape case. "Tarun Tejpal's case has turned out to be a criminal case. It need not have been. This case would have gone to the LCC. Imagine a person of that stature going before LCC and a domestic worker going before the same LCC. They are not courts, they are judges, they are not trained. This issue needs serious consideration," she said.
She, among many others, also brought up provision in the law that requires both the complainant and the accused to remain anonymous.
"You use public social media but here you have a mandate that you cannot publicise the names of the respondents or a complainant… what is the complainant supposed to do to air her grievances, how can you stop her from going to social media? I think it's a very positive sign coming away from rape law where we are not mentioning the name of the victim but here the victim is coming out herself and saying 'it happened to me and this man did it'. This phase is coming because of the lapse in law. We cannot stop women from using this (social media) space," she said. The need for ICCs to look into anonymous complaints was also raised.
The need for a comprehensive gender policy came up several times during the discussion, including making the Act gender neutral and separation of sexual harassment from harassment at the workplace. With more women stepping out of their homes to work, sexism is a grey area that the experts felt needed to be brought under the Act's ambit. Agnes said gender-based harassment and harassment of sexual nature have to be defined carefully and recognised as grey areas of the law, especially when there is no clear way to determine sexual intent.
Advocate Madhu Mehra emphasised the need for the Act to be preventive and asked the NCW to clearly spell out its stand on sexuality education in schools. "I am talking about sexuality education and not just sex education which is basically biological study. Unless young adults orient themselves to these issues you can't parachute these rules and measures on them at the workplace," she said.
Senior NCW Coordinator, Kanchan Khattar, informed the group that since the organisation opened an email account (ncw.metoo@gmail.com) especially for #MeToo cases, they have received 20 such complaints, and mostly, of cases that happened before the POSH Act came into being.
The recommendations will be forwarded to the Ministry of Women & Child Development or directly to the Parliament.
also read
First Cricket News
The ICC has also kept a reserve day for the title clash if the weather plays spoilsport.
First Cricket News
ICC have prepared two pitches for WTC Final between India and Australia following a threat from oil protesters who threatened to vandalize the pitch and ground during the match.
India
The villagers said there was no visible change in the surrounding environment and only a scientific study could ascertain the exact cause of the continuing underground sounds