Brics Summit: PM Modi slams Pakistan, calls it the 'mothership' of terrorism
The issue of cross-border terrorism remained a focal point in all the speeches of Prime Minister Narendra Modi as he urged the Brics nations to work together in their fight against the global menace of terror.
The issue of cross-border terrorism remained a focal point in all the speeches of Prime Minister Narendra Modi as he urged the Brics nations to work together in their fight against the global menace.
"Unfortunately, this country in India's neighbourhood embraces and radiates the darkness of terrorism. Terrorism has become its favourite child, and the child in turn has come to define the essential nature of its parents," said Modi at the Brics-Bimstec Outreach Summit. Modi had earlier dubbed Pakistan (without naming it) the "mothership" of terrorism to which terror modules around the world were connected.
PM:Unfortunately 1 country in India's neighbourhood embraces & radiates darkness of terrrorism. Terrorism has become it's favourite child pic.twitter.com/NPXDc7cgJM

— Vikas Swarup (@MEAIndia) October 16, 2016
Modi at the Brics-Bimstec Outreach Summit also said that a clear message must be sent to those who nurture philosophy of terror and seek to dehumanise mankind; they should either mend their ways or be isolated in a civilised world.
PM:To those who nurture philosophy of terror & seek to dehumanize mankind,we must send clear msg-mend ways or b isolated in civilized world pic.twitter.com/SDNsR9qt2f

— Vikas Swarup (@MEAIndia) October 16, 2016
The two-day Brics Summit concluded on Sunday with the heads of the participating countries (Brazil, Russia, India, China and South Africa) pledging stronger business ties and cooperation on fight against terrorism.
Modi also urged the member countries to act together against the threat posed by terrorism. "Brics must speak in one voice against this threat. We need to act individually and collectively to defeat terrorism," he said on Sunday, adding that a selective approach against terrorism will not only be futile but also counter-productive, according to PTI.
Modi also articulated India's concerns over terrorism emanating from Pakistan during his bilateral talks with Russian President Vladimir Putin and Chinese President Xi Jinping on Saturday as well.
The Prime Minister stressed that those supporting terrorism have to be "punished, not rewarded". "The growing arc of terrorism today threatens Middle East, West Asia, Europe and South Asia," he said. "Its violent footprint puts at risk the security of our citizens and undercuts our efforts aimed at economic growth," he added.
In his concluding speech on Sunday, Modi said that the leaders were unanimous in recognising the threat that terror, extremism and radicalisation present to regional and global peace, stability and economic prosperity. "We underscored the need for close coordination on tracking sources of terrorist financing and target the hardware of terrorism, including weapons' supplies, ammunition, equipment and training," he said.
The Goa Declaration
The five member countries of Brics also signed a joint declaration on Sunday asking all countries to prevent terrorist actions from their soil. It called for expeditious adoption of the Comprehensive Convention on International Terrorism (CCIT) by the UN to tackle the problem and step up practical cooperation against terrorism.
The member countries also condemned the recent attacks against some Brics countries, including that in India. "We agreed to strengthen cooperation in combating international terrorism both at the bilateral level and at international fora," the Goa Declaration issued at the end of the summit said.
In the declaration, the Brics said it reaffirmed commitment to the FATF (Financial Action Task Force) international standards on combating money laundering and the Financing of Terrorism and Proliferation. The FATF is an inter-governmental organisation founded in 1989 on the initiative of the G7 to develop policies to combat money laundering. In 2001, the purpose expanded to act on terrorism financing.
It also called for swift, effective and universal implementation of FATF on combating terrorist financing, including effective implementation of its operational plan.
PM:We agreed that those who nurture,shelter,support &sponsor forces of violence &terror are as much a threat to us as terrorists themselves pic.twitter.com/rySxHgmw47

— Vikas Swarup (@MEAIndia) October 16, 2016
Stronger multi-lateral trade
The world leaders also stressed on the need for greater co-operation in business and trade between member states to drive stronger growth back home, and putting the global economy back on track.
On the achievement of Brics, Modi said the footprint of intra-Brics engagement has expanded over time to include large areas of economic activity. "The scope of our partnership today stretches from agriculture to industry and innovation; trade to tourism; environment to energy; films to football; skill development to smart cities; and from fighting corruption and money laundering to securing our societies," he said on Sunday.
China President Xi Jinping also shared similar views as he stated that innovation holds "the key to leapfrog" development in Brics countries and urged businesses to follow this path for a steady and sustainable economic development.
Admitting that 2008 credit crisis has not only "slowed down Brics economies" but they are still "facing challenges" even after eight years of the worst recession since the 1930s, Jinping stressed that the "potential and the strength" of the grouping is "unchanged" and they continue to remain positive from a long-term perspective.
Jinping also underlined the need for "result-oriented" cooperation among the Brics countries and also asked the Business Council to explore the idea of joint implementation of big projects.
The Chinese leader said the New Development Bank, which began operations in Shanghai last year, is the outcome of a similar result-oriented approach and affirmed Beijing's commitment to fully back its activities.
Newly-appointed Brazilian President Michel Temer, who came to power after his predecessor Dilma Rouseff's impeachment a few months back, said his administration will speed up economic reforms by creating more jobs in an anaemic economy and also affirmed his commitment to maintain the ecological concerns.
The largest South American nation will streamline its bureaucracy so that work gets implemented faster, Temer said, and declared that his administration has identified as many as 34 projects in the roads, highways, ports and oil sectors to boost an anaemic economy which has been degrowing of late.
He claimed that the largest Latin American economy, which recently hosted the Rio Olympics, already sees signs of the recovery being underway.
Russian President Vladmir Putin said business plays an important role in both sustainability and accelerating growth and underlined that Brics members are home to some of the most promising consumer markets in the world.
South African President Jacob Zuma said the activities of the Brics Business Council over the past three years have reached a stage where it can play the role of a catalyst for growth.
Zuma also outlined the areas where partnerships are needed, including insurance and re-insurance, a Brics seed bank, infrastructure including power generation and transmission, aviation and large-scale manufacturing so that massive number of jobs can be created. The largest African economy has an official unemployment level of 25 percent while the actual joblessness is much higher.
Modi said there was also a clear need to build norms, create structures and pool capacities to stop tax evasion, and fight against black money and corruption.
NDB to double its commitment in Brics nations
Multi-lateral trade between Brics nations was a major highlight at the Brics Business Council meeting. The New Development Bank (NDB), which was formed by the Brics nations last year, announced its plans to more than double its commitment to support infrastructure projects to the tune of $2.5 billion in 2017. "We are targeting incremental lending of $2.5 billion over next year and we believe it will be largely in the sustainable and green infrastructure," KV Kamath, the NDB president, said on Sunday.
Keeping the commitments and the actual lending in mind, Kamath also said that the NDB has drawn up a plan to raise $1.5 billion from multiple sources next year. He also urged the Brics leadership to recommend the NDB as an observer at the UN General Assembly.
Russia-India to strengthen tie
Modi's statement on Saturday, "one old friend is better than two new friends" was not just a sign of India recognising its alliance with long-time partner Russia, but also a commitment to strengthen it. The two countries met for bilateral talks on the sidelines of Brics where India and Russia signed 16 agreements and made three major deals. One of the major wins for both countries was the $5 billion S-400 "Triumf" deal, which will aid India's security against neighbours, whereas Rusian takeover of Essar oil will help Russia's ailing oil business. Keeping up with Modi's Make in India plan, Russia also agreed to domestically manufacture 200 Kamov helicopters in India.
The two sides also signed Memorandums of Understanding (MoUs) on developing smart cities, transport logistics, shipbuilding and railways in Andhra Pradesh, and cooperation in oil and gas among others. The two leaders also announced the launch of phase two of the Kudankulam nuclear reactor, done via video conference, as well the foundation stone for phases three and four.
With inputs from PTI
World
There is no doubt that the Vladimir Putin-led United Russia party will win the polls, which will be held over three days this weekend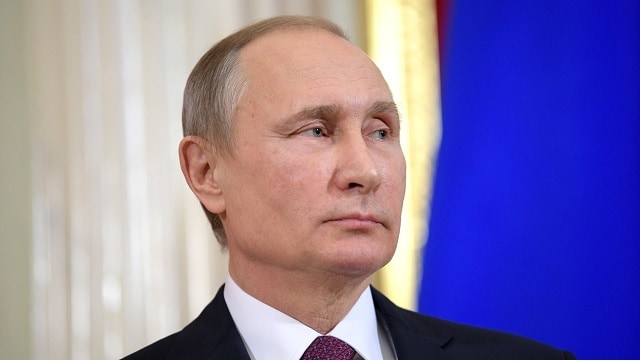 World
Russian authorities unleashed sweeping crackdown on Kremlin critics this year resulting in only few Opposition candidates being allowed to run for elections
Sports
By beating Djokovic in Sunday's final, Medvedev became the first Russian to win a major title since Maria Sharapova in 2014, and the first Russian man since Marat Safin in 2005.