BRICS Summit: New Delhi, Beijing agree to maintain 'momentum' in ties; Chinese defence minister to visit India in August
Prime Minister Narendra Modi and Chinese president Xi Jinping agree to maintain the 'momentum' in their ties during BRICS summit. The Chinese defence minister will visit India in August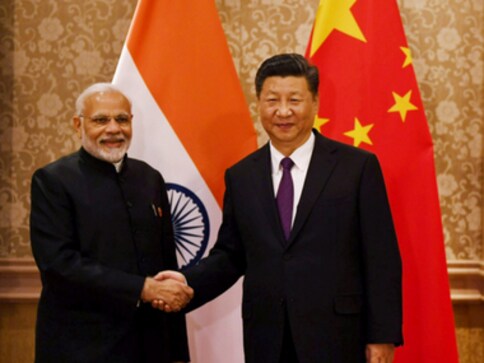 Johannesburg (South Africa): Prime Minister Narendra Modi and Chinese President Xi Jinping have agreed that the Chinese defence minister will visit India in August as part of the efforts to maintain the "momentum" generated by their recent meetings.
Modi, who was in Johannesburg to attend the BRICS Summit, met Xi for the third time in nearly three months on 26 July after their two-day informal summit in the Chinese city of Wuhan in late April and a bilateral meeting on the sidelines of the Shanghai Cooperation Organisation (SCO) Summit in Qingdao, China in June.
"It is important to maintain this momentum and for this we should, at our level, regularly review our relationship and give proper instructions whenever required," Modi told Xi in his opening remarks.
He told the Chinese leader that their recent meetings have given a new strength to bilateral ties and also provided new opportunities for cooperation.
President Xi said that the Chinese side is ready to work with the Indian side to carry forward the fresh impetus of bilateral relations since their informal meeting in Wuhan, China's state-run Xinhua news agency reported.
He called on the two sides to strengthen strategic communication, increase mutual trust, promote practical cooperation, as well as cultural and people-to-people exchanges, strengthen dialogue and properly manage differences, it said.
World
As the war in Ukraine completes a year, China's Xi Jinping is expected to meet his Russian counterpart Vladimir Putin. Beijing has claimed to be neutral in the conflict, but with the visit to Moscow is Xi choosing a side?
World
In a call with Pakistan's President Arif Alvi, Xi said China 'opposes all forms of terrorism and strongly condemns the incident'
World
The Department of Employment and Labour is gearing itself to host the first in a series of meetings of the BRICS countries. Employment Working Group (EWG) in February. The BRICS Research Network Forum will also meet simultaneously. At the apex of discussions will be social security issues.