BRICS Summit 2017: India must avoid drawing the wrong conclusions from China's tactical concessions on LeT, JeM
It is important not to draw all the wrong inferences from Monday's turn of events at the BRICS Summit 2017.
The inclusion of Jaish-e-Muhammad and Lashkar-e-Taiba's names in the Xiamen Joint Declaration of BRICS Summit is a tactical and diplomatic win for India. This is the first time China has let the names of these Pakistan-based terror outfits — who exclusively target India — be mentioned in a joint statement. Beijing had single-handedly blocked India's attempts to do so earlier, for instance, in Goa.
Just before the start of this year's edition, host China had in a media briefing indicated that it won't be "appropriate" for members to raise the issue of Pakistan's role in terrorism at BRICS. It was a barely concealed message for India. Considering the context, India seems to have pulled off quite a coup in Xiamen.
And yet, it is important not to draw all the wrong inferences from Monday's turn of events. As the news broke out, some Indian TV channels enthusiastically interpreted it as a case of 'China dumping Pakistan', some said it was a 'resounding win' after Doka La. Let's be clear. The breakthrough that India achieved on Monday at BRICS is significant. It represents a softening of China's stance on Pakistan-sponsored terror. But neither is it an unqualified 'victory' nor does it signal a dramatic change in Beijing's Pakistan policy.
China is a rational player and all its actions are based on a hard cost-benefit analysis. Like all rational players, Beijing will never take a single step against its core interests. And weakening Pakistan at a time when the US is turning the heat on Islamabad goes against its core interests. So how to reconcile the two apparently contradictory position that China finds itself in? Before we explore the reasons, let's take a look at the relevant portion of the joint-declaration text.
Paragraph 48 of the 43-page Xiamen Declaration reads: "We, in this regard, express concern on the security situation in the region and violence caused by the Taliban, ISIL/DAISH, Al-Qaida and its affiliates including Eastern Turkistan Islamic Movement, Islamic Movement of Uzbekistan, the Haqqani network, Lashkar-e-Taiba, Jaish-e-Mohammad, TTP and Hizb ut-Tahrir."
It has been rightly pointed out that this marks the first time BRICS members (in effect, China) have agreed to include in the joint declaration the names of specific terror outfits who operate out of Pakistan/ Pakistan-claimed territory and focus their terrorist and subversive activities exclusively on India.
To recall, the Goa Declaration had referred to Islamic State, Al Qaeda and Syria's Jubhat al-Nusra but it made no mention of JeM, LeT or even 'cross-border terrorism', a term which India frequently uses to define Pakistan-sponsored terror. As Indian Express had pointed out, Prime Minister Narendra Modi's effort to "name and shame Pakistan" was ambushed by Chinese President Xi Jinping who called for "political solutions to regional hotspots" — an euphemism for Kashmir.
The Times of India had reported that India's efforts to corner Pakistan on terrorism did not only meet with Chinese resistance, Russia too failed to back India's core concern.  Not only have LeT and JeM's names been included this time, the language included in the Xiamen Declaration is action-oriented and unequivocally strong on terrorism.
Para 49 reads: "We deplore all terrorist attacks worldwide, including attacks in BRICS countries, and condemn terrorism in all its forms and manifestations wherever committed and by whomsoever and stress that there can be no justification whatsoever for any act of terrorism." In subsequent paragraphs, the declaration goes on to call for a global "comprehensive approach" against terrorism that should include "countering radicalization, recruitment", movement of mercenary fighters, methods to block "sources of financing terrorism" and countering "the growing spread of terrorist narratives, and to tackle all sources, techniques and channels of terrorist financing."
Interestingly, calls for finalisation and adoption of Comprehensive Convention on International Terrorism (CCIT) — that was dropped during the 2015 Summit in Ufa — have been renewed. So overall, it does seem as if Modi and his team of diplomats have been able to wrest quite a few concessions from the BRICS platform that either address or are compatible with its core security interests.
However, as I have mentioned, this is not an unqualified win. While LeT and JeM's references strengthen India's case against Pakistan and may even be used against China at the UN, the reference to Tehreek-e-Taliban Pakistan (TTP) is a dead giveaway that Beijing will continue to back Pakistan as a "victim of terrorism", not just a perpetrator.
In the intricate world of diplomatic quid-pro-quo, it is conceivable that India needed to concede some to gain some, but inclusion of TTP's name in the joint declaration dilutes India's case against Pakistan as a 'mother-ship' of terrorism, as analysts such as Abhijit Iyer-Mitra of Institute of Peace & Conflict Studies have pointed out on Twitter.
.2/2 on the other PRC slyly adding TTP allows Pak to claim it too is a victim of terror & India shud've insisted they be left out #BRICS2017

— Abhijit Iyer-Mitra (@Iyervval) September 4, 2017
Pakistan maintains that it has suffered heavy damage due to military action against groups like TTP and tries to play the victim on terrorism. It claimed to have lost 580 soldiers during an operation to flush out TTP operatives from the North Waziristan tribal area in 2014 as proof of its "enormous sacrifice". So while making concessions on LeT and JeM, China's move to include TTP actually reinforces its narrative of Pakistan. Consider the Chinese foreign ministry statement just ahead of Xiamen: "Pakistan is at forefront of counter terror efforts and has made sacrifices for this. The international community should recognize their contributions and sacrifices made by Pakistan."
To infer, therefore, that "China has dumped Pakistan" is entirely inaccurate. What it has done is embarked on a tactical retreat, as it did in Doka La, and the move is based on hard rationalism, not a rosy Hindi-Chini-bhai-bhai redux.
China is aware that India may try to use this as a leverage in again calling for a ban on Masood Azhar at the UN, and this time Beijing's 'technical hold' against the JeM founder might be untenable. This presents a calculated risk, and it reflects the realism that guides China's foreign policy.
Xi Jinping understands well enough that right at this moment, BRICS needs India more than India needs BRICS. Some aspects of this dynamic have been explored in my earlier piece (read it here) where it was argued that the emerging economy grouping that was formed to champion multipolarity, it itself turning into a vehicle for China's unipolarity.
Also, India — with its huge market, growing economy, role as a stabilising force in south Asia, geopolitical status as a liberal democracy (howsoever flawed) — forms a natural counterbalance to China and Russia and any grouping that seeks to challenge the western powers-dominated global order with an alternative model cannot afford to keep India out of the loop. The sudden precipitation of Doka La standoff has its roots in this necessity.
Modi would do well not to take China's concessions at face value. Revisionist states such as Pakistan, China are notorious for ignoring the letter and spirit of agreements. Nothing tangible will come out of the move to include LeT and JeM in terror list if these are not translated into actionable policy. Till then, India would be better advised to evaluate its role within BRICS with the hard realism which it displayed during the Doklam standoff.
World
Anti-French sentiment has been simmering for months in Pakistan since President Emmanuel Macron expressed support for a satirical magazine's right to republish cartoons depicting Prophet Mohammed
First Cricket News
Babar hit 122, his first T20 international century, as Pakistan chased down a challenging target of 204 with two overs to spare.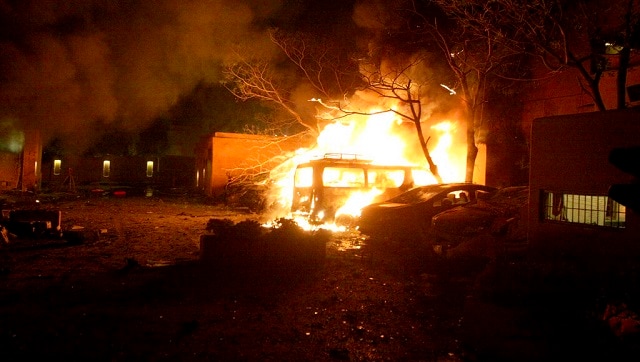 World
Balochistan home minister Ziaullah Langove said that the Chinese ambassador was staying at the hotel at the time and the motive behind the attack was unclear