BR Ambedkar's death anniversary: For his many lakhs of followers, 'Jai Bhim' is the only password
For the Dalit and the socially backward citizens of our country — many crores of them — this day marks the loss of their 'Father', Dr Bhimrao Ambedkar
The sixth day of December will be forever etched in the post-Independence era of Indian history as the day that saw the destruction of the Babri Masjid in Ayodhya. However, for the Dalit and the socially backward citizens of our country — many crores of them — this day marks the loss of their 'Father', Dr Bhimrao Ambedkar. From 1956 to 2016, a long period of 60 years has passed since we lost him, however, 'the greatest Indian', as he could be called, can never be forgotten by the Dalit community of this country. In fact, quite surprisingly, the number of people that assemble at Chaityabhoomi, a memorial to Ambedkar in Dadar, Mumbai that had witnessed the funeral of Ambedkar, only keeps increasing with every passing year — a mysterious phenomenon that is yet to be understood.
The predominance of saffrons in Dadar is intermixed with thousands of indigos, albeit for two days. Shivaji Park in Dadar, otherwise considered the citadel of the Shiv Sena and Maharashtra Navnirman Sena, has already become a hosting ground for no less than 1.5 to two lakh people. Some of these people will probably just have reached Dadar railway station while others may have already been queuing at Chaityabhoomi for several hours to offer their salutation to the memories of Ambedkar. Some of them will have free snacks or lunch arranged by an NGO, whereas others will likely be seeking a good read at a book stall.
On 13 October, 1956, a few days before his death, Ambedkar accepted Buddhism in Nagpur along with his five lakh followers. He had renounced Hinduism and criticised it for its disparity. He delivered speeches and published several articles in relation to this subject in his dailies: Mukhnayak, Bahishkrut Bharat and Prabuddhaa Bharat. Most of his writings, speeches and books have been now published by the Maharashtra state government. This rich literature has been the foundation for several Dalit publishers who have made an effort by printing and publishing Ambedkar's books to disperse valuable information to Dalit communities in the remotest villages of our country.
Any social-political-cultural event inspired by Ambedkar's ideology is never missed by these Dalit book sellers and his presence is always felt through these books. These books are not available in other book shops housed in shopping malls or even online, however, this seldom affects the ability of these book sellers in reaching out to those who desire to understand the ideology of Ambedkar.
Except for a few English readers in India, most are not even aware that Chaityabhoomi is flooded with more than 200 stalls housing book sellers and publishing houses on 6 December. Not only this, some book sellers who do not get a stall to conduct their sales do not feel disappointed and try to create makeshift stalls by using carpets or paper on the ground or roads. Most of the books sold either pertain to Ambedkar or were written by the man himself: Buddha and his Dhamma, Who were the Shudras?, Buddha or Karl Marx, Annihilation of Caste, Castes in India, Riddles in Hinduism, What Congress and Gandhi have done to the Untouchables are in high demand.
Besides these, several Dalit autobiographies and books related to the Dalit political revolution published by various Marathi, Hindi and English publishers are also sold in great volumes. The 199th edition of one such book by economist Dr Narendra Jadhav, who belongs to the same caste as Ambedkar, entitled Aamcha Baap Aan Aamhi, will also be sold at Chaityabhoomi this year. It is indeed unbelievable that the number 199 reflects only the editions in Marathi language as those in Hindi, English and other languages are yet to be accounted for!
Most Marathi book sellers — publishers are Buddhists, Hindi and English book sellers belong to many other Scheduled Castes. In this respect, the contribution of the Dalits, especially from North India, belonging to the Chamar caste, in promotion of Dalit literature or Ambedkar ideology deserves a special mention. Vendors such as Gautam Book Centre from Delhi always make it to Mumbai on the 6 December to promote the sale of their Hindi and English books. A publisher like S Anand, born in a Brahmin family, is also working to achieve Ambedkar's dream of a casteless society through his publishing house, Navyaan. His reader group mainly involves the highly educated Dalits who have a better understanding and thus a preference for intellectual books in English.
In an attempt to averse the atrocity act after the rape incidence at Kopardi, the Maratha community had organised silent rallies in different districts of Maharashtra. Although, these rallies did not directly criticise the Dalits, one of the major agendas of these rallies was to demand reservation for the Maratha community. Several other castes such as the Patidars and Jats in other states of the country have been demanding reservation for the past many years. It is ironic that up until now the writers and thinkers of Maratha community have always sought the support of Ambedkar ideology to generate awareness in the society. In the current scenario, although there exist tensions between the Maratha community and the Buddhists of Maharashtra, there are several such books for sale at Chaityabhoomi which have been written by the authors of the Maratha community to criticise the Brahmins.
It is a common misconception in the minds of people that only the Buddhist community acknowledges the memories of Ambedkar at Chaityabhoomi.
It's not like that. With the increase in sociopolitical awareness in the past few years, Chaityabhoomi has been witnessing an increasing number of people from the Chamar community of Uttar Pradesh; the Paswans, Mahadalits and the Jatavs from Bihar as also the Valmikis of Gujarat. People from North and South India, and also the Adivasis from the North East regions visit Chaityabhoomi in large numbers to pay their salutations to Ambedkar as they feel that they are obliged to him for their existence. The barriers of language, caste and religion lose their importance at Chaityabhoomi and bow to the name of the Father of the Indian Constitution, who truly symbolises the icon that inspires the oppressed and encourages a sociopolitical approach towards the betterment of the society.
It is estimated that 10 lakh followers of Ambedkar will visit Dadar in the next two days. More than 200 officers and 6,000 employees of the Brihanmumbai Municipal Corporation are working around the clock to ensure that the best facilities are given to these followers. Approximately, 1,500 officers from the Mumbai Police are working meticulously to safeguard the followers from any unprecedented happenings at Chaityabhoomi. In this respect, it is commendable that despite the fact that Chaityabhoomi hosts lakhs of followers every year, it has never witnessed any riot, crimes or even the slightest chaos.
Unlike the silent rallies which required the people from the Maratha community to seek support of the organisers to showcase their strength but the Dalits do not need any organisers to showcase their strength at Chaityabhoomi. The name Ambedkar is sufficient to unite them and bring them together. And, for motivating them to be strong, through their leader Ambedkar, the password that they all use is 'Jai Bhim'.
Find latest and upcoming tech gadgets online on Tech2 Gadgets. Get technology news, gadgets reviews & ratings. Popular gadgets including laptop, tablet and mobile specifications, features, prices, comparison.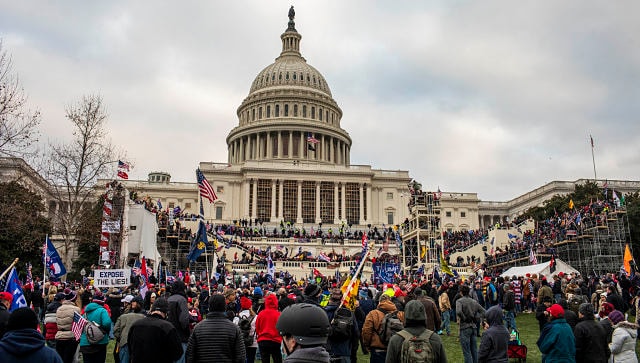 World
A full reckoning will take months or even years, and many lawmakers have called for a formal commission to investigate
India
Governments can ensure that religious processions don't end in violence. For that though, the lives of innocent citizens, especially minorities, should matter to them
India
From the moment she steps out of her home till she reaches her Chepauk office, Aruna Devi requires assistance from passersby at multiple points. "That there is still no policy to cater to something as basic as transportation shows that there is no concern for us," says the Chennai revenue official