Blocked by the VIP: Politicians' apathy for public convenience is not new
Shiv Sena MLA, Hemant Patil, had delayed a train for getting wrong berth, here are a few political leaders, who's apathy has caused inconvenience for public
From delaying trains over berth preferences to convoys blocking critically injured patients from reaching hospitals, it appears that some political leaders consider themselves to be a class unto themselves.
Look no further than the recent case of Shiv Sena MLA who delayed the Nanded-bound Devgiri Express at Chhatrapati Shivaji Terminus in Mumbai for almost an hour by repeatedly pulling the chain after he got upset over being allotted a 'side' berth in a second AC coach. Hemant Patil, a legislator from Nanded, later justified his act saying it was meant to expose "unprofessional approach of railway officials" towards the grievances of passengers.
Flights have also been delayed for reasons as frivolous as an MP gone on a shopping spree.
Apart from inconveniencing nearly 2,000 passengers of the train, the incident the affected schedule of at least two long-distance trains. Though the MLA stuck to his demand that he be given a berth of his choice, the railway officials refused to oblige. According to a senior railway officer, this act of Patil is a serious offence under the Railway Act. Yet, no action was taken against the MLA.
In January, a Bhubaneswar-bound Air India flight from Delhi was delayed by five hours allegedly due to pressure by some VIPs, who forced the national carrier to schedule the aircraft along with its crew to Bhopal, states this Indian Express report.
Arranging for Madhya Pradesh's Chief Minister Shivraj Singh Chouhan's convoy cost the life of a youth, who was hit by a bus and was lying on the road unattended in pain. As per this report by The Times of India, the police in the heavily secured area near Vidhan Sabha merely lifted the youth from the middle of the road and dumped him on the pavement to allow the CM's convoy to pass by.
A series of such cases took place last year which provoked the Prime Minister's office to seek reports on "VIPs" holding up flights. A Hyderabad-bound Air India flight from Delhi, with a Union Minister and Supreme Court judge on board, was held up for 45 minutes here after Congress Rajya Sabha MP from Telangana Renuka Chowdhury did not turn up for boarding at the scheduled time as she was allegedly busy shopping, says this report.
The delay to the flight caused by Chowdhury created a lot of resentment among the passengers who took up the issue with Air India authorities, PTI quoted sources as saying.
Most controversial was the case of Union Minister Kiren Rijiju and Jammu and Kashmir Deputy Chief Minister Nirmal Singh, who not only delayed the flight, but also off-loaded passengers to make seats available for them, according to this NDTV report.
Maharashtra Chief Minister Devendra Fadnavis also had to face flak on delaying an Air India flight to the United States by an hour. The flight, which was carrying around 250 passengers, was delayed because Fadnavis' principal secretary got his old passport to the airport, according to CNN-IBN.
In a similar incident which involved a West Bengal Chief Minister Mamata Banerjee's convoy causing inconvenience, an ambulance carrying a heart victim was held by the policemen waiting for the CM's convoy on an expressway to Kolkata in December last year. It was not allowed to go even when the patient's kin pleaded with folded hands, stated this report.
From the recent events, it would appear that some public figures, ironically, care the least for public convenience.
With inputs from PTI
Politics
Prasada's induction will further wear away whatever's left of the Congress and the Gandhis in Uttar Pradesh, even if it does not yield dividends for the BJP
India
His remarks came after Uddhav Thackeray said people would 'beat with footwear' those who only talk about contesting polls alone without offering solutions to people's problems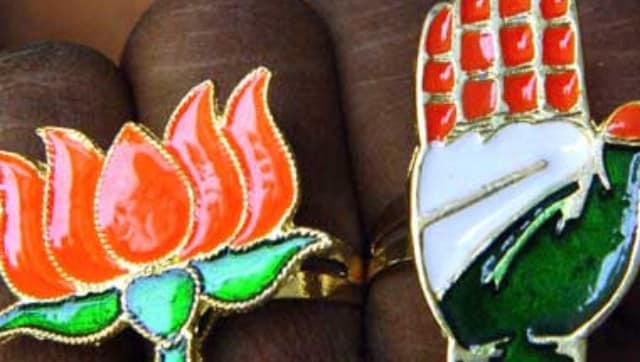 Politics
The Congress received total donations of Rs 58 crore from electoral trusts, which was less than several regional parties