Blame it on social media: Army worried over rising number of Kashmir youths joining terror outfits
The Army commander felt that 'alienation and lack of opportunity' were the reasons for Kashmiri youths picking up gun.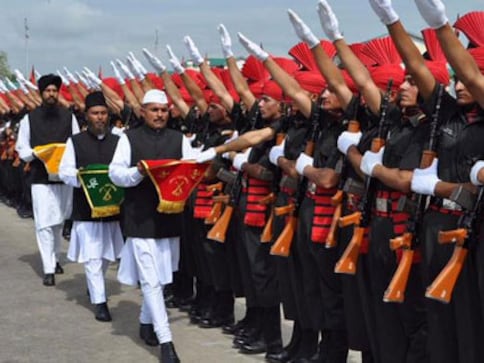 Indian Army establishment in Jammu and Kashmir has positioned itself on the fulcrum from where it is witnessing two opposite ends of a pole. On 11 July, 323 youths from the state passed out from the Regimental Centre in Srinagar to join the Jammu and Kashmir Light Infantry as soldiers. At the same time, there are concerns that educated Kashmiri youths are getting recruited into terror outfits.
On Sunday, General Officer Commanding in Chief (GoC-in-C), Northern Command, Lt Gen DS Hooda voiced concern over recruitment of educated Kashmiri youths into terror outfits,  and said that "alienation and lack of opportunities" was driving local youngsters towards the gun.
"There is lack of opportunity and social media has become such a powerful medium and a tool where through people are getting engaged. They are looking towards (terror), as they have nothing to do rather pick up a gun," Lt Gen Hooda said.
The chief of Udhampur-based command made it unequivocally clear that the Centre and the state governments need to introspect to address these issues. What was an immediate concern is the number of locally misguided youths on the rise although the number is not unmanageable. Making it clear that Islamic State has no footprint in India so far although IS flags are displayed often on the streets of the Kashmir valley during protests, the Army commander expressed his concern of educated youths being misguided through social media.
"What we have is that last year, the figure was somewhere 60 (operating in militants outfits in Kashmir Valley) or little more than that. This year the information we have is more than 30 (Kashmiri youths) have already joined (militant outfits locally)," he said.
"So as I said that the numbers are not too many, but the fact remains that it was down to single digit during two or three years. In that sense it is something that we need to look at seriously," Lt Gen Hooda said.
The Northern Command chief said that these youths often ill-trained and ended up being killed by security forces soon after they join the terrorist organisations. Terming this trend as a "new tragedy" for Kashmir, Lt Gen Hooda said that the issue cannot be tackled by merely looking at the numbers of terrorists killed in encounters.
The recruitment of youths into militant organisations has been largely noticed in areas like Tral, Batapora, Panjgaon and Yaripora in South Kashmir with terror group Hizbul Mujahideen taking the lead. In North Kashmir, youths from areas like Palhalan to Sopore are mostly recruited by Jaish-e-Mohammed.
Last September, when floods wreaked havoc in the Kashmir Valley and in Pakistan-Occupied-Kashmir, leaving hundreds dead and thousands homeless, Pakistani terrorist and 26/11 Mumbai attack mastermind Hafeez Saeed has asked the Lashkar-e-Taiba to recruit youths from the affected families. This was confirmed by the Intelligence Bureau, according to IANS.
The Centre on its part is trying hard to prevent youths from joining militancy by creating employment avenues. On 19 July, the Union Ministry of Home Affairs approved a long pending demand of the state government to raise five new battalions of Indian Reserve Police. This would result in the recruitment of 5,500 youths into the state police. The IRP battalions would need Rs 305 crore expenditure and the Centre would spend Rs 226 crore which is 75 percent of the total cost, the Daily Excelsior reported.
In April this year, the Jammu and Kashmir had said that nearly 4,000 persons who crossed over to Pakistan and Pakistan-occupied Kashmir (PoK) for arms training to fight against India were willing to return.
According to a report in The Tribune, around 453 had returned illegally via Nepal although four approved routes exist. These routes are Indira Gandhi International Airport, Delhi; Wagah border, Amritsar; Salamabad in Baramullah of Kashmir division and Chakan da Bagh in Poonch district of the Jammu region.
With inputs from PTI and IANS
India
Swathi weapon-locating radars provide fast, automatic, and accurate location of enemy weapons like mortars, shells and rockets within 50-kilometre range
India
In comparison to the existing Akash System, Akash Prime is equipped with an indigenous active Radio Frequency seeker for improved accuracy
India
In a possible case of stolen identity, the police have arrested a 22-year-old imposter who claims to be one Lieutenant Shivam Pandey