BJP worker blown up by his own bomb: Culture of explosives has engulfed Kannur
The death of a Bharatiya Janata Party (BJP) worker in a bomb explosion and a spate of bomb attacks in Kerala's northern district of Kannur on Saturday show that the cadres of political parties are not ready to put an end to the political hostilities that have claimed more than 200 lives in the district in the past two decades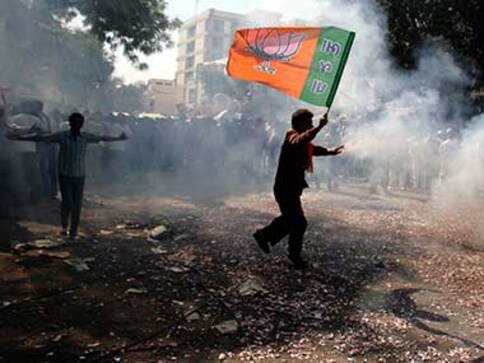 The death of a Bharatiya Janata Party (BJP) worker in a bomb explosion and a spate of bomb attacks in Kerala's northern district of Kannur on Saturday show that the cadres of political parties are not ready to put an end to the political hostilities that have claimed more than 200 lives in the district in the past two decades.
Prime Minister Narendra Modi had taken the initiative in this regard by urging Chief Minister Pinarayi Vijayan to take steps to bring peace to the district in his first meeting with him after assuming office on 25 May.
Modi had raised the political violence in Kannur district as a major issue during his campaign for the Assembly election on 16 May. Senior national leaders of the party had also taken up the matter with President Pranab Mukherjee.
Pinarayi had extended his cooperation to free Kannur of political violence if the prime minister directed his party workers to drop arms. Saturday's incidents show that the BJP and Rashtriya Swayamsevak Sangh (RSS) cadres have not received their leader's message. The police said the explosion that killed 24-year-old BJP worker Deeshith at Kottayampoyil near Koothuparamba at 7 pm on Saturday may have occurred while he was handling bombs at his house.
The palm of Deeshith, who is the son of local BJP leader Ponnambet Pradeepan, was shattered in the explosion that took place at the staircase room in the house. Although the youth was immediately rushed to a hospital at Thalassery, doctors declared him brought dead. The police has registered a case and the investigation is on.
Kannur CPM district secretary EP Jayarajan viewed the incident as proof that BJP was making bombs with the intention of unleashing violence in the district. He alleged that the BJP's attempt was to gain political mileage by creating unrest in society.
Curiously, a local committee office of the CPM at Kodiyeri, 20 kms away from Kottayampoyil, came under a bomb attack six hours later. Party area secretary MC Pavithran blamed the BJP-RSS combine for the attack. He said that five BJP-RSS men, who came on bikes, had hurled a number of bombs at the party office at 3 am on Saturday. The CPM workers allegedly avenged the attack by hurling a bomb on the local BJP office at Kalithazhaey an hour later.
Kannur had witnessed a series of post-poll clashes between the CPM and the BJP workers following the counting of votes on 19 May. One CPM worker was killed when bombs were hurled at the CPM victory rally at Dharmadom, which is represented by Pinarayi in the Assembly.
The post-poll clashes in Kannur also led to the murder of another CPM worker and retaliatory action by the CPM at Payyanur within two hours last month. While the chief minister justified the murder of the BJP worker by saying that it was a 'revenge' killing, his party secretary Kodiyeri Balakrishnan gave an open call to party workers not to spare those who kill his party men.
Bombs form an important part of the arsenal that political parties maintain to combat their political opponents not only in Kannur but also in nearby districts. Almost all parties, including the Congress and the Indian Union Muslim League (IUML), use bombs during political clashes. They are used for defence, as well as attack.
A senior police officer at Kozhikode said that in most cases of political murders he investigated in the northern districts bombs were found hurled before the murder. The officer, who did not want to be identified, told Firstpost that the assailants hurl bombs mostly to drive away witnesses.
There have been several cases of blasts while making or handling bombs leading to deaths and grievous injuries. A 36-year old CPM activist was killed and four others were injured while they were engaged in making bombs at Nadapuram in Kozhikode district just before the Assembly polls in May this year.
Nine steel bombs and bomb-making materials were seized in raids conducted by the police following the blast. The police found several units engaged in making and testing bombs in the area, where the political clashes involve CPM and IUML activists. There had been two such blasts there before this incident. Five Muslim Youth League workers were killed in one such blast in 2011.
The CPM lost two workers in a similar incident at a village in Kannur in June 2015. The blast occurred while four persons were engaged in making crude country bombs at Kolavallor, which is known for frequent clashes between the activists of the CPM and the BJP.
Six party workers were injured in bomb blasts in Kannur district during 2015. More than 100 bombs including eight steel bombs were seized by the police in raids following these blasts.
According to police, most parties have trained squads for making bombs. Some parties outsource bomb manufacturing to experts. Materials for making the bombs such as gun powder, sulphur and potassium are mostly sourced from Mahe, a part of the Union Territory of Puducherry, surrounded by Kannur on three sides and Kozhikode on the fourth.
The bombs are usually stored in abandoned houses or in uninhabited or vacant areas to be used when needed. There were several instances of accidental explosions of such hidden bombs resulting in the death of innocent people. A Congress worker was killed last year when he stumbled upon a bomb while collecting firewood at a hillock near Dharmadam in Kannur district. The practice poses grave danger to children since they play with 'objects' not knowing that they are explosives. The police conduct raids only after explosions. The action yields little result since those storing bombs shift them to 'safe' places anticipating raids.
Even when bombs are seized, there has been no further action. Although the Explosives Substance Act provides for imprisonment up to 20 years for using bombs, not even one person was convicted in Kannur district so far.
The delay in prosecuting the culprits has indeed helped the bomb culture to take firm root in Kannur district.
Politics
The members include party general secretary Tarun Chugh, national secretary Rituraj Sinha, Arvind Menon, Alka Gurjar, Pradyuman Kumar, Rajkumar Phulwariyan and Rohit Chahal
Politics
With two years left for the general elections, the party is also minutely studying the 70 Lok Sabha seats it has never won
Politics
The student organisation protested alleging that Gandhi failed to intervene in the issue of creating buffer zones around forests in the hilly areas of Kerala