BJP's Ramesh Arora wants momos banned, claims 'killer dumplings' worse than alcohol, drugs
Senior BJP leader Ramesh Arora staged a demonstration in Jammu on Thursday. The leader was protesting the sale of steamed and fried momos, a popular street food
Senior BJP leader Ramesh Arora found a new target for his anti-China ire on Thursday: Momos. Arora took out a procession in Jammu on Thursday, protesting the sale of the popular street food.
BJP MLC Rajesh Arora leads protest against selling of momos in Jammu pic.twitter.com/HjrBBvLOnn

— ANI (@ANI_news) June 29, 2017
The Times of India mentioned that Arora, a member of the BJP's Jammu and Kashmir legislative council, had earlier in June called momos "more dangerous than alcohol and psychotropic drugs". "Ajinomoto (monosodium glutamate) used in momos is harmful to health and can even cause cancer. It has been found to be the root cause of several life-threatening diseases," Arora was quoted as saying.
The Indian Express reported Arora warned Indian teenagers against getting addicted to the delicacy, and urged for a ban on the dish. He also said "our teenagers are getting addicted to the killer dumplings".
Arora told Hindustan Times that momos cause cancer of the intestine: "Momos have been found to be the root cause of several life-threatening diseases, including cancer of the intestine," the report quoted him as saying. "Ajinomoto, a kind of salt, causes serious diseases, including cancer. It is responsible for converting a minor headache into migraine."
Arora also met the health minister of Jammu and Kashmir, Bali Bhagat, and tried persuading him to ban the sale of Chinese street food.
Besides momos, India TV stated that Arora also wants to target Chinese cuisine that incorporates monosodium glutamate. The report mentioned that the sale of momos in Jammu has gone down by 35 percent due to Arora's protests.
According to National Herald, the BJP leader likens momos to a killer, saying that "Momo is a killer" and that Indians cannot "allow a killer to grow in a civilised society".
However, several people from Delhi have pledged to eat the dish, saying that they love them: "It (ajinomoto) induces a craving to eat. But unless there's a clear-cut health advisory against them, I'll continue to eat them," Delhi resident Karthikeya Ramesh told Hindustan Times.
The report also quoted Dr Mohsin Wali as saying there has been no conclusive proof that ajinomoto is harmful. The ingredient has been used in Japan and China throughout history, the report.
This is not the first time a leader affiliated to the BJP has urged banning of particular items of food. A report in Outlook said RSS leader Indresh Kumar blamed meat for causing diseases, but said milk can cure these. Kumar also urged Muslims to stop eating ghosht (meat) as it is a beemari (disease), the report added, saying that Kumar also urged Muslims to include cow milk in sherbet.
India
Neither did Kashmir erupt as many predicted nor did the Valley usher in a new era of economic development after it became a Union Territory, proving both the assessments wrong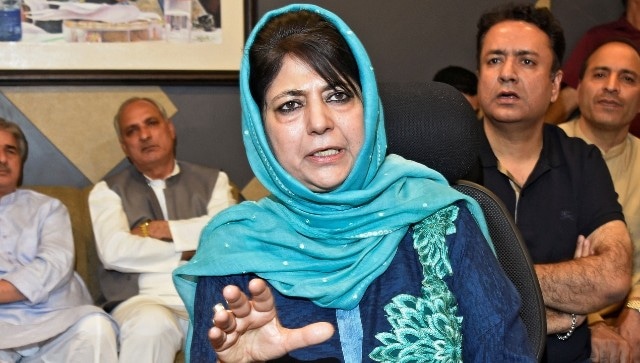 India
Her remarks came amidst growing criticism of the Congress and Digvijaya Singh over his purported comments that his party will have a 'relook' at Article 370 if it returns to power
India
Officials said the fire started around 4.15 pm due to a short circuit and was completely controlled by 5 pm