BJP govt in Chhattisgarh increases MSP of rice by Rs 200; paddy farmers decry 'pointless' hike as inadequate
Despite a hike of Rs 200 per quintal to Rs 1750 in the minimum support price (MSP) of rice by BJP govt, paddy farmers in Chhattisgarh are an unhappy lot.
Raipur: Despite a hike of Rs 200 per quintal to Rs 1,750 in the minimum support price (MSP) of rice, Chhattisgarh's paddy farmers are an unhappy lot. Chhattisgarh, eastern India's 'rice bowl', is home to 43 lakh farmers and paddy is the state's main crop. They were hoping the Bharatiya Janata Party (BJP)-led government would keep its promise of paying an MSP of Rs 2,100.
Chhattisgarh's agriculture minister, Brijmohan Agrawal, said: "Chhattisgarh government is also providing a bonus of Rs 300 per quintal to the farmers, including which the farmers will get Rs 2,050 per quintal against paddy procurement. This decision is a boon for farmers of the state, bringing about a positive change in their lives."
While taking oath at the commencement of his third tenure as chief minister, Raman Singh had on 12 December, 2013, written to the then prime minister Dr Manmohan Singh to increase the paddy MSP to Rs 2,100, as the BJP had promised in its manifesto as well.
"Our farmers are disappointed by Rs 1,345 MSP per quintal for paddy," Raman Singh wrote. "This rate is meagre to cope with the increasing cost of agriculture. There are continuous rate hikes of fertilisers and labour in the last few years. To ensure permanent food security, it's essential to increase the minimum support price, so that farming could be beneficial."
Farmers of Arang village in Raipur district dismiss the support price as pointless. Dwarika Sahu, a farmer, said that cultivating paddy on one acre of requires 145 days of labour. The government has fixed Rs 230 as the minimum daily wage, so the labour cost alone per acre works out to Rs 33,350. Add Rs 700 for paddy seed, Rs 2,000 for pesticides and about Rs 3,000 for manure and the total cost is Rs 39,050, excluding rent. The average paddy output per acre is about 10 quintals.
Sahu said, "For 10 quintals, the government is giving Rs 17,500 rupees. If you add a bonus of 300 rupees per quintal, then this support price increases to Rs 2,050 per quintal or Rs 20,500 per acre. But even so, for the farmer, that represents a loss of Rs 18,550 per acre."
Chhattisgarh Congress party president and MLA Bhupesh Baghel said, as per the recommendation of the Commission for Agricultural Costs and Prices (CACP), the MSP should be Rs 2,226 for paddy.
While campaigning for the 2014 General Election, Prime Minister Narendra Modi and his party had promised to follow the Swaminathan Commission formula of setting the MSP on a cost-plus basis to make farming viable. The commission had recommended a purchase price that encompassed the 'comprehensive cost' of production (including imputed rent and interest on owned land and capital) plus 50 percent of the same and guaranteed purchase of the crop.
The last point is crucial. Setting an MSP doesn't guarantee the government will procure the entire crop at this price. As farmer leader Anand Mishra said, "Only six percent of the farmer's total produce has been purchased in the last four years. In such a situation, forget about the prime minister's claims of doubling the farmer's income. The remaining 94 percent of the farmer's produce is looted by agents and middlemen paying just two-thirds of MSP."
Mishra said the price of diesel has increased by Rs 11 per litre since 2014, when the MSP was previously revised. In the last six months, the prices of fertilisers have increased by 24 percent. Fertiliser companies that were selling a 50-kilogram bag of diammonium phosphate (DAP) fertiliser for Rs 1,091 in January this year are now selling it at Rs 1,290 a bag. Every year, Indian farmers purchase 8.98 million tonnes of DAP, which means they will have to pay an additional Rs 5,561 crore on fertiliser alone.
As TS Singhdeo, the Leader of the Opposition in the Chhattisgarh Assembly, pointed out: "In the history of the last 70 years, the Modi government is the first one to impose taxes on agricultural commodities and instruments. You have five percent goods and services tax (GST) on fertiliser, 12 percent GST on agricultural instruments, 18 percent on tyres/tubes/transmission parts, 18 percent on pesticides and on storage equipment. In comparison, if there is hardly an increase in the support price of paddy. It seems that peasants are not in the government's priority."
The first BJP government, led by Atal Bihari Vajpayee, increased the MSP of paddy by Rs 60 in six years between 1998 and 2004, from Rs 490 per quintal to Rs 550. In the past four years of the Modi tenure, MSP was increased twice by Rs 200. So, cumulatively, in 10 years of BJP rule over the past two decades, the MSP of paddy has been hiked by Rs 460. By comparison, the United Progressive Alliance government led by the Congress increased the MSP by Rs 450 from 2004 to 2009 (Rs 550 per quintal to Rs 900) and subsequently by Rs 440 from 2009 to 2014, a cumulative hike of Rs 890 in 10 years.
But Agrawal termed the Union government's move to increase MSP of kharif crops as historic and added that it will bring prosperity to farmers. He claimed that the Modi government is determined to double the incomes of farmers by 2022. He added that bonus is being given to the state's farmers, and crop-insurance compensation, subsidy on electricity, seeds and fertilisers add up to Rs 7,000 per year.
The author is a Raipur-based freelance writer and a member of 101Reporters.com, a pan-India network of grassroots reporters.
Politics
Congress spokesperson Gourav Vallabh said latest satellite images show that China has built four villages in Bhutan, next to Dokalam, and has grabbed 100 square kilometres of land in the area through illegal incursions
India
Although these numbers are small compared to the 1990s, they show the long jihad which has shaped Kashmir's history isn't about to go away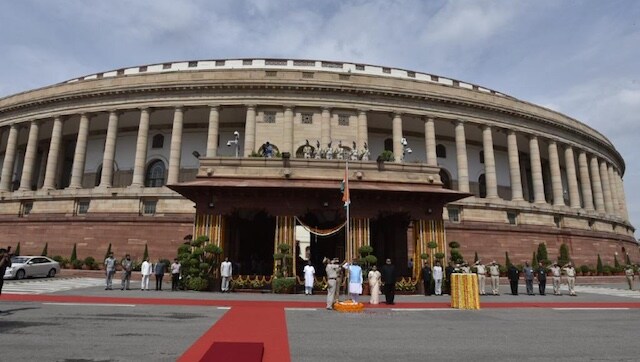 Politics
Opposition leaders also raised the issue of extended jurisdiction of the BSF in some states and TMC leaders are learnt to have raised the issue of MSP and disinvestment of profitable PSUs