Bihar man jumps into lion enclosure at Delhi zoo, escapes unhurt due to alert staff; mentally unstable, say cops
A 28-year-old man jumped inside the enclosure of a lion in the Delhi zoo on Thursday, but escaped unhurt as the alert zoo staff acted quickly and tranquilised the animal, official sources said
A 28-year-old man jumped inside the enclosure of a lion in the Delhi zoo on Thursday, but escaped unhurt

Rehan Khan, a native of Bihar's East Champaran district, was rescued by the zoo staff and handed over to the police

In September 2014, a white tiger had mauled a man to death after he had jumped inside the animal's enclosure
New Delhi: A 28-year-old man jumped inside the enclosure of a lion in the Delhi zoo on Thursday, but escaped unhurt as the alert zoo staff acted quickly and tranquilised the animal, official sources said.
The incident happened at beat number 17 at around 12.30 pm. The situation is under control now, zoo sources said.
Rehan Khan, a native of Bihar's East Champaran district, was in an inebriated state, the sources said, adding that the man was rescued by the zoo staff and handed over to the police. Khan did not sustain any injury and seems to be mentally disturbed, according to police. He currently resides in Seelampur in northeast Delhi and is being questioned by the police.
#WATCH Delhi: A man entered into enclosure of a lion at Delhi Zoo after climbing its metal grille. He was later brought out safely. DCP(Southeast) says "He's Rehan Khan, a 28-yr-old man from Bihar. He seems to be mentally unstable.He was immediately brought out without any injury" pic.twitter.com/t5n6bfPx7p

— ANI (@ANI) October 17, 2019
A zoo official said the man went near the animal, sat down and started teasing it. The feline, however, did not attack him. The onlookers kept shouting, asking him to come back, but he did not pay any heed, the official said. When the zoo staff entered the enclosure to save the man, he started running towards the lion, another official said.
In September 2014, a white tiger had mauled a man to death after he had jumped inside the animal's enclosure.
India
The All India Students Association (AISA) called for a Bihar bandh on Friday to protest against alleged irregularities in the Railway Recruitment Board's examination process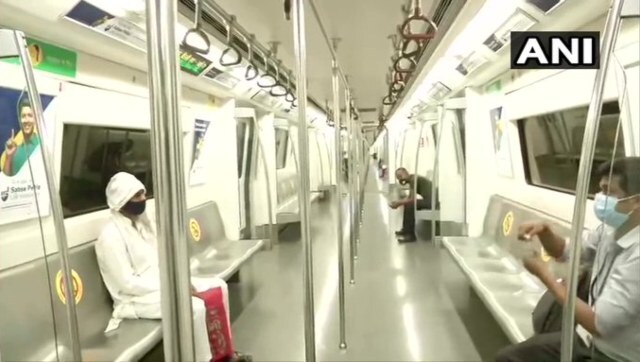 India
Entry and exit at Central Secretariat and Udyog Bhawan Metro stations will be closed from the start of revenue services till noon as per a statement by the DMRC
India
The Delhi Police tweeted that the seating blocks will open for visitors at 7 am and requested them to arrive accordingly