Bihar live: Inquiry report blames school principal for 23 deaths
Violent protests have broken out in Chhapra, Bihar, where 20 children have died after consuming contaminated midday meals in their schools.
7:00 pm: Inquiry report blames school's principal for tragedy
In the first of multiple probes into the incident, the inquiry report by the Chhapra commissioner into the midday meal tragedy has said that the principal of the school is responsible for the deaths of the students.
CNN-IBN reported that the report submitted to the Bihar government has said that the principal of the school was responsible for the poisonous food being served to the children that resulted in deaths.
The school's principal and her relatives are currently absconding.
12. 30 pm: Gas leak at Patna hospital where children are being treated
Media reports have said that there has been a gas leak at the PMCH hospital in Patna where around 150 children, including those who fell sick after consuming midday meals, were being treated.
The leak reportedly took place after a minor explosion of a cylinder in the air conditioner. The children have been evacuated and there are no casualties.
Police officials have said that the issue was minor and is now under control. They also said that gas cylinders from the ward have been removed as a precautionary measure.
  9. 30 am: Forensic report expected today
The forensic report that will throw light on what led to the death of at least 23 children in Bihar will be out today. While preliminary reports have suggested that  the presence of insecticides in the food was the cause of death, the report by State Forensic Science Laborotary will provide more in-depth details.
Updates for 18 July end
10.03 pm: Cong dismisses conspiracy theories
Congress on Thursday disapproved of Bihar government's conspiracy theory into the mid-day meal tragedy and reminded states of their responsibilities as more such cases came to light. "We are not trying to cover up any state... We are not being soft on anyone... We are just waiting for the probe report. It's not good that people are making statements. Now even the state governments are making statements, their authentic representatives are making statements. This is not proper. Making such statements will hurt the family members of children, who died in the incident," party spokesperson Raj Babbar told reporters here. His remarks came a day after Bihar Education Minister P K Shahi said in Patna that the deaths were not due to food poisoning but it's a clear case of mixing poison in food, suspecting a conspiracy behind the tragedy. Babbar also made it clear that though the mid-day meal is a central scheme, the responsibility for implementing it lies with the states. To a question that whether it was not improper that Chief Minister Nitish Kumar was yet to visit the village, Babbar said, "This is not good. This is indeed the responsibility if such an incident happens in any district. I do not know why he did it (did not visit) but this should not happen." PTI
9.22 pm: Unicef says tragedy could have been avoided
Unicef on Thursday said the deaths in midday meals in Bihar could have been prevented with strict adherence to protocols for preparing the meal. Unicef said it is in touch with the concerned authorities to understand what happened and find ways to prevent such incidents from taking place in future. "While acknowledging that India's midday meal scheme is the largest school feeding programme in the world and that the government is working to strengthen and improve its management, Unicef considers that increased actions must be urgently taken," the UN agency said in a release here. It noted that the protocols for adequate and safe preparation of the midday meal are in place. They include keeping the cooking place and utensils clean and free from insects and flies, adequate and safe storage space, proper washing of vegetables and other ingredients before cooking, proper personal hygiene of the cook and helper, tasting of food before serving and hand washing with soap by children before eating. PTI
6.16 pm: Cooks faint in Bihar's Madhepura after eating midday meal Meanwhile in yet another incident of suspected contamination, two women who cooked mid-day meals for students of a government middle school in Bihar's Madhepura district fainted after eating the food today. Rita Devi and Renu Devi had cooked the food for the school situated at Khar village in Gamariah block of the district, police said. The school principal had ordered that the food be thrown away following complaints by students that it had foul smell. But the two cooks ate it insisting that the food was hygienic and fainted after sometime. None of the students ate the food, police said. District Magistrate Upendra Kumar said the matter was being investigated. Police said the two cooks were taken to a health centre at Gamariah after they fainted. PTI
5.38 pm: Will review midday meal procedure across country, says  HRD Minister  HRD Minister MM Pallam Raju confirmed  that the ministry had warned the Bihar government about the quality of midday meals served in the schools of the state. "We had alerted the Bihar govt quite a few months back about shortcomings in its food storage. We had expected that BIhar govt would have acted on the recommendations," Raju told CNN-IBN. Agreeing that their has been failure, he said, "We are setting up a central committee to look into the aspects of quality, hygiene and food storage across the country. We will be reviewing the mid day meal procedure across the country." He added that the committee will meet from time and give  guidelines on how to improve the scheme. " Such incidents cannot be repeated, this scheme is one of the most important for children in the country," he told CNN-IBN. Pallam Raju said the Central committee will consist of members from all central departments like food, public distribution, health, women and child development, NGO's and civil society.
5.17 pm: HRD ministry had warned Bihar govt about midday meal hygiene The HRD Ministry had allegedly warned Bihar government about midday meals hygiene in April 2013, reported CNN-IBN. The minutes of a meeting, attended by Bihar officials, reveal that the Bihar government was told that about the bad hygiene of food served in midday meals. CNN-IBN reported two independent reports also said that parents and children were not happy about the quality of food.
3.53 pm: 'We will build kitchen sheds, storage rooms for midday meal' Amardeep Sinha, Principal Secretary,Bihar, has also outlined a number of issues that the state government will take to ensure proper and safe implementation of the midday meal scheme in Bihar. Among other things he said the government would build kitchen sheds and storage rooms wherever land was available, but said that there are 13,500 schools where there is no land to construct a kitchen shed. He also reiterated the government's earlier claims that the principal of the school was to blame for the incident, saying that she had told the cook to use contaminated oil even though the cook had said there was something wrong with it. "It is very strange that so many children of the same school died in this incident", Sinha added.
3.38 pm: This is poisoning of food, not food poisoning says Bihar govt Confirming the death of 23 children in the Bihar midday meal tragedy Amardeep Sinha, Principal Secretary,Bihar said that the case seemed to be one of 'poisoning of food' and not 'food poisoning'. Sinha who made the comments in a media conference, added however, that investigations into the incident were still on. He added that the State Forensic Science Laborotary (SLFL) was conducting investigations and their report would be out on Friday. He said that samples of the food grains stored at the Chapra headmistresses house had been sent for testing along with samples of the food that was served at the meal.
2. 25 pm: Insecticide was either in food or cooking oil, says postmortem report Postmortem reports on children who died this week after eating a school lunch in Bihar confirmed that insecticide was either in the food or cooking oil, a doctor said on Thursday. Patna Medical College hospital superintendent Amarkant Jha Amar said results of the chemical analysis of the ingredients seized from the school were still pending. - AP
1. 20 pm: Two days on, no arrests yet by Bihar Police It's been nearly two days since at least 60 children fell sick and 23 died after midday meals but there have been no arrests yet. The Bihar Police have been unable to trace the headmistress of the school Meena Kumari. Speaking to Reuters, police officials said there were many different versions of what happened at the school on Tuesday. "We have made no arrests so far as we are waiting for forensic reports which will help us piece together the entire investigation," Sujit Kumar, superintendent of police in Chapra district, where Gandaman village is located said. "We have circumstantial evidence but the key to the investigation is the headmistress who is absconding," he said, adding that police were trying to find her.
12. 55 pm: Insecticides found inside headmistress's house Bihar Police on Thursday raided the residence of school Principal Meena Kumari and found cans of insecticides. "We found two containers filled with insecticide in the headmistress's house along with pulses, vegetables and rice allotted for the midday meals," said a police officer, adding that only the headmistress could tell if it was a conspiracy. Kumari, who is absconding, has been suspended from her post and an FIR has been filed against her.
12. 45 pm: School children in Bihar refuse to eat midday meals School children in Bihar are refusing to consume midday meals following the death of at least 23 children in the state. According to a report in the Hindustan Times, students are refusing to touch their meals despite school authorities ensuring them that the tragedy would not occur again. Read more here.
11. 15 am: Must strengthen midday meal scheme, ensure quality Human Resource and Development Minister MM Pallam Raju on Thursday said the government will soon set-up a quality check committee to ensure food served under the midday meal scheme was healthy. "Whatever happened was unfortunate.. we need to strengthen the scheme and ensure better implementation," Raju said. The minister also said that alerts were issued to Bihar over complaints on the quality of food being served but the state did not take action. He also said that once the forensic report is out, it will be clear what the cause of death was and necessary action would be taken.

10. 00 am: Bihar issues ad, wants principal to taste meals before feeding children
The Bihar education department has issued an advertisement in prominent newspapers today reiterating that the school principal and the cook should taste the food prepared under the midday meal scheme before serving it to children.
The advertisement also states that insecticides and food ingredients should not be stored together as it could contaminate the food.

9. 15 am: Midday meal cooked in an insecticide container?
The midday meals fed to children in Saran district of Bihar were cooked in a container used to store insecticides, the Hindustan Times reported.
The report quotes a student as saying that the cook, now deceased, refused to use the container but was made to by the headmistress, Meena Devi.
Devi has been suspended and an FIR has been filed against her.
9. 00 am: 'Nitish, Sahi should take responsibility and resign'
Former Bihar cabinet secretary TSR Subramanian has demanded that Bihar Education Minister PK Sahi and CM Nitish Kumar step down over the midday meal horror.
"I think the time has come, that instead of ministers talking through their hats before inquiries, they should now take responsibility and resign, saying that in my state 22 children have died, I should take responsibility," Subramanian told CNN-IBN.
Updates for 17 July end
21.27 pm: 23 including cook dead after consuming midday meal
With 12 more children dying, the number killed by contaminated mid-day meals served in a school in Bihar rose on Wednesday to 23 including a cook, authorities said.
The deaths have triggered a war of words between the Nitish Kumar government, which blamed the supplier of foods for the tragedy, and an aggressive opposition including the estranged ally BJP.
IANS
9.19 pm: NHRC sends notice to govt, police over midday meal
The National Human Rights Commission (NHRC) has issued notices to the Bihar government as well as the state police over the death of 23 school children who consumed contaminated midday meal, an official said Wednesday.
Taking suo-motu cognizance of media reports, the commission has given four weeks time to the officials to submit reports, he said.
"The commission has observed that the contents of the press reports, if true, raise a serious issue of violation of rights to food of the deceased," said the NHRC official in a statement.
"(we have) issued notices to the principal secretary (education), government of Bihar, and superintendent of police, Saran, calling for reports in the matter within four weeks," the statement said.
IANS
7. 22 pm: 31 kids hospitalised in Dhule, lizard found in mid day meal
While the midday meal tragedy in Bihar saw protests in Chapra, another shocker was reported from Maharashtra's Dhule. Around 31 children were admitted to hospital after consuming mid day meal. Reports suggest that a lizard was found in the meal.
5.15 pm: Bihar Education Minister says school principal was close to prominent political party member
Bihar Education Minister PK Shahi is holding a press conference. According to him, the principal Meena Kumari was transferred to the Chhapra school under political pressure. Her husband is a member of a political party and the ingredients for midday meal used to be provided by him, says Shahi.
'The cook complained to Meena Kumari about the cooking oil,' said Shahi, 'Don't think it's a coincidence that the teacher's husband, with political ties, supplies grocery to the school.' The male members of Kumari's family are absconding.
Shahi also said that the children were poisoned. 'Doctors have said the odour from the children's vomit proves that there was organic phosphorus in the mid-day meal,' he said. The teacher did not eat the food that was poisoned, according to Shahi
Bihar's Education Minister has also criticised the media's role in the tragedy saying that the media was insensitive towards the parents.
4. 00 pm: 15 children faint after consuming midday meals in another school
In a separate incident, fifteen children fainted after consuming midday meals at a school in Madhubani district of Bihar. Two of them are critical and doctors have rushed to the site. According to CNN-IBN, there was a lizard found in the food. The children have been rushed to a local hospital.
Meanwhile, the principal of the school in Chhapra district has been suspended and an FIR has been filed against her.
3. 30 pm: This food has turned killer, says mother of victims
A woman whose two sons were among the 22 children who died after they ate midday meals at their school in Bihar's Saran district was left inconsolable.
"This food has turned killer. We did not know that when our children go to school then we will get to see their dead faces (sic)," lamented the mother who lost her two sons - Prahlad and Rahul  -  in the tragedy. - IANS
3. 20 pm: Another child dies, death toll rises to 22
The death toll in the Bihar midday meal incident has risen to 22. Among the dead were two children of a woman cook of the mid-day meal project Panno Devi.
Three children of another woman cook Manju Devi are under treatment at PMCH along with her.
2. 10 pm: Protests outside government office in Patna
Protesters carrying banners of the NSUI and Left protested outside a government office in Patna.
Television channels also showed footage of protesters vandalising a government office and raising slogans against the state government. It wasn't clear who was responsible for vandalising the premises.
1. 00 pm: One more child dies, death toll now at 21
The death toll in the midday meal poisoning incident has risen to 21. Ten more children are battling for their lives, officials said, as the tragedy triggered protests.
Amarjeet Singh, principal secretary, education, confirmed the toll and said he suspected the deaths occurred by organo phosphorous poisoning caused by traces of insecticides. The twenty dead children have been buried near the school. - IANS
11. 30 am: Govt will take action against those responsible, says Yadav
JDU-U Chief Sharad Yadav has said strict action will be taken against those responsible for the death of 20 children. "The government will do all in its capacity.. we are investigating whether there was something wrong in the material supplied," he said.
10. 35 am: This is a case of poisoning, not food contamination, says Bihar minister
Bihar Education Minister PK Shahi on Wednesday claimed that the incident was a case of 'direct poisoning' and not contamination. Speaking to CNN-IBN, the minister said it was a strong dosage of poison. "Investigations will reveal whether it was accidental or intentional.. our first priority is to save as many lives as we can," Shahi said, adding that food poisoning would lead to diahorrea but in this case the children started dying immediately.
10. 20 am: Forensic report will be out by evening, says Pallam Raju
Minister for Human Resource Development MM Pallam Raju said the government has taken serious note of the incident and hoped others would exercise more caution. "Saddened to know about yesterday's incident.. the Additional Secretary who looks after midday meal program is already in Bihar," he said.
"This is an example where we should exercise more caution.. hope others will pick up from this.. we are waiting for the forensic report which will be out later today and we will know the reason then," the minister further said.
10. 05 am: BJP attacks Nitish, says administration at fault
The BJP was quick to attack the JD-U government saying Chief Minister Nitish Kumar was 'monetising' the death of the children. "Is Rs 2 lakh the value of a human life for the CM? This has occured due to the callous attitude of the administration," BJP spokesperson Shahnawaz Hussain said.
9. 57 am: Protesters outside DM's residence disperse

Villagers who were protesting outside the residence of the Chhapra District Magistrate's residence have started dispersing from the site. This, after the state police started detaining those indulging in violence.
Buses were set afire and public property damaged as people took to the streets in protest.
9. 45 am: 27, including cook, critically ill
Twenty seven people, including the woman cook, are seriously ill and have been shifted to Patna Medical College and Hospital (PMCH), Principal Secretary Education Department Amarjit Sinha told PTI.
9. 05 am: Midday meal contained phosphorous?
PK Shahi, the state education minister, said a preliminary investigation suggests the food had traces of phosphorous, which is used to preserve rice and wheat, the Associated Press reported.

9. 00 am: Protests outside District Magistrates house
Violent protests were reported from outside the District Magistrates house in Chhapra district of Bihar. Protesters went on a rampage and demanded action against school and government authorities.
8. 30 am: Death toll rises to 20
Reports coming in this morning have said that the death toll has risen to 20.
Meanwhile, the Chief Minister Nitish Kumar has announced a compensation of Rs 2 lakh for the families of those who have died.
Violent protests have broken out in Chhapra, Bihar, where 20 children have died after consuming contaminated midday meals in their schools.
Television visuals showed crowds of people armed with sticks and poles attacking public property and setting a bus on fire. The RJD, in whose constituency Chapra falls, called for a bandh on Tuesday.
The toll of children who fell ill after having mid-day meal at a state-run primary school in Bihar's Saran district, rose to 20 on Wednesday.
Chief Minister Nitish Kumar has ordered a high level inquiry into the incident, sources in the CMO said, adding that a Forensic Science Laboratory team will assist in the probe, which will be conducted jointly by the Saran Divisional Commissioner and DIG.
India
Lalu Prasad Yadav has served as the national president 11 times. He is currently recovering from shoulder injury and a kidney transplant abroad lined up soon. In his absence, his younger son has lead the party and been accepted as the de facto leader
Politics
The march, from Patna's Saguna more to JP Golambar located at Gandhi Maidan, is being led by the party leader and Leader of Opposition in Bihar Assembly Tejashwi Yadav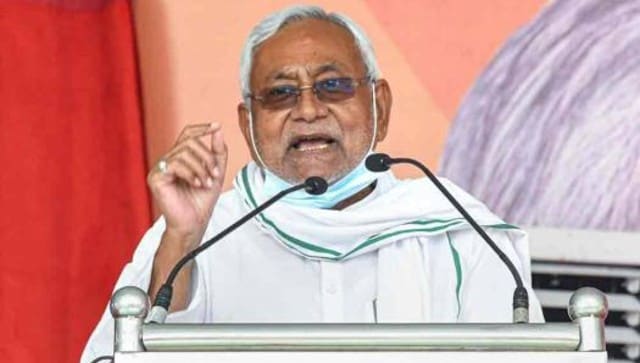 India
Pronouncing the sentence on Saturday, special MP-MLA court judge Rakesh Kumar Rajak also imposed a fine of Rs 5,000 on Arun Kumar, the former RLSP MP of Jahanabad.