Bihar journalist's murder: Police conduct raid inside Siwan jail
Police on Wednesday raided Bihar's Siwan jail in connection with the probe into the killing of journalist Rajdeo Ranjan, and are reported to have searched the cell of former RJD MP Mohammad Shahabuddin
Patna: Police on Wednesday raided Bihar's Siwan jail in connection with the probe into the killing of journalist Rajdeo Ranjan, and are reported to have searched the cell of former RJD MP Mohammad Shahabuddin, who is lodged there.
The raid came after the opposition Bharatiya Janata Party (BJP) alleged the role of jailed former Rashtriya Janata Dal (RJD) MP Mohammad Shahabuddin, who has been lodged in Siwan jail, in the murder of Rajdeo Ranjan.
The raid signalled that police officials involved in the investigation are not ready to take any chances, said an official.
Shahabuddin, a criminal-turned-politician, locally known as Bahubali, has been lodged in Siwan jail for over a decade. He has only twice been shifted to Bhagalpur and Gaya jail for brief periods.
Ranjan, Siwan bureau chief of Hindi newspaper Hindustan, which is part of the HT Media, was shot dead at a busy market near Station Road last Friday night.
"A police team led by Siwan district magistrate and superintendent of police have raided Siwan jail, where Shahabuddin is lodged, in connection with the killing of Rajdeo," a district police official said.
According to official sources, Shahabuddin's cell was searched during the police raid.
Police have already arrested Upender Singh, an aide of Shahabuddin, and are likely to take him on remand to quiz him in connection with the killing. Singh is known as a sharpshooter of Shahabuddin.
Singh was sent to jail on charges of violation of the new Excise Act.
Police in Siwan said that Ranjan's killing was part of a pre-planned conspiracy.
Meanwhile, Bihar Director General of Police PK Thakur said that police have identified the shooters involved in the killing of the journalist.
Five police teams have been constituted to investigate the case. "Each team has been working on different angles," he said.
The state government has constituted a special investigation team of two DSPs, three inspectors and five sub-inspectors to trace the killers.
Protests against the killing continued in Patna and other parts of the state also. The protesters, including mediapersons, have demanded justice for the family of Ranjan.
The Bihar government led by Nitish Kumar has already recommended a CBI probe into the journalist's killing.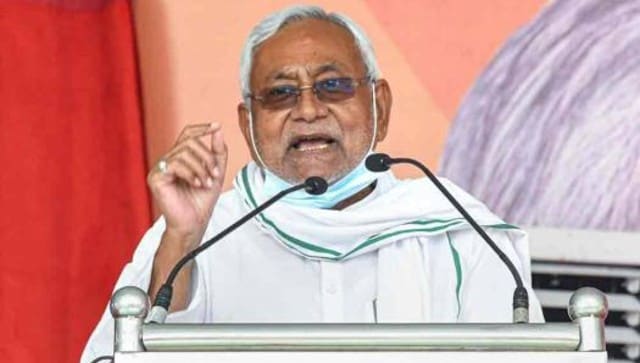 India
The Bihar chief minister said the state Assembly has passed unanimous resolutions twice in 2019 and 2020 in favour of a caste-based census.
India
People blocked roads, pelted stones in Jehanabad district, after a man arrested in liquor trade died in judicial custody in Aurangabad
Politics
The officer alleged that the police did not lodge an FIR despite repeated attempts and he was made to wait for hours even to get a receipt of his written complaint