Bihar flood situation worsens as Koshi, Mahananda rivers inundate new areas
The overall flood situation in Bihar continued to be grim with major rivers in spate breaching banks, inundating new areas and displacing thousands of people.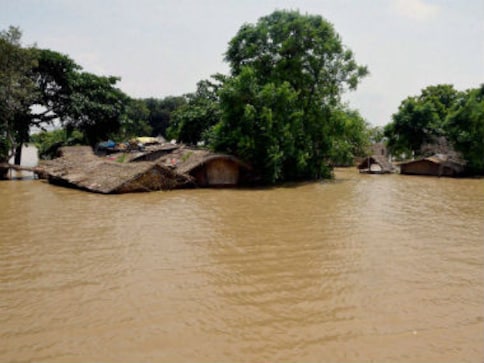 Patna: The overall flood situation in Bihar continued to be grim on Wednesday with major rivers in spate breaching banks, inundating new areas and displacing thousands of people, officials said.
The worst affected areas were Kishanganj, Araria, Purnea and Katihar of Seemanchal region and Supaul, Madhepura and Saharsa of Koshi region. The flood situation has also worsened in East and West Champaran in the last 24 hours with the Gandak river breaching embankments in Bagaha, an official said.
Chief Minister Nitish Kumar along with his deputy Sushil Kumar Modi took stock of the situation as they conducted aerial surveys on Wednesday in West Champaran district. This was the third consecutive day of the Chief Minister's aerial surveys of different flood-hit districts. He surveyed Kishanganj, Araria, Purnea and Katihar on Monday, followed by East Champaran, Sheohar, Darbhanga, Sitamarhi and Madhubani districts on Tuesday.
The state's Disaster Management Department has confirmed the flood death toll has risen to 56. They fear it might increase. "It may rise further as information takes time to reach here," an official said. Unofficial reports put the death toll at over 60.
People living in low lying areas have been advised to move to higher places as heavy rain continued. "The flood situation in Bihar will continue to be grim following rising water levels of rivers and incessant rain," Met department officials said.
Major rivers including the Koshi, Mahananda, Gandak, Bagmati and Ganga are in spate and some rivers have breached their banks and embankments, officials said. "With heavy rainfall in Bihar as well as in the catchment areas in Nepal, the water level of these rivers has been rising," an official told IANS.
The government has launched massive relief and rescue operations with help from the Army, Air Force as well as the National Disaster Response Force and Bihar State Disaster Response Force teams. "We have deployed four Army teams, 22 NDRF and 15 SDRF teams along with hundreds of our own officials in relief and rescue operations in flood-affected districts," state Disaster Management Department Principal Secretary Pratyaya Amrit said.
An official said over 69.41 lakh people in 1,070 panchayats under 98 blocks in 133 districts have been affected by the floods in Bihar. Of them, more than 2.48 lakh have been evacuated to safer places by the rescue teams. The state government has set up 343 relief camps in which 93,149 people are living.
Thousands of people have taken shelter either on high rise school buildings, panchayat buildings or other government buildings. Many continue to suffer along the national highways under the open sky. The state administration said at least five more districts including Samastipur and Khagaria face flood threats. "Flood waters have entered in some new areas and are likely to create panic among people," the officials said.
The JD(U)-BJP government has cancelled the leave of doctors and heath department officials in all flood-hit districts. Nitish Kumar has again spoken with Prime Minister Narendra Modi and requested assistance.
Railway stations in Kishanganj, Katihar and Jogbani in Araria were flooded, leaving scores of passengers stranded. Eighteen trains have been cancelled since Sunday. According to officials, crops worth crores of rupees have been affected and road links to several places have been snapped. Reports reaching here said flood waters have submerged NH-104 in Sitamarhi, NH-31 in Kishanganj and NH-327 in Araria, an official added.
Explainers
The combination has resulted in some of the US' most destructive and costly floods, including the 1996 Midwest floods and the 2017 flood that damaged California's Oroville Dam
Explainers
The number of urban residents threatened by water scarcity is expected to rise from 933 million in 2016 to between 1.7 and 2.4 billion in 2050, according to a report published by the UN
World
Around 100 residents remained in the town, with police urging a full evacuation on Saturday, as the nation's weather forecaster predicted river levels in the area to peak on Sunday