At a press conference in New Delhi, several intellectuals and activists such as Aruna Roy, Arundhati Roy, Prashant Bhushan and Bezwada Wilson on Thursday came together to protest against the Bhima Koregaon raids and the arrests of five activists. The activists are planning to march to the parliament street police station.
The group of activists also issued a joint statement where they strongly opposed and condemned the "illegal arrests" of Gautam Navlakha, Sudha Bharadwaj, Arun Ferreira, Vernon Gonsalves and Varavara Rao.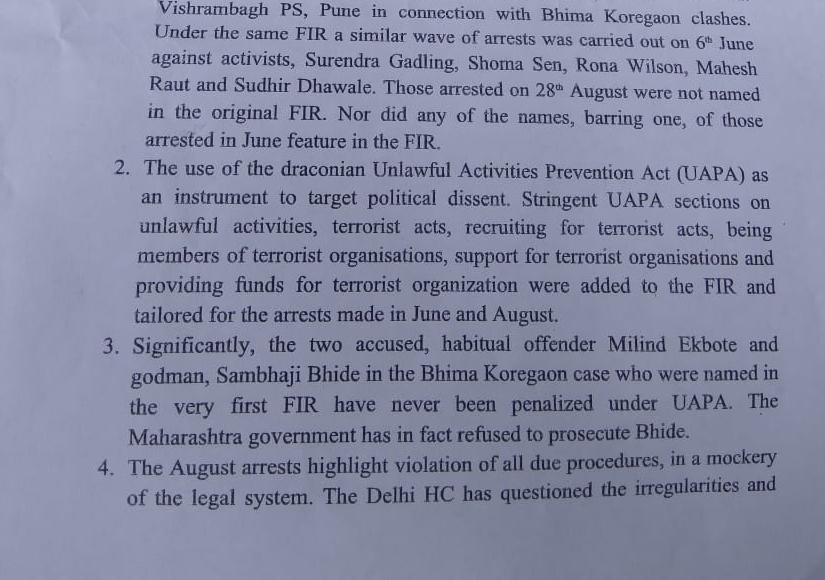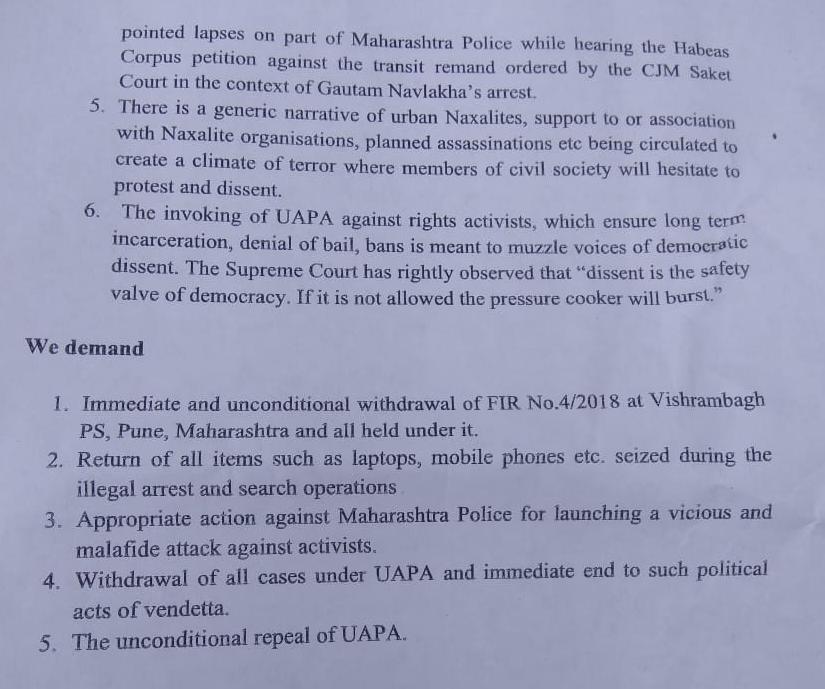 RTI Activist Aruna Roy at the press meet said, "The Constitution has been violated, there has been a breakdown. This indicates that any sort of opposition will be dealt with harshly."
"Critical voices are being suppressed; space for activism is reducing," she further added.
Arundhati Roy also attacked the government on several policies such as demonetisation and GST, adding that the government looked away while wealthy industrialists Nirav Modi and Vijay Mallya fled to other countries. She also criticised Prime Minister Narendra Modi over the Rafale deal.
She also mentioned how educational institutes such as JNU are being dismantled.
One of the activists at the presser also condemned the term 'urban naxal' and said that it was a term that was used to taunt and put fear among people. Another said that the only real crime of activists arrested under the Unlawful Activities (Prevention) Act 1967, (UAPA) is that they defended the Constitution.
The rights groups that organised the press conference are The Peoples Union for Democratic Rights (PUDR), People's Union for Civil Liberties (PUCL) and Women Against Sexual Violence and State Repression (WSS), reported The Quint.
Pune police had on Tuesday raided the homes of prominent Left-wing activists in several states and arrested five of them – Varavara Rao in Hyderabad, Vernon Gonsalves and Arun Ferreira in Mumbai, Sudha Bharadwaj in Faridabad and Gautam Navalakha in Delhi.
The raids were carried out as part of a probe into a conclave — Elgar Parishad — held in Koregaon-Bhima near here on 31 December last year, which had allegedly triggered violence the next day.
Pune police sent the three Left-wing activists, arrested for their alleged links with Maoists, to their homes, as per a directive of the Supreme Court.
Firstpost is now on WhatsApp. For the latest analysis, commentary and news updates, sign up for our WhatsApp services. Just go to Firstpost.com/Whatsapp and hit the Subscribe button.
Updated Date: Aug 30, 2018 18:21:44 IST