Bhima-Koregaon probe: Activists Varavara Rao, Sudha Bharadwaj, Vernon Gonsalves, among others, detained
The Pune Police on Tuesday conducted searches at the residences of prominent activists across the country for their suspected Maoist links.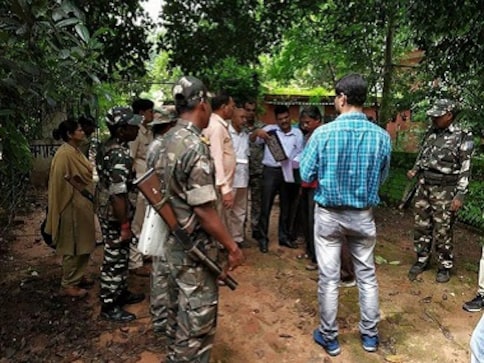 The Maharashtra Police on Tuesday raided the homes of prominent Left-wing activists in several states and arrested at least five of them for their suspected Maoist links. The raids were carried out as part of the probe into the violence at Bhima-Koregaon village following an event held on 31 December 2017.
Searches were carried out at the homes of Left-wing activist and poet Varavara Rao in Hyderabad, activists Vernon Gonzalves and Arun Ferreira in Mumbai, trade union activist Sudha Bhardwaj, Father Stan Swamy from Ranchi and civil liberties activist Gautam Navalakha, who lives in Delhi.
Sudha Bharadwaj
Activist Sudha Bharadwaj's home was raided early on Tuesday morning, and she has since been taken into custody by the police. Sources told Firstpost that Sudha has been detained under Sections 153(a), 505, 117, 120(b) along with several sections of the Unlawful Activities (Prevention) Act, under the Indian Penal Code (IPC).
She is being held at the Surajkund police station in Haryana, according to sources. The Swargate police station in Pune had sought the arrest of Bharadwaj. The police reportedly also requested access to her email IDs and social media accounts.
Bharadwaj is best known for her work in Chhattisgarh, where she has lived for 29 years and fought for the rights of mine workers in Bhilai, as a member of late Shankar Guha Niyogi's Chhattisgarh Mukti Morcha. A civil rights activist and lawyer, Bharadwaj has also been fighting against land acquisition, and is currently the general secretary of the Chhattisgarh People's Union for Civil Liberties (PUCL)
Varavara Rao
Another activist from Hyderabad, Varavara Rao has been taken from his home, sources told Firstpost. He has already been under house arrest for the last one and a half months, they said.
Sources said that Rao has been produced at the Nampally court in Hyderabad after the completion of the mandatory medical checkup at the Gandhi Hospital.
The Wire reported that Rao's nephew Venugopal, editor of Veekshanam Telugu magazine, told TV channel Sakshi after the raid, "This is an attempt to stifle voices that talk about murders of Dalit and Adivasis in areas like Gadchiroli. There is a cooked up story that VV Rao was connected with an assassination attempt on Prime Minister Narendra Modi. There is no truth to it. Apart from VV Rao, his two daughters and sons-in-law have been targeted. They do not have any connection with VV Rao's politics. The Central government, Maharashtra government, aided by the Telangana government, are engaging in intimidation to stifle democratic voices."
Gautam Navlakha
Journalist and human rights activist Gautam Navlakha was also arrested under the same sections of the IPC as Bharadwaj. Navlakha's home was also raided in connection with the organisation of Elgaar Parishad in Pune on 31 December, 2017 and his alleged Maoist links.
Later in the day, the Delhi High Court directed the Maharashtra Police to not take Navlakha outside the national capital till it hears the matter on Wednesday morning.
The court's direction came when it was hearing a habeas corpus petition filed on behalf of Navlakha by his advocate Warisha Farasat.
Navlakha has been associated with People's Union for Democratic Rights. He is also an editorial consultant of the Economic and Political Weekly. He, along with Sudha Bharadwaj, demanded repeal of the Unlawful Activities (Prevention) Act, 1967. Navlakha, a frequent traveller to Kashmir Valley for the last two decades, has also written extensively about alleged human rights violations in Jammu and Kashmir.
Vernon Gonsalves and Arun Ferriera
In Mumbai, a team of Pune Police raided the houses of activists Vernon Gonsalves and Arun Ferreira. Sources told Firstpost that both have been arrested.
Gonsalves has been previously accused of having links to banned Naxalite outfits. He was also labelled as an ex-central committee member and former secretary of Maharashtra State Rajya Committee of the Naxalites. He has already spent six years in prison between 2007 and 2013, when he was picked up by the Maharashtra Anti-Terror Squad from his Mumbai residence in August 2017.
He was convicted under various sections of Unlawful Activities (Prevention) Act and Arms Act in 2007 by a Mumbai court.
Stan Swamy
Personnel from the Maharashtra Police arrived at Father Stan Swamy's house in Ranchi at 6 am and presented an official letter in Marathi informing him of the raid. However, sources told Firstpost that Swamy refused to sign it without a translation, so the police provided an undertaking of having explained the letter to him sentence by sentence. They also confiscated Swamy's laptop, mobile phones, a press release about the Khunti rape case, among other items.
Sources said that the Pune Police team which raided the home of Father Swamy confiscated 21 CDs, two SIM cards, a laptop, camera, a list of tribal freedom fighters from Jharkhand and a press release during the raid.
Swamy is a tribal rights activist and has been supporting the Pathalgadi movement in Jharkhand since its inception. Swamy and 20 others, including former Congress MLA from Kolebira, Simdega district of Jharkhand, were booked by Khunti Police on 30 July for sedition under sections 121, 121A and 124A of the IPC and Sections 66A and 66F of the IT Act, according to sources.
"Pune Police came to investigate whether I am a Maoist or not. I handed over to them whatever they demanded. Let them investigate, I will not be cowed down by such measures," said Father Swamy, addressing media persons after the raid, according to sources.
A letter from Shivaji Pawar, Assistant Commissioner of Police (ACP), Swargate, Pune Police, confirmed that a raid had been ordered at Swamy's house in Ranchi.
Sources told Firstpost that a raid was also conducted at Anand Teltumbde's house in Goa. Anand is the brother of Milind Teltumbde and relative of Prakash Ambedkar.

Arrests from earlier in 2018
In June, five people were arrested for having close Maoist links after they allegedly made "provocative" speeches at the event, triggering violence at Bhima Koregaon village in the district, according to an FIR registered at the Vishrambaug police station after the event.
Dalit activist Sudhir Dhawale was arrested from his home in Mumbai, while lawyer Surendra Gadling, activist Mahesh Raut and Shoma Sen were picked up from Nagpur and Rona Wilson was arrested from his flat in Munirka in Delhi in simultaneous raids in June.
Police said probes were being conducted at homes of the five arrested and those who were directly or indirectly connected with them.
Outrage over multi-city raids, arrests of rights activists
The arrests of prominent civil rights activists and multi-city searches of their homes triggered outrage and condemnation by several activists, lawyers, academics and authors.
CPM leader Prakash Karat said, "This is a brazen attack on democratic rights. We are demanding that all the cases against these people be withdrawn and they be released forthwith."
Author and Booker Prize winner Arundhati Roy said that what was happening "is absolutely perilous".
"The simultaneous state-wide arrests are a dangerous sign of a government that fears it is losing its mandate and is falling into panic. That lawyers, poets, writers, Dalit rights activists and intellectuals are being arrested on ludicrous charges... while those who make up lynch mobs and threaten and murder people in broad daylight roam free, tells us very clearly where India is headed," Roy told PTI in a message.
"In the run up to elections, this is an attempted coup against the Indian Constitution and all the freedoms that we cherish," Roy said.
In June, five activists were arrested in connection with the case.
Voicing their deep anguish at Tuesday's developments, civil rights activists said the scale of raids and subsequent arrests were unprecedented. Lawyer Prashant Bhushan took to Twitter to voice his protest:
Getting news that Pune police have raided/arrested among the finest Human rights activists&dissenting voices, such as Sudha Bharadwaj (a human rights lawyer), Gautam Navlakha (Former Pres of PUDR), Fr Stan Swamy (a human rights activist) & Ors. Fascist fangs are now openly bared

— Prashant Bhushan (@pbhushan1) August 28, 2018
Noted historian Ramachandra Guha called the action "absolutely chilling" and demanded the intervention of the Supreme Court to stop this "persecution and harassment" of independent voices.
This is absolutely chilling. The Supreme Court must intervene to stop this persecution and harassment of independent voices. Sudha Bharadwaj is as far from violence and illegality as Amit Shah is close to those things. https://t.co/GTD2V0Tlk7 — Ramachandra Guha (@Ram_Guha) August 28, 2018
Rights activist Shabnam Hashmi, too, strongly condemned the raids.
JNU student leader Shehla Rashid alleged the raids were an attempt to "instil fear among those are vocal about issues". "It is also to manufacture a narrative and a sense of false enemy to misguided people ahead of the 2019 elections I highly condemn these," she said. Former JNU leader Umar Khalid said the raids are an attempt to send a message to those who are raising their voices. "Ahead of 2019 elections, a sense of fictitious enemy is being conjured," he said.
People's Union for Civil Liberties (PUCL) issued a statement denouncing the muti-city raids conducted on Tuesday. 
With inputs from Siraj Dutta, Greeshma Rai, 101Reporters, and agencies
also read
Explainers
Elon Musk's brain-computer interface company Neuralink has received approval from the FDA to conduct its first in-human clinical study. The firm wants to put coin-sized implants into human beings, which will allow people with paralysis regain motor function, restore vision, and treat brain diseases
Explainers
Tipu Sultan, the 18th Century Mysore ruler, slept in a hammock suspended from the ceiling of his locked bedchamber with this sword by his side. Found in his private apartments after his defeat at the battle of Seringapatam in May 1799, it was previously owned by Vijay Mallya
Explainers
Bernand Arnault, who owns LVMH – which includes luxury brands such as Louis Vuitton, Moet & Chandon, and Christian Dior – saw a considerable drop in his fortune after shares of the conglomerate declined five per cent on Tuesday. Arnault's net worth is currently at $192 billion