Bharat Bandh today: Strike cripples Kerala, Andhra and Odisha; makes little impact in TN, Maharashtra
Essential services such as banking and transport are likely to be hit on Friday as 10 central trade unions go on one-day nationwide strike, protesting against 'anti-worker' changes in labour laws and the Centre's 'indifference' to their demands for better wages.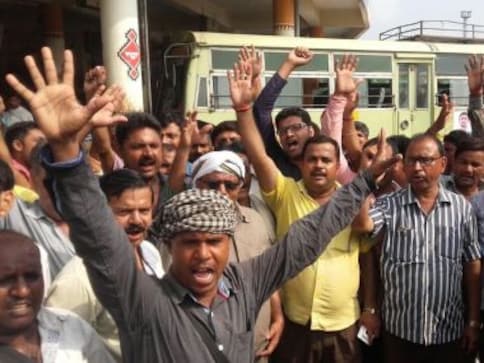 Essential services such as banking and transport are likely to be hit on Friday as 10 central trade unions go on one-day nationwide strike, protesting against "anti-worker" changes in labour laws and the Centre's "indifference" to their demands for better wages.
"The strike is on. We are getting good response. More information will pour in after sometime. Around 90 percent workers at BHEL's plant in Tiruchirapalli have not reported at work in the morning shift," Centre for Indian Trade Unions (CITU) General Secretary Tapan Kumar Sen told PTI.
He further said, "Vizag steel plant is 100 percent closed. At some places there would be instances of 'Rail Roko'. This is going to be a successful strike as more than 15 crore workers will come on streets to protest."
Following this, normal life was paralysed in Bihar, Odisha, Kerala and Punjab, while the strike evoked a mixed response in Puducherry and Karnataka. It was business as usual for Tamil Nadu and Mumbai
Last year, these 10 trade unions had called nationwide strike and around 15 crore workers participated in the agitation.
Sen further said, "Gurgaon industrial area is completely closed and the police have arrested about 12 people in Manesar area. All this information indicates that the strike will be bigger this time."
All major unions, excluding RSS-associated BMS (Bhartiya Mazdoor Sangh), have joined the strike call, terming the government's assurances to look into their demands and the recent announcements for two-year bonus and hike in minimum wage as "completely inadequate".
On its part, the government has asked all ministries to ensure that public utilities and essential services are not affected. Secretaries of all departments have been asked to take effective measures for smooth running of various services coming under their respective ministries.
Sspeaking to reporters in Mumbai, labour minister Bandaru Dattatreya on Thursday blamed the previous UPA regime for the issues faced by the workers and said the present government "doesn't want a confrontation with labour unions" and rather needs their cooperation and support.
He had conceded banking and insurance sectors are likely to be impacted more due to the strike, while adding that out of 12 demands of the trade unions, eight are related to the labour department and seven of them have been agreed to.
Business as usual in Mumbai despite strike
It was business as usual for public transport in Mumbai despite one-day nationwide strike call given by central trade unions, while it evoked a mixed response in rural Maharashtra. The suburban trains, autorickshaws, taxis and city buses continued to operate normally, without affecting the daily schedule of lakhs of commuters in Mumbai and suburbs.
A CPM state unit leader told PTI that there were instances of 'rasta roko' (block roads) at various places in rural Maharashtra. "Our activists staged 'rasta roko' agitation in Thane and Nashik districts," CPM leader Ashok Dhawle said.
He claimed that there was an 'overwhelming' response to the stir in the industrial belts of Maharashtra. Several government employees also stayed away from work, he said.
All India Banks Employees Association general secretary Vishwas Utagi said entire financial sector will get paralysed today with all banks, except SBI, being on strike.
The LIC, Nabard, GIC among others are also participating in the strike, he added.
Kerala
The strike hit normal life in Left-ruled Kerala with public transport vehicles staying off the roads and shops and business establishments downing shutters.
Autorickshaws, taxies, Kerala State Road Transport Corporation (KSRTC) and private buses are not plying on roads across the state with the workers of various unions taking part in the strike.
Major roads wore a deserted look in the state capital where hundreds of employees of ISRO units, including Vikram Sarabhai Space Centre (VSSC), could not reach their offices as the strike supporters laid a siege of an Isro bus bay here.
Train passengers had a tough time as they had to walk to their homes after alighting at the railway station here.
However, police helped patients coming to the Regional Cancer centre here by arranging transport.
All major unions, barring RSS-associated BMS (Bhartiya Mazdoor Sangh), have joined the strike, terming as "completely inadequate" the Central government's assurances to look into their demands and the recent announcements for two-year bonus and hike in minimum wage.
This is the first major strike in Kerala after the CPI(M) led LDF government came to power in May this year.
Chief Minister Pinarayi Vijayan has courted controversy after expressing support to the strike on Facebook with BJP hitting out against him.
VSSC officials said employees of Indian Space Research Organisation's units here were stranded at the bus bay at Pattom here.
Three convoys of buses, which were to carry employees from different localities, could not leave as strike supporters laid siege of the bus bay of ISRO units at Pattom here.
About 6,000 odd employees of the VSSC in Thumba, Isro Inertial Systems unit, a Research and Development unit of Isro at Vattiyoorkavu, Liquid Propulsion systems centre (LPSC) and Indian Institute of Space Science Engineering college at Valliamala have been held up, sources said.
The union leaders led by former CPI(M) MLA, V Sivankutty staged a dharna in front of the bus bay this morning preventing employees from getting into the buses.
"Not a single bus has left the Pattom station since 7 am. We are not sure when the convoys will ply," a VSSC official said.
In the past 15-20 years, we were never affected due to strikes as employees used to get transport arrangements, the official said. Some vehicles of Technopark employees were also blocked.
In the Apollo Tyres Perambra unit, BMS workers came for work for the 6 am shift and striking workers tried to prevent them.
However, police intervened and allowed them to enter the unit. Employees of the Fertilisers and Chemicals Travancore (FACT) were also prevented at Kochi, police said.
Tamil Nadu
The strike did not have much impact on normal life in Tamil Nadu as transport services and other businesses began the day's functioning normally.
Bus and train services were operated as usual while shops and business establishments remained open. Educational institutions are functioning normally.
The ruling AIADMK's labour wing is not participating in the strike called by ten central unions protesting "anti-worker" changes in labour laws and the Centre's "indifference" to their demands for better wages.
The striking union members staged demonstrations at various places raising slogans in support of their demands. A Madurai report said the strike did not affect normalcy in most parts of southern districts of the state.
However, inter-state buses to Kerala were stopped at the border towns of Nagercoil and Theni. Central government government offices wore a deserted look with the employees joining the strike while section of state government employees, especially in the revenue department, are also participating in the strike, the report said.
Shops in most places were open and autorickshaws were seen plying as usual. Police have been deployed for providing security to PSUs and government offices to prevent any untoward incident.
Officials said essential services were maintained and buses were operated by members of 'Anna Thozhirsanga Peravai', the AIADMK backed trade union.
Private buses were off the road in Tiruvarur district. More than 50,000 police personnel have been deployed in southern districts, police said adding so far no untoward incident had been reported.
Bihar
Bihar evoked strong support from local trade unions as normal life was affected with autorickshaw and other public vehicles off the road. Banks too remained closed.
As public transport was not available, passengers, particularly alighting from trains, had a harrowing time reaching their destination.
Schools recorded thin attendance of students while government as well private sector employees also had tough time reaching offices in the absence of proper public transport.
Reports from districts said the agitators disrupted train services in Begusarai and Jehanabad among others. Banks of major cities like Patna, Munger, Bhagalpur, Hajipur, Muzaffarpur, Purnea,Chapra, Arrah, Biharsharif, Katihar, Begusarai, Samastipur and Gopalganj remained closed. NABARD, Regional Rural Banks and Cooperative Banks also remained closed. In many parts of Bihar, the protesters held dharna and took out processions.
Odisha
The nation-wide strike called by central trade unions crippled normal life in Odisha with protesters coming on roads and railway tracks affecting the traffic movement all over the state. Train services were affected as trade union activists staged rail roko by holding sit-in on tracks at many places including Bhubaneswar, Cuttack, Berhampur, Sambalpur, Bhadrak, Balasore, Jaleswar, Keonjhargarh and Rayagada, police said.
Over two dozen passenger and express trains were delayed at different railway stations as the rail roko continued for some time, they said adding goods trains were also stranded at several places.
Vehicular movement came to a halt with buses, trucks, auto-rickshaws and other vehicles keeping off the roads with supporters of the strike staging road blockade at many places including highways by burning tyres and putting hurdles, police said.
While shops and other business establishments downed their shutters, some educational institutions, banks and insurances offices remained closed. Government offices recorded thin attendance in several places as union activists staged picketing to enforce the strike. In the state capital of Bhubaneswar, major roads wore a deserted look with vehicles refraining from plying though some two-wheelers were seen in some areas. However, the protests remained by and large peaceful.
The strike affected mining operations in most areas including Talcher, Angul, Bonai and Koira.
However, work in Paradip port and industrial units in the port town remained largely unaffected as special arrangements had been made to ensure operations though reduced attendance was witnessed, sources said.
Punjab, Chnadigarh, Haryana
Despite the government warning to enforce 'no work no pay' policy, services including banking and public transport were hit in Haryana, Punjab and UT Chandigarh.
Employees of departments like roadways, electricity, health, corporations held demonstrations at various places in Punjab, Haryana and Chandigarh. At some places, employees claimed the district administration "forcefully" asked roadways employees to ply buses. The government departments had already set up control rooms to lodge complaint against vital services being interrupted due to protests.
At prestigious health institution Post Graduate Institute of Medical Education and Research (PGIMER), various planned surgeries were today postponed in the wake of around 2,000 nurses joining the nationwide strike call given by All India Government Nurses Federation.
Meanwhile, a spokesperson of PGIMER said planned surgeries at the health institute were postponed in view of strike by nurses. "But OPD and emergency services are normal at PGIMER," shesaid. Around 2,000 nurses stayed away from their work following a strike call given by All India Government Nurses Federation.
Public transport services were hit in Punjab and Haryana with roadways employees participating in the strike call, causing inconvenience to passengers. "Employees are protesting at all the 24 depots in the state," he said adding that the state roadways had fleet of 4,200 buses," Haryana Roadways Workers Union, General Secretary, Dharamveer Hooda said.
However, he accused Jind district administration of resorting to lathicharge at protesting roadways employees so as to resume bus services. "But we have not allowed to run the buses," he said.
Hooda also claimed the state police have taken 21 leaders including union's President Sarbat Singh Punia into the custody at odd hours in Fatehabad. "This is completely illegal and we will protest against the same at Fatehabad," said Hooda.
A report from Hisar and Kaithal in Haryana said public transport remained paralysed, forcing passengers to use private vehicles to reach their destinations. A large number of passengers could be seen stranded at Hisar, Hansi, Uklana , Barwala, Adampur and other bus stands. Almost all offices at mini secretariat here looked deserted as government employees did not join their duties.
Meanwhile, in Punjab a report from Phagwara in Punjab said while Punjab roadways buses were also off the road, PRTC buses were seen plying. A staff member of Punjab Roadways said they will remain on strike from 10 am to 2 pm. Roadways buses were seen parked inside the main Bus stand opposite National highway.
Banking operations were also hit at public sector banks in Punjab, Haryana and Chandigarh with bank employees participating in the nationwide strike.
Karnataka
The bandh-effect wan not as severe in Karnataka as in other states. While the state-run transport buses remained off the roads causing inconvenience to office-goers and those travelling to distant places, shops, establishments, markets and hotels functioned normally.
Though some auto and cab unions had announced their support for the bandh, their movement was by and large normal  in Bengaluru. Metro services are also functioning normally. Keeping safety of students in mind, authorities in various districts have declared holiday for school and college goers. Police have made elaborate security arrangements in the state to avoid any untoward incident. In Bengaluru police personnel have been deployed across the city.
Thirty-six platoons of Karnataka State Reserve Police, 21 of City Armed Reserve and 270 Police patrol vehicles are deployed across Bengaluru, officials said. Demonstrations are being held by trade unions across the state. At a march held in the city, protesters with banners marched from Town hall to Freedom Park here shouting slogans against government policies.
Puducherry
The nation-wide strike evoked a mixed response in tPuducherry as private buses, autos and other passenger vehicles were off the roads while state-run buses were operated as usual. Shops and establishments downed their shutters. Cinema houses suspended the shows for the day.
However, government departments registered normal attendance, official sources said. Police sources said around 1,200 workers of different trade unions were taken into custody when theyblocked roads at several places.
Police pickets have been posted at all vulnerable points. A batch of employees of centrally run premier health institute JIPMER observed a fast extending support to the strike, called by the centraltrade unions to press their charter of demands.
Telangana,
Banking operations came to standstill in state as over 15,000 employees of various banks participated in the strike.
All India Bank Employees Association (AIBEAP) Joint Secretary B S Rambabu said demonstrations will be held in all the district headquarters along with other trade unions. "Though branches will be open, there is no business taking place in PSU banks. Clearing will also be impacted. However, there will not be any problem with regard to ATMs' functioning," Rambabu told PTI.
Most of the buses run by Telangana State Road Transport Organisation are kept off the roads, a senior official said. As many as two lakh state government employees (gazetted, non-gazetted and class 4 employees) are supporting the strike, Telangana Gazetted officers Association General Secretary A Satyanarayana said.
"We will not directly participate in the strike, but wear black badges and attend duties," Satyanarayana said.
According to him, Revenue department officials are not participating in the strike as they are busy in reorganisation of districts. Most of the industrial parks witnessed thin attendance.
Andhra Pradesh
The strike evoked a good response in the industrial areas of Gajuwaka and Auto nagar areas in Andhra Pradesh's Visakhapatnam district even as over 100 agitators were taken into preventive custody. Work was affected in PSUs like Visakhapatnam Steel Plant, Bharat Heavy Plate and Vessels Ltd, Hindustan Shipyard, NTPC's Simhadri Power Plant, Visakhapatnam Port Trust and private industrial units in Visakhapatnam as many of the workers joined in the strike.
Work was affected in PSUs like Visakhapatnam Steel Plant, Bharat Heavy Plate and Vessels Ltd, Hindustan Shipyard, NTPC's Simhadri Power Plant, Visakhapatnam Port Trust and privateindustrial units in Visakhapatnam as many of the workers joined in the strike.
All public sector banks, private banks and offices of insurance companies like LIC remained closed. The state government offices and government schools remained open, but managements of some private schools and declared a holiday on Thursday.
District Education Officer R Krishna Reddy said all government schools are working as usual and there was no problem at any school. There was no information of closure of any school in thedistrict, he said.  Though majority of the buses of Andhra Pradesh Road Transport Corporation were plying as 60 percent of the national mazdoor union workers did not participate in the
bandh, the other private transport systems like autorickshaws, jeeps and vans remained off the roads causing some inconvenience to the commuters.
The strike was total in the industrial areas of the Gajuwaka and Auto nagar in the city. Visakha Steel Employees Congress general secretary Mantri Rajasekhar said the strike was total in Visakhapatnam Steel Plant.
Although the strike was largely peaceful, the administration had tightened the security. Additional Deputy Commissioner of Police (special branch) B Ravi Kumar said the situation was peaceful and no untoward incident was reported anywhere in Visakhapatnam. However, nearly 120 agitators, who were obstructing the vehicular traffic, were taken into preventive custody, he said.
With inputs from agencies
Business
Consequent to the cancellation of its licence, the bank is prohibited from conducting the business of banking' which includes, among other things, acceptance of deposits and repayment of deposits
Business
As per Kotak Mahindra Bank's website, you can open a fixed deposit with a minimum of Rs 5,000. Furthermore, for FDs with tenure below 181 days, the interest will be calculate as simple interest
Business
It must be kept in mind that the interest rate on fixed term deposits is different for senior citizens. Furthermore, these rates are subject to change without prior notice