Besides reviving the Bofors memories of 1987, the AgustaWestland helicopter expose raises a more fundamental ethical question: the leakage of precious national wealth in the name of defence deals even as one third of the country's citizens are wallowing in destitution.
Don't get me wrong. It is not the age-old, but forever valid, defence versus development argument, but its modified version: commissions versus development.
During Bofors, Rajiv Gandhi and the Congress repeatedly asserted that there were no kickbacks in defence deals; till the Westland scandal, St Antony also maintained the same. But now with every sector compromised, the onus is on the government to prove that they are not corrupt. With a scandal-a-day, we as citizens of India have the right to assume that every deal is corrupt and somebody has pocketed commission until we are proven wrong.
Internationally, corruption in defence is a done deal. According to Transparency International, it's worth about USD 20 billion.
About Euro 51 million commission on the Westland contract works out to be roughly 10 percent of the total deal, which by the way is the average that the reasonable politicians allegedly take on government businesses. Some observers call it sustainable corruption maintained by politicians in countries such as Malaysia and Thailand.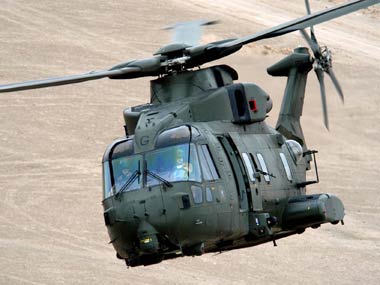 It could be higher as well. In the salacious Radia tapes, one industry bigwig was heard saying that a high profile minister pocketed about 15 percent. The point is that a 10-15 per cent is the conservative standard for commissions and the Westland deal allegations is another piece of corroborative evidence.
If the default assumption is that no deal is free from bribery or commission, the defence sector is a goldmine for easy money. India spends about 15 percent of its annual budget on defence - close to USD 50 billion (about USD 110 billion on PPP). Not that all this money is spent on procurement. Nearly half of it is capital expenditure, of which major part is procurement. An average 10-15 percent commission on this is a lot of money.
Whether its people are underfed, sick or illiterate; like the super-rich of the country, India is a profligate overseas shopper for defence. An ASSOCHAM report said that during 2004-07, India spent about US$ 10.5 billion on arms import. It should have reached 30 billion by the end of 2012. Reportedly, India is the biggest arms-importer, with about 70 of its procurement done abroad.
Another estimate said that the defence modernisation during 2007-2012 would cost about US $50 billion. Other than arms-procurement, there are so many other contracts, involving people at different levels. as well.
Whether we need them or not, over the years, the expenditure on defence has been jacked up in double digits - for example, about 21% in 2009-10 and 17.6% in 2012-2013. According to Information Handling Service (IHS), India will be the fourth biggest defence spender by 2020.
Along with commissions, another baleful trend in the murky and opaque world of defence procurement and deals is senior defence officials taking up consultancies with defence vendors when they retire from service. A cursory glance at the available information of some of the companies dealing with the Indian forces show a number of retired officials working or consulting with them. Who else can be better conduits than these strategic assets?
In terms of the share of GDP, defence expenditure might look reasonable and consistent with global average, but what we don't realise is that it is almost entirely government spending while on health and education, more than half is from the private sector. Additionally, while the government is spending more and more on arms and commissions, it is surreptitiously withdrawing from its constitutional commitment to feed, educate and take care of its citizens.
Although it might be staid to bring back the comparison between defence and development - with the argument that poverty, poor public health and poor education of the people is as strategic as the border security of the nation - the ever-increasing allocation on arms and the leakage in the form of commissions is certainly at the cost of the underfed and under-cared citizens of the country.
Since we cannot eliminate corruption in defence deals, why can't we admit that there are commissions, and make it legal?
Instead of ex-services chiefs or other senior officials brokering the deals, why can't the government establish an entity to negotiate with arms manufacturers and route the commissions into a Trust Fund for development? (Perhaps the Planning Commission might like to introduce a PPP angle as well.)
Concurrently, it should also introduce a permanent moratorium on retired (senior) defence personnel in taking up full time or part time jobs with defence vendors. Perhaps at the moment, post-retirement consultancies look like a decent incentive to join the forces and for in-service promotion.
Updated Date: Feb 14, 2013 19:07 PM