Bengaluru Police arrest Kannada editor Ravi Belagere for plotting to kill colleague
Noted Kannada editor and journalist Ravi Belagere was arrested on Friday for allegedly conspiring to kill an employee
Noted Kannada editor and journalist Ravi Belagere was arrested on Friday for allegedly conspiring to kill an employee.
Belagere, the editor of the tabloid Hi Bangalore, was arrested in Bengaluru according to News18. The report adds that Belagere's connection to the case came to the fore when a sharpshooter and a contract killer, Tahir Hussain and Shashidhar respectively, acknowledged the involvement of Belagere in the plot to murder former colleague and journalist Sunil Heggaravanahalli. When they were being interrogated for another case related to the illegal possession of weapons, Shashidhar alleged that Belagere had given him supari to murder Sunil.
The Bangalore City Crime Branch pursued this lead and went ahead with his arrest, the report says. According to the News Minute, Sunil said that he never suspected his friend to hatch such a plan. "Belagere and I had some differences and I quit Hi Bangalore. When Gauri Lankesh was killed he contacted me and in fact asked me to head the tabloid's editorial. I assumed that he was trying to patch up things between us. We have been friends for 14 years and I never knew that a trusted friend like him would do something like this."
This is not the only case that Belagere is embroiled in. Earlier in June, Karnataka assembly Speaker KB Koliwad had sentenced two journalists of Kannada tabloids, Yelahanka Voice publisher Anil Raj and Belagere, to a year in jail for writing defamatory articles against legislators. "I approve the recommendation of the privilege committee which had recommended a year's imprisonment and a fine of Rs 10,000 on Hi Bangalore and Yelahanka Voice editors," Koliwad said in the state Assembly. If the editors fail to pay the fine, the jail term would be extended to another six months, the speaker said.
According to The Hindu, the Karnataka High Court had on Wednesday directed the state government, or any of the authorities acting under it, not to carry out any adverse action against these editors. "Since it is a constitutional matter, it is for the court to hear both the parties before arriving at a decision or passing a judgment," Justice AS Bopanna said. The court has granted four weeks for the petitioners to respond to the defamation case.
According to News18, the Central Crime Branch (CCB) is interrogating Belagere in relation to the murder case and was produced before a magistrate on Friday. Belagere has been remanded to custody till 18 December.
With inputs from agencies
Find latest and upcoming tech gadgets online on Tech2 Gadgets. Get technology news, gadgets reviews & ratings. Popular gadgets including laptop, tablet and mobile specifications, features, prices, comparison.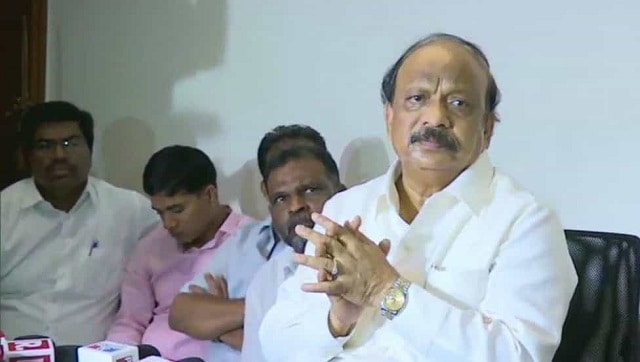 India
Baig, who was disqualified as a Congress MLA last year, was lodged in the central prison in Bengaluru after a court remanded him to 14-day judicial custody on Sunday
India
Sampath Raj had earlier escaped from a private hospital where he had been admitted after testing positive for COVID-19
Sports
ISL 2020-21will be held in three venues of Goa and not across the country owing to the COVID-19 pandemic.