Not Burhan Wani, it's Pakistan's proxy war that's behind Kashmir tragedy
The violence in the Kashmir Valley — that has so far claimed 20 lives and injured over 200 — following the elimination of Burhan Wani by Indian security forces is deeply tragic but in no way unexpected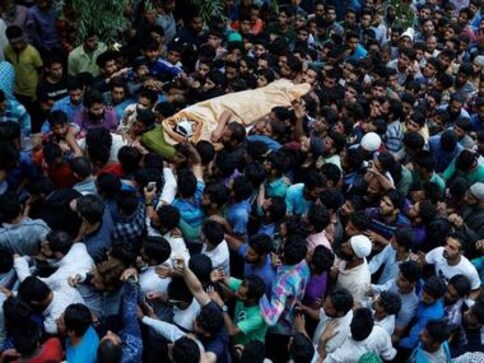 The violence in the Kashmir Valley — that has so far claimed 20 lives and injured over 200 — following the elimination of Burhan Wani by Indian security forces is deeply tragic but in no way unexpected. Kashmir remains a powder keg that gets ignited with slightest of sparks, and the death of the most-wanted Hizbul Mujahideen commander, a top terrorist recruiter who enjoyed huge local support, was always going to be problematic.
In the age of social media, there is always a temptation to magnify the significance of current events at the risk of trivialising the past.
The Valley is not burning for the first time. Kashmir has gone through repeated cycles of violence. And it is downright preposterous to suggest that dreaded terrorists should not be eliminated by security forces because somehow a dead terrorist is more dangerous than a live and operating one. Wani's recent Facebook propaganda calling for an Islamic Khilafat (which became wildly popular) in Kashmir was a clear departure from the earlier separatist movements and an indication that he was either gravitating to, or at least being heavily inspired by the Islamic State (IS).
"A terrorist is a terrorist who has to be dealt as such irrespective of whether he is net-savvy or illiterate and his success in whipping up popular sentiment at a particular point in time", a senior official told The Times of India, reiterating that popularity should not be the determining factor for elimination of a terrorist who was "targeting army and other security forces".
Besides, it would be too simplistic to assume, as a section of the media has done, that the 'spontaneous' outpouring of grief for the 21-year-old slain terrorist and the resultant violence against security personnel stem solely from Wani's social media popularity and his 'iconic' status as the local poster-boy of armed rebellion. Seeing the renewed clashes through rose-tinted glasses of misplaced romanticism as a "freedom movement of Kashmiris determined to secede from an oppressive Indian State" would be to turn a blind eye to evidences of history and Pakistan's stated machinations behind the turbulence.
The seeds of Pakistan-sponsored insurgency in Kashmir were sown in the mid-1970s when Lieutenant-General Hamid Gul, former ISI chief who nurtured a deep and enduring animosity against India having suffered two humiliating losses in 1965 and 1971 wars, set up militant groups in the valley to train young Kashmiris and Afghans to fight in India.
By 1991, the Jammu Kashmir Liberation Front (JKLF) had a ready army of Kalashnikov-wielding men roaming the lanes and bylanes of Srinagar, Baramulla, Anantnag and Sopore, calling for azaadi from "Indian rule". That the armed insurgency came a cropper by 1996 owes in no small measure to Indian army's determined, sustained counter-offensive and ISI's cutting off of weapons and training aid to JKLF in favour of Hizbul Mujahideen, which had a more pro-Pakistan slant unlike the pro-independence JKLF.
Fidayeen attacks, masterminded by the ISI-sponsored Lashkar-e-Taiba and Jaish-e-Mohammed terrorists marked the second wave of violence which reached its peak between 1999 and 2002. As professor Sumantra Bose writes in Al Jazeera, "at least 55 such attacks took place and 161 military, paramilitary and police personnel died, as did 90 perpetrators." Coming just after the Kargil conflict, the suicide attacks culminated in the daring 2001 Parliament attack.
After a lean phase since early 2003, insurgency reared its head again in towards the later part of the decade. Clashes in 2008 and again in 2010 claimed over 100 lives each as the cycle of violence continued unabated.
Between January 1990 and April 2011, government data show that in the last 21 years, 43,460 people have been killed in the Kashmir insurgency. Of these, 21,323 were terrorists, 13,226 were civilians killed by terrorists, 3,642 civilians killed by security forces and 5,369 policemen killed by terrorists. The 21,323 terrorists include both Kashmiri and foreign militants. The hard truth is, terrorists slaughtered more civilians than Indian security forces ever did.
It has been speciously suggested that Wani single-handedly sexed up local militancy in Kashmir which was on the wane.
Indian Express, just to take one example among the many media outlets taking a similar line, quoted a Kashmiri police officer as saying: "There are so many stories woven around Wani that he has become a legend across this region. For almost 15 years, Kashmiri youngsters refrained from joining the militant ranks. Burhan brought the militant movement back to youngsters here… Earlier, local recruits would be sent across the border for arms training. After Burhan became known, we have witnessed a new situation. There are more than 60 local militants active in south Kashmir who have trained locally," said the officer.
This narrative — built around a terrorist who obviously was good at marketing himself through social media tools — by a gullible media and opportunistic politicians such as Omar Abdullah who stand to gain by keeping the Kashmir cauldron boiling, discounts Pakistan's role behind another wave of insurgency.
By making Wani a youth icon and a hero and glorifying his role in insurgency, the media is also ending up propagating Pakistan's cause. Islamabad is already portraying the Hizbul commander as a "martyr" and is calling for a plebiscite in the Valley due to "India's human rights violations".
For Pakistan, Kashmir is an unfinished business, the focal point of "1,000 years of war" against India and rallying platform for a clash of civilisations. Its Army does not want the Kashmir issue to be resolved as this would pose a serious challenge to its existence and dominance in the country's political set-up.
An audio clip, purportedly the voice of Burhan's mother, being circulated in Kashmir in the aftermath of violence has her shouting: "Tum kitne Burhan maaroge?". A crowd responds, "Har ghar se Burhan niklega." Then the crowd takes over: "… (not intelligible) aage badho, hum tumhare saath hain. Jeeve jeeve Pakistan. Jeeve jeeve Pakistan. Jeeve jeeve Pakistan. Jeeve jeeve Pakistan."
For all the theories about Wani inspiring a "purely local militancy," here are a few facts. According to Indian Army records, at least 70 young Kashmiris in 2014 joined the secessionist movement with most aligning with the banned group LeT.
How many local Kashmiri youths were recruited by the "formidable" Wani?
Data from the Ministry of Home Affairs reveals that from January to June 2016, the number of new local recruitments to militancy in the Kashmir Valley stood at 39. The number of local recruitments to Kashmir militancy in 2015 were 76 in 2015, 56 in 2014 and 20 in 2013.
The MHA data also reveals that from January to 1 June, 2016, 36 militants were able to successfully infiltrate into India. For 2015, the number of successful militant infiltrations stood at 33. For 2014, the corresponding figure was 65.
Even as JeM increased its activities in India — from 11 in 2014 and 5 in 2015 to 15 already this year —LeT and Hizbul Mujahideen (HM) remain the most potent outfits. LeT has the strongest presence with 76 militants operating on the ground while HM has 64 active cadres.
So while Pakistani ISI bagman Ghulam Nabi Fai, according to an FBI affidavit, was getting funds to the tune of at least $4 million to manipulate the debate about Kashmir on Capitol Hill as the principal representative of the Kashmiri separatist movement, Pakistan was busy providing ideological assistance, weapons, training and funding to LeT, HM or Haqqani Network to create unrest in Kashmir.
You are entitled to your own opinion, but you are not entitled to your own facts, former US senator Daniel Patrick Moynihan is believed to have said.
It is advice the Indian media will do well to heed, going by the naiveté on display.
World
The incidents were the latest in a stream of continuous violence that has plagued eastern Congo for years, despite increasing interventions from the country's army and UN peacekeepers
Explainers
As per reports, the arms left by the United States at the time of its withdrawal from Afghanistan in August 2021 are being used by Pakistani Taliban militants. The spillover of these high-tech weapons and night-vision devices has also made its way into Kashmir
World
Brigadier Mustafa Kamal Barki of the Inter-Services Intelligence, the country's main spy agency, was killed in an encounter in South Waziristan, a mountainous region that borders Afghanistan and has long been a hotbed of Islamist militants