Bangladeshi photographer Manir Mrittik offers a surreal perspective on everyday ordinariness
Bangladeshi photographer Manir Mrittik's series 'In the Realm of Ambivalence' offers both surrealism and alternate perspectives on things like love and most crucially, the arts themselves.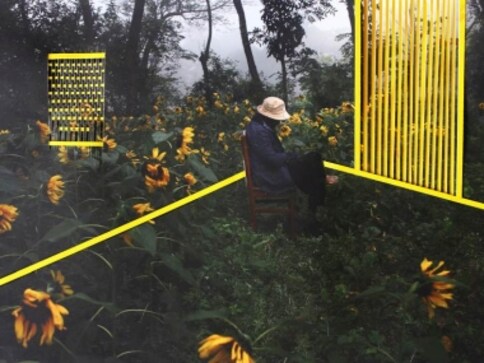 Not too long ago, Bangladeshi photographer Jibon Ahmed's photo of a couple unselfconsciously kissing in the rain went viral. But while it attracted positive responses in parts of the country, largely there was anger. It only added to the surreal texture of the shot — the rain, the backdrop — that so many people took offense to with it, thereby supplying it with infinite political contexts as well. Photography has in the last decade or so, evolved to something more than just the document of reality. Performative and imaginative projects have started to push boundaries. Where once photographers looked for reality and its obscure moments, they now inject it with the kind of experimental and curious jest that once characterised the classic arts alone. In keeping with that theme, Bangladeshi photographer Manir Mrittik's series 'In the Realm of Ambivalence' offers both surrealism and alternate perspectives on things like love and most crucially, the arts themselves.
Mrittik's series is divided into sections, one where he doffs his hat to classic paintings by re-imagining them and another where he explores the idea of love. "I like to do experiments. For me, photography is like a quick drawing with more information. Photographs are small slices of time. That's the notion with which I began my experiments with the camera. Usually, cameras capture only visible light for regular photography, exactly what the human eye can see. But I want to see more or less through my camera, by using ultraviolet, infrared or full spectrum lights," Mrittik says. In the section alternative masterpieces, Mrittik redraws classics like the Mona Lisa and Vermeer's Girl with a Pearl Earring. "I am interested in the aura of western art and classical paintings. But my interest is very personal where I put myself and my dear ones inside the masterpieces, " he says.
In a way, Mrittik merges the mundane of everyday, of personal lives, to the iconic portraits that seem to elevate anything they might absorb. If looked at closely, none of the stitched or assembled classics are what they seem but they are beguiling and affecting nonetheless. All because of familiarity with their stature, the reputation they carry with. It is as much a comment as it is a question of the contested history art and its hold over us. Mrittik dedicates a whole section in the project to Van Gogh, which is also what he spent the most time on. "It always gives me pause when I think that I haven't really ever seen Van Gogh's Sunflower in person. But the history and the significance of those flowers carry a certain fragrance, a fragrance that is impossible for any artist with a good nose to resist," he says. Mrittik actually grew sunflowers in a field, reared them, watched them bloom for two years before clicking them – the whole experience part of what becomes of his work. "It was quite an experience walking in those old boots, sitting in that garden full of blazing flora. Here's to the man whose head was on fire, the man who lived inside his paintings more than he lived outside them," Mrittik says of Van Gogh.
The word ambivalence in the title is apt for a project that can be seen anywhere between suppositions and surrealisms. By rejecting ordinary light, Mrittik has already abandoned the real eye. The section Rapture in Time and Space perfectly encapsulates the idea that the ordinariness of everyday is only a fracture of light away from becoming something profound. These are candid moments, that given the slightest of nudges in lighting and setting, morph into the antiqueness of the classics. Mrittik's project is the first in a series of projects that the gallery Akaar Prakar will be showcasing from Bangladesh. At a time when freedom of expression is available at a premium in the country, the fact that such an initiative is carrying the work to farther shores is a prize in itself.
In The Lovers Redux, Mrittik finds men and women, solemnly occupy a distinctly black and white mesh of space, as if to say, it is as simple, but hardly an easy choice. You can see them kissing or silently contemplating a moment, gripped by the depth of what they find themselves in. Though it is a different approach from that of Jibon's controversial photograph, both are concerned with an emotion that is as stipulated as it remains debated. Naturally, then the idea of love shouldn't be reserved for pairings alone, though it may be best represented by one. "Love and intimacy are kaleidoscopic words, each lending itself to an array of meanings. Maybe it is better if we do not try to disentangle them, but emotions paradoxically can invite comparison. There is no definite answer to questions like, whether the intimacy we share with the works that inspire us is deeper than the bond we share with our loved ones. One can only hold both these relationships close, and cherish them," Mrittik says.
In the Realm of Ambivalence is on display at Akar Prakar Gallery, New Delhi.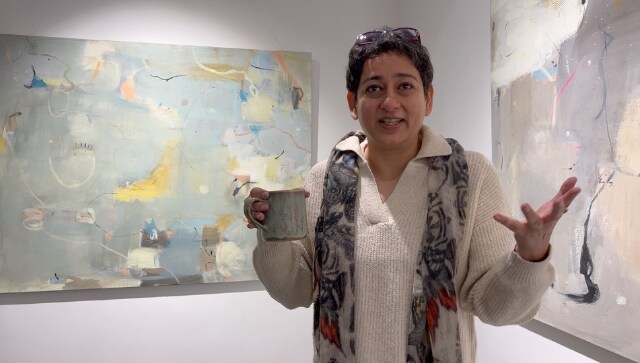 India
Once a painting or artwork is done, we have to let go of it. What comes to the viewer has to come from them and I cannot say my narrative. It can be subjective and open to own interpretation of the viewer
World
The tenure of President Abdul Hamid will end on April 23. Lawmakers in Jatiya Sangsad (Parliament) elect the president for a five-year term in Bangladesh's parliamentary form of government while one can serve as much as two consecutive terms as the head of the state
Photos
Noted photographer Pravin Talan mixes art with adventure with his 2023 calendar, honouring the daredevilry and bravery of the National Security Guard 'Black Cat' commandos. A look at some of the awe-inspiring images from the viral calendar