Bangalore Literature Festival 2018: From panel discussions to much awaited LitMart, there is much to look forward to
From the LitMart for aspiring authors to panel discussions on poetry, history, politics, crime and more, to discussions on the burning issues of the day and dedicated children's literature specials, the 7th edition of the Bangalore Literature Festival has so much on offer
The last weekend of October will see literature enthusiasts headed to one venue – the lawns of The Lalit Ashok for the 7th edition of the Bangalore Literature Festival (BLF). Speaking on being hosts for the second time and on how they are gearing up for this weekend, Bhaskaran T Menon, General Manager, The Lalit Ashok says, "We did see a growth in public attendance last year over the days, and are expecting it to be much larger this time. The format of the event and the vast sprawling spaces of The Lalit gives it a picnic flavour and encourages one to spend an entire day here. People from all walks of life congregate at the BLF and there is something for everyone!"
Speaking on one of the most awaited segments of the festival, the LitMart, Shinie Antony, Festival Director, BLF explains that the shortlisted pitches get pride of place at LitMart, where a jury of editors and publishers will listen to the would-be writers. The jury will include VK Karthika (Westland), Renuka Chatterjee (Speaking Tiger) and Shantanu Chaudhuri (Penguin).
She also says that among the most anticipated sessions will be those by poet Vijay Seshadri, crime writer Sophie Hannah, actor Sarika and writers Bruce Sterling and Ashwin Sanghi. "A lot of interest is also being anticipated for Nalini Jameela – a former sex worker whose books give a glimpse into that world and who will be in a panel with German writer Nora Bossong who has done a wide reportage on red light areas. Poetry readings by Ranjit Hoskote and Easterine Kire, political cartooning with N Ponnappa and Ravi Shankar Etteth as well as talks on their new books by Ramachandra Guha, Shashi Deshpande, Shashi Tharoor and Aatish Taseer will see great participation," says Antony.
In fact, Manu S Pillai, writer, and winner of the Sahitya Akademi Yuva Puraskar (2017) and author of The Ivory Throne: Chronicles of the House of Travancore (2015) will be in conversation with Aatish Taseer on his new book Benares. Manu says, "Having been part of the BLF, twice as a speaker and once in the audience, I have found the turnout remarkable. Besides the discussion with Aatish Taseer, I will also be on a panel discussing narrative non-fiction and my new book Rebel Sultans. As always, I will be highlighting the importance of understanding history in all its glorious, colourful complexity, and holding up the past to help us determine wisely our course for the future. This in addition to speaking of the importance of rediscovering and resurrecting lost women who helped shape our history".
Madhavi Menon is Professor of English and Director of the Centre for Studies in Gender and Sexuality at Ashoka University, and also the author, most recently, of Infinite Variety: A History of Desire in India. This will be her first appearance at the BLF and she will be at a session called 'Love and Longing in Hindustan' along with Pavan Varma. Speaking on the idea that she will be sharing with the audience, Menon says that desire is too multiple to be contained in neat little boxes. The Indic cultures have histories of engaging with the multiplicity of desire in various forms, even though we seem to have largely forgotten those histories now. We must try not to forget altogether!"
While there is a lot for the adults to look forward to, this edition of the BLF will have much to offer for children too. Speaking on this, Antony elaborates, "This time we are dividing children by age and taking care of their reading needs in a more attentive manner. There will be a magic show and story-telling for the younger lot, while simultaneously there will be tips on cyber hygiene and animal talk with the older ones. This reflects our decision to keep age-related individualistic tastes in mind and not herd them into one tent regardless of their interests. The writers have been chosen accordingly".
For Saba Naqvi, a renowned Indian journalist, political analyst, TV commentator with a focus on Indian government and politics, this will be her second appearance at the BLF. Narendra Pani will be speaking to her on her book, Shades of Saffron: Vajpayee to Modi. Naqvi says, "Dr Pani is someone I respect a lot and so am delighted about my own panel. I'm also on a larger panel on a current issue on the first day. It's been a year of women's empowerment and no city better than Bangalore to reinforce the message".
Antony says that this year, BLF is also going to have a panel on #MeToo with Sister Jesme and journalists Barkha Dutt and Sandhya Menon; a session on Section 377 with Aatish Taseer, Vasudhendra, Robert Dessaix, Anjali Gopalan, and others; and another that will take a nuanced look at the fashion industry with Manjima Bhattacharjya and Shvetha Jaishankar.
Bhattacharjya is a researcher, writer and activist and has been part of the Indian women's movement for over two decades. Her areas of specialisation include gender and sexuality, and labour and the body. She is the author of Mannequin: Working Women in India & Glamour Industry published by Zubaan Books in June 2018. Bhattacharjya says she is looking forward to a dialogue with her co-panelist and moderator, who are from the fashion industry. "Shvetha is a former Miss India winner and accomplished entrepreneur and Susan is the Director of NIFT Bangalore. It's a dream panel for me, really. An opportunity for an outsider like myself to have a conversation with two insiders from the industry. Bangalore has an important place in the history of feminist protest against beauty pageants in India. Perhaps many people don't know that! I would love to share about this significant moment in contemporary history, a moment that defined the relationship between fashion and feminism for decades to come," says Bhattacharjya.
The 7th edition of the Bangalore Literature Festival will take place on the 27 and 28 October at The Lalit Ashok Lawns.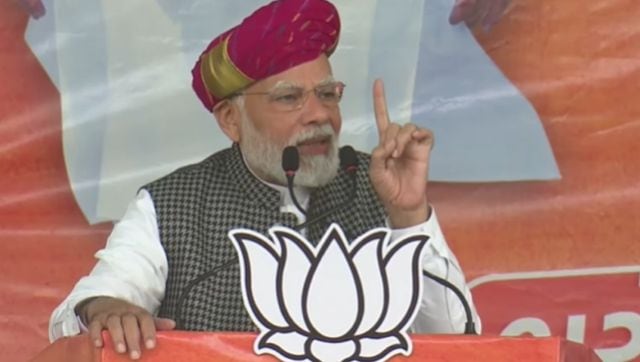 Opinion
In every way, Narendra Modi gains from this needless controversy before the nine state elections this year and the general election next year. And a master politician like him will not let this opportunity for his opponents to malign themselves go waste
India
A screenshot of a chatbot recently went viral showing ChatGPT posing a Shashi Tharoor-style 'leave of absence' for a user. The Congress MP reacted to the chatbot's response and said that he finds it funny