Shah Faesal bats for freedom of speech for bureaucrats after Centre orders action over 'Rapistan' tweet
After Centre ordered a disciplinary action against Jammu and Kashmir bureacrat Shah Faesal for his 'rapistan' tweet, Faesal said 'We are not mere pen-pushers here who have no business to participate in the larger debate around social issues just because our opinions can be misinterpreted as being critical of the government of the day.'
Kashmiri bureacrat Shah Faesal's tweet calling India a 'Rapistan' has come against the backdrop of national outrage over the rape and murder of a 8-year-old girl in Jammu's Kathua, which cost two ministers their posts and became one of the prime reasons why the BJP pulled out of the coalition government with Peoples Democratic Party (PDP) in Jammu and Kashmir.
In the tweet that landed Faesal in trouble, he wrote:
Patriarchy+Population+Illiteracy+Alcohol+Porn+Technology+Anarchy = Rapistan!

— Shah Faesal (@shahfaesal) April 22, 2018
Faesal's troubles got worse after Union government directed the state government headed by Governor N N Vohra, to initiate action against the officer for his tweets. The state government initiated a departmental inquiry and said that Faesal has failed to maintain absolute honesty and integrity in discharge of duties. General Administration Department initiated the disciplinary proceedings at the request of the Centre's Department of Personnel and Training.
"Whereas, the department of personnel and training, government of India has forwarded to this department a copy of communication along its enclosures, in which several references have been made by you in contravention of the extant provisions of All India Services (conduct Rules) 1968/ All India services (discipline and appeal Rules 1969). Screen shots of the posts made by you in your twitter account are enclosed," the letter by the commissioner secretary of GAD read.
GAD noted that Faesal allegedly "failed in maintaining absolute honesty and integrity in discharge of official duty and thus acted in a manner unbecoming of public servant". Faesal, who is currently in the United States, told Firstpost, in an email interview that he saw this call for departmental action totally misplaced and against the freedom of speech. He said government officials can't be asked to detach themselves completely from moral questions of the society they live in.
"We are not mere pen-pushers here who have no business in participating in the larger debates around social issues just because our opinions can be misinterpreted as being critical of the government of the day," 35-year-old Faesal said.
"I think time has come that the issue of freedom of speech and expression of government employees is debated and the conduct rules are rewritten in accordance with the spirit of our age when free speech has become more important than everything else," he added. The 2010 IAS topper created history when he became the only officer from Jammu and Kashmir to have topped the civil services exam, and is presently pursuing the Edward S Mason Mid Career Masters Programme at Harvard University.
The civil services have become a new craze in Kashmir after students, who earlier chose medical and engineering, desperately started thronging new initiative taken by the serving bureaucrats and police officers to coach local youth. Faesal is currently the Managing Director with the Jammu and Kashmir Power Development Corporation. In fact, Jammu and Kashmir has a small fraction of officers in the civil services and Faesal is not new to controversies. He has in the past written many controversial opinion pieces. Faesal, in another tweet, responded in a sarcastic manner and called it a 'Love letter'. He tweeted with the order attached.
Love letter from my boss for my sarcastic tweet against rape-culture in South Asia. The Irony here is that service rules with a colonial spirit are invoked in a democratic India to stifle the freedom of conscience. I'm sharing this to underscore the need for a rule change. pic.twitter.com/ssT8HIKhIK — Shah Faesal (@shahfaesal) July 10, 2018
"It is a ban on freedom of speech and aims at the very basic right of a concerned citizen. It is completely unacceptable," Faisal said.
The Ministry of Home Affairs service rules say that as long as the official says the views are personal, there is no bar on his or her writing or putting anything on social media.
"Any action taken again any bureaucrat is done by invoking Conduct Rules, but if have made up your mind to not respect someone's freedom of speech in terms of criticism, it is a matter of interpretation. There is, and has to be, a fine line between personal and professional. How can you put disclaimers on every Facebook statute, every tweet? This does reinforce our belief that whatever we say on our social media accounts will not be taken seriously," Faesal said.
Last year in December, the Jammu and Kashmir government issued a circular asking its employees to desist from using their social media accounts for any political activity by amending the conduct rules for them. "They shall also not use their personal social media accounts for any political activity or endorse the posts or tweets or blogs of any political figure," the rule says after the state government added a sub-rule in the Jammu and Kashmir Government Employees Conduct rules.
Although Faesal is not bound by these rules, he said he was also a citizen of this country, and like everyone else he too has the right to air his opinion on any social issues that have a bearing on society at large.
The move by the Centre against the bureaucrat from Jammu and Kashmir was been widely condemned by residents of Jammu and Kashmir on social media. Many have said that the bureaucrat is being punished for his social media activism and because of the archaic service rules of the Indian Civil Service.
"He (Shah Faesal) has often been targetted by right-wingers, pro-establishment in India and pro-Independence league in Kashmir. The television unfortunately pitted him against Burhan Wani and in Kashmir this did not go well. He soon become a target for no fault of his own. And now this," industrialist and social activist Shakil Qalander said.
Former chief minister of Jammu and Kashmir Omar Abdullah tweeted in Faesal's support:
Looks like DOPT is determined to chase @shahfaesal out of the civil services. The last line of this page is shocking & unacceptable where they question Faesal's "integrity & honesty". How is a sarcastic tweet dishonest? How does it make him corrupt? https://t.co/6MdUBvC71p

— Omar Abdullah (@OmarAbdullah) July 10, 2018
In another tweet, the National Conference chairman said:
You have no problem when officers from Rajasthan & elsewhere defy "set norms of governance & conduct" yet Faesal's tweet about rape bothers you. Somehow this doesn't surprise me at all! https://t.co/gPheXHxDQt — Omar Abdullah (@OmarAbdullah) July 11, 2018
Student activist Shehla Rashid said:
Rally to defend rapists and lynching convicts, but act against those who critique rape culture. Sure, Faesal's tweet may have been in poor taste, but lack of aesthetics doesn't warrant a gag order when the bigger problem of rape stares us in the eye!!https://t.co/6v26SbATZh

— Shehla Rashid (@Shehla_Rashid) July 10, 2018
Subscribe to Moneycontrol Pro at ₹499 for the first year. Use code PRO499. Limited period offer. *T&C apply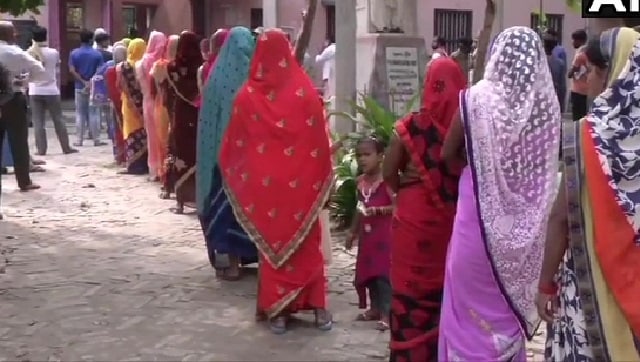 Politics
According to the EC, norms like wearing masks, thermal scanning and social distancing will be followed strictly at all premises being used for poll-related activities
India
The Jammu and Kashmir Board of Secondary Education (JKBOSE) also recently released Jammu (Winter Zone) results for Class 12 students
Politics
Azad's remarks come a day after he and other 'G-23' Congress leaders, pressing for a leadership change and organisational overhaul, at an event in Jammu said the party is 'weakening'