Ayodhya verdict: SC ruling paves way for stern test of 'Shiv-bhakt' Rahul Gandhi's soft-Hindutva strategy
Contrasting reactions indicate that Supreme Court's decision not to refer the Ayodhya title suit and an associated judgment to a larger bench has altered the equation on the ground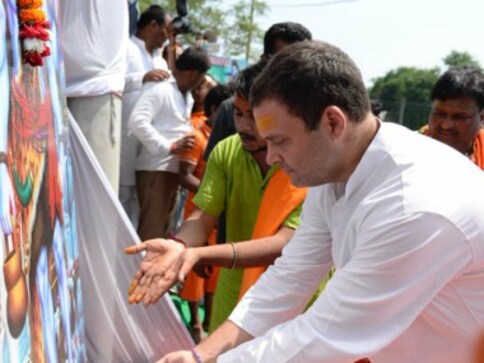 Prima facie, Thursday's Supreme Court verdict has no direct bearing on the main Aydhoya-Ram Janmabhoomi case that is expected to settle the contentious issue of ownership of the disputed land. All that the Chief Justice Dipak Misra-led three-judge bench has done is to decline — through a 2:1 majority verdict — to refer to a larger five-judge constitutional bench the merits of a 1994 apex court ruling that mosques are not integral to practice of Islam. This issue had cropped up during the course of Ayodhya land dispute hearing.
In the Dr M Ismail Faruqui versus Union Of India And Others judgment, a three-judge bench of Justices MV Verma, G Ray and S Bharucha had observed that "while offer of prayer or worship is a religious practice, its offering at every location where such prayers can be offered would not be an essential or integral part of such religious practice unless the place has a particular significance for that religion so as to form an essential or integral part thereof".
The majority opinion, written by Justice Ashok Bhushan for himself and Chief Justice Dipak Misra, held that the main land dispute case (which is a civil suit) must be decided on the basis of evidence and the 1994 verdict is irrelevant to it.
Observation in Ismail Faruqui judgement that mosques is not essential part of religion in the context of acqusition of mosque must be treated as observation but not as governing factor: J Ashok Bhushan @LiveLawIndia

— Prabhati N. Mishra (@Prabhati_Mishra) September 27, 2018
Bhushan held that the "observations in paragraph 52 of the Faruqui judgment that a mosque was not an integral part of Islam have to be understood in the context of land acquisition proceedings. Ismail Faruqui had held that a religious place cannot claim immunity from compulsory acquisition, and the observations regarding mosque were made in that context" and is not relevant for decision-making in the civil suit.
The minority judgment, written by S Abdul Nazeer, dissented with the majority view and held that whether or not a mosque is integral to practice of religion should be first examined by a seven-judge bench before the title suit is decided. However, with majority opinion prevailing over the dissenting note, the hearing in the main land dispute case will now resume on 29 October under the aegis of a new three-judge bench since Misra is due to retire on 2 October.
As has been noted, on the face of it, Thursday's development appears to be peripheral to the resolution of the Ram Janmabhoomi-Babri Masjid dispute. It may seem that the Supreme Court ruling is little more than a footnote in the long-standing legal contest. This is an erroneous impression. The implications of the judgment are deeper. In itself, the decision not to refer the Ayodhya title suit to a larger bench may not directly impact the case, but it doesn't need to. In the game of perceptions around the politically sensitive issue, implications are as potent as real outcomes.
Let's look at a few reactions. Following Thursday's Supreme Court verdict on Aadhaar, senior Congress leaders such as Abhishek Manu Singhvi, Kapil Sibal (both practicing lawyers) and party president Rahul Gandhi were tweeting on the subject. Rahul posted one tweet slamming the BJP and applauding the Supreme Court ruling; Sibal posted the link of his news conference on the subject along with a tweet praising the top court's decision. Singhvi posted several. All three leaders have so far remained silent on Thursday's Ayodhya verdict. The party has issued one non-committal press release reiterating its earlier stand.
INC COMMUNIQUE

Press release by @priyankac19, Spokesperson and National Convener AICC on the #AyodhyaVerdict. pic.twitter.com/HwDaC8Mj4s

— INC Sandesh (@INCSandesh) September 27, 2018
Conversely, Uttar Pradesh chief minister Yogi Adityanath has welcomed the verdict. "The majority of this nation wants a solution to this at the earliest. Those who don't want a resolution, they are trying to hinder the process. Supreme Court's decision is important, we welcome it. Hope Supreme Court will listen to the [Ram Temple] matter and deliver a verdict soon," he was quoted as saying in Varanasi.
The RSS and VHP, too, have welcomed the judgment.
Today,the Supreme Court has decided to hold hearing on the Shri Rama Janmabhumi case from 29th Oct '18 by a 3 member bench. We welcome this decision and are confident that a just verdict will be reached over the case at the earliest. https://t.co/md7xp9AcYn

— RSS (@RSSorg) September 27, 2018
I am satisfied that this impediment has been defeated. The way is now clear for the hearing of Ram janmabhoomi appeals: Alok Kumar, VHP Working President on Ayodhya matter (Ismail Faruqui case) pic.twitter.com/bvAgVYRzNA

— ANI (@ANI) September 27, 2018
These contrasting reactions indicate that Supreme Court's decision not to refer the Ayodhya title suit and an associated judgment to a larger bench has altered the equation on the ground. The BJP (and its fellow ideological travellers) interpret Thursday's ruling as a step towards ultimate resolution of the conflict. By ruling out a reopening of the Faruqui case, the top court (they feel) has nullified attempts to delay and drag some more the Ayodhya dispute. This paves the way for day-to-day hearings and an eventual settlement — perhaps even before the 2019 General Election.
This is precisely the Congress' worry. It fears that if the Supreme Court starts hearing the main Ayodhya title suit, it may create a consolidation of the Hindu vote bank that obstructs its grand project of fragmenting and (at least partially) laying claim to the Hindu vote bank in the Hindi heartland. The party has therefore appeared cagey and cautious, because any movement on the main title suit jeopardises its carefully laid plans.
Like any other verdict, the Supreme Court judgment on the Ayodhya civil lawsuit — where the court will look only at the question of land ownership — may or may not be favourable to Hindus. It doesn't matter. What matters is the timing. In case there is a favourable verdict, the clamour for a Ram Temple will grow manifold. In case the verdict is unfavourable, it may still lead to polarisation on religious lines. In either case, there is a greater likelihood of a consolidation of Hindu votes if the hearing gets under way in right earnest — not to speak of a resolution.
This is where Shiv-bhakt Rahul Gandhi's janeu-dhaari credentials will be sorely tested. The Congress has been trying desperately to shake off its 'pro-minority' image by an extensive Hindutva push —to the extent that the Congress president has recently gone on a Kailash-Mansarovar yatra; Congress posters are mentioning leaders' castes and marking the party president as a 'Brahmin'; his rallies in Madhya Pradesh are indistinguishable from VHP processions and apart from extended 'temple runs', he is being greeted by party faithfuls with chants of 'Har Har Mahadev' in Amethi while performing 'Shiv Aradhna'.
Such grotesque gestures to corner Hindu votes arise from an inability to break the BJP's core vote bank, and that insecurity may rise manifold if Ayodhya title dispute nears resolution. The party — whose senior leader submitted before the Supreme Court in December last year that the matter should be heard only after the completion of the 2019 Lok Sabha election — may be put in a fix. The Congress' ideological integrity to the Hindu cause will be tested, and it will have no easy decisions to take. In this context, Thursday's verdict sets up an exciting legal battle as we head into the 2019 blockbuster.
World
Economically, strategically and even politically, China finds itself in a fix today. If it doesn't mend its way, it would soon find its superpower dream going kaput.
India
The Delhi Police Crime Branch had on Tuesday registered an FIR after 32 officials of Tihar Jail were found to be complicit with the imprisoned duo - Ajay Chandra and Sanjay Chandra
India
Death by selfie is a thing, a fatal national passion. The latest instance comes from Lakhimpur Kheri, where a man had gone to check out a party of elephants on the move