Ayodhya row: Supreme Court likely to start hearing on petitions against Babri-Ram Janmabhoomi high court verdict today
The Supreme Court today is likely to start hearing on a batch of petitions challenging 2010 Allahabad HC verdict trifurcating disputed site at Ayodhya into three parts for Ram Lalla, Nirmohi Akhara and the original Muslim litigant.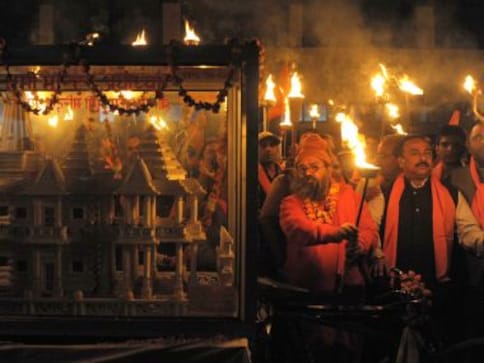 The Supreme Court, on Monday, is likely to start hearing on a batch of petitions challenging the 2010 Allahabad High Court verdict trifurcating the disputed site at Ayodhya into three parts for Ram Lalla, Nirmohi Akhara and the original Muslim litigant.
The matter would be heard by a bench comprising Chief Justice Ranjan Gogoi, Justice Sanjay Kishan Kaul and Justice KM Joseph.
The top court bench of the then Chief Justice Dipak Misra, Justice Ashok Bhushan and Justice S Abdul Nazeer by a majority of 2:1 while rejecting the plea challenging the High Court judgment had directed that the matter would be heard by a three-judge bench from 29 October.
The majority judgement on 27 September held that a new constituted bench will commence hearing from 29 October on a batch of petitions filed by both the sides — Hindu and Muslim stakeholders — challenging the 2010 high court judgement. Justice Bhushan, who had penned the judgment for himself and the Chief Justice of India, had said it has to find out the context in which the five-judge bench had delivered the 1994 verdict.
However, Justice Nazeer had disagreed with the two judges and had said whether a mosque is integral to Islam has to be decided considering religious belief which requires detailed consideration.
The Muslim petitioners had pressed for hearing the challenge to the High Court judgment by a five-judge bench as the court had relied on a 1994 top court judgment that said that mosque was not essential to Islam for offering 'namaz'.
The three-judge bench while rejecting the plea had on 27 September said, "We are of the considered opinion that no case has been made out to refer the Constitution Bench judgment of this court in Ismail Faruqui case for reconsideration."
"We again make it clear that questionable observations made in the Ismail Faruqui's case ... were made in the context of land acquisition. Those observations were neither relevant for deciding the suits nor relevant for deciding these appeals," the majority judgement had said.
In his minority judgement, Justice Nazeer had said that the "questionable" observations in the Ismail Faruqui ruling were arrived at without undertaking a comprehensive examination. He had said a Constitution Bench must decide what constitutes essential practices of a religion and thereafter the Ayodhya land dispute should be heard.
Justice Nazeer also said that whether mosque was an essential part of Islam for offering namaz was to be decided considering the religious beliefs, and that requires detailed consideration.
"It is clear that the question as to whether a particular religious practice is an integral part of the religion is to be considered by the doctrine, tenets and beliefs of the religion," he observed.
He said the question of the 1994 Ismail Farooqi judgement needed to be referred to a larger constitution bench.
Find latest and upcoming tech gadgets online on Tech2 Gadgets. Get technology news, gadgets reviews & ratings. Popular gadgets including laptop, tablet and mobile specifications, features, prices, comparison.
India
The state government had approached the court after an all-party-meeting in Kerala demanded withdrawal of the Union Cabinet's decision
World
The designation of a 'proclaimed offender' may result in the confiscation of his properties and his passport. Sharif has been living in London since November 2019 after he was allowed to visit for medical reasons
India
Rhea Chakraborty has been asked to furnish bond amounting to Rs 1 lakh, and to appear at her nearest police station for 10 days after she is released on bail.