Avani Chaturvedi is first Indian woman to fly fighter aircraft solo: 27-yr-old was commissioned flying officer in 2016
Avani Chaturvedi is one of the three women — including Bhawana Kanth and Mohana Singh — who were the first women to be commissioned as flying officers in the IAF fighter stream in June 2016.
Flight Officer Avani Chaturvedi scripted history on Monday when she became the first Indian woman to fly a fighter aircraft, the MiG-21 Bison. She undertook the sortie from the Indian Air Force's (IAF) Jamnagar base in Gujarat, the IAF confirmed on Wednesday.
A solo sortie is the first milestone for any fighter pilot. Chaturvedi, 27, was one of the first women — alongside Bhawana Kanth and Mohana Singh — to be commissioned as flying officers in the fighter stream in June 2016.
She completed the sortie in in the Russian origin jet in half an hour. "This is a major milestone in training of a fighter pilot and the first time that an Indian woman has flown a fighter aircraft solo. It demonstrates IAF's enduring commitment to 'Nari Shakti'," IAF spokesperson, Wing Commander Anupam Banerjee, told The Indian Express.
Born in Madhya Pradesh's Satna, Chaturvedi completed her schooling from Adarsh Higher Secondary School at Deoland, close to Rewaa. She then graduated in BTech Computer Science from Banasthali University in Jaipur, according to Hindustan Times.
With a love for playing the violin and painting, she joined the college flying club. "I got selected for flying stream and subsequently for fighter flying. I got the opportunity to fly two different aircraft, one very modern and advanced, and the other stalwart trainer with the best instructors," she told Hindustan Times in 2016.
The late astronaut Kalpana Chawla was one of her inspirations, Chaturvedi had earlier told News18 India, "As a child, each one of us looks up to the sky and yearns to fly like a bird," she had said, adding that for her, the dream was realised when she was selected for IAF.
Inspired by her brother and uncle, who are both in the army, Chaturvedi cleared the IAF exam after college. She completed her training at Hyderabad Air Force Academy, according to Zee News. She worked at IBM for a short while after graduating before quitting it to join the IAF.
Her mother Savita had no idea that she had appeared for the IAF exam, the News18 India article added. It was only after her selection was confirmed that her mother got to know about it, the report added.
Chaturvedi, posted to Number 23 Squadron (Panthers), underwent intense training for her first solo flight. Till last week, she trained in twin-seater jets, accompanied by qualified flying instructors of the IAF, The Indian Express report added.

She completed basic flying training on a Pilatus aircraft and then underwent six months of training on Kiran fighter jets at Hakimpet. This was followed by a year-long training on Hawk advanced trainer jets at the Bidar Air Force, the report added.
The three women were commissioned as flying officers in July 2016, less than a year after the government decided to open the fighter stream for women on an experimental basis. The remaining two flying officers will make their solo flights soon too.
The IAF has already selected the next batch of three women trainee pilots for the fighter stream.
With inputs from PTI
also read
India
It looks like a New India under Prime Minister Narendra Modi. The country just got a new Parliament building and it boasts the world's tallest statue, the Statue of Unity; Bogibeel Bridge, India's longest rail-cum-road bridge, among others. And there's more to come
Opinion
Banning is counterproductive. It defeats the very purpose for which it is imposed because, in today's age of social media and cyber accessibility, nothing can be prevented from being seen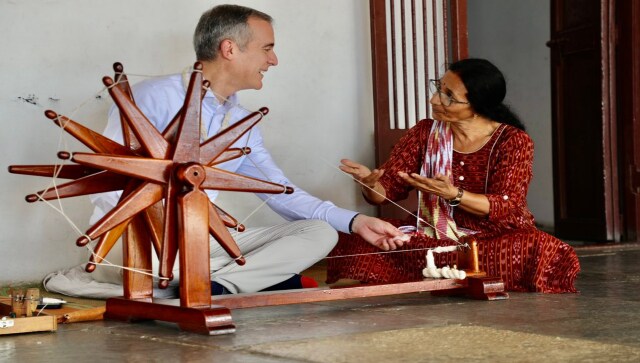 India
The Ashram is located in the Sabarmati suburb of Ahmedabad and has been a witness to many important historical events