Aurangabad violence: Curfew imposed in Bihar district as administration sleeps over flaring communal tensions
Communal violence broke out in Aurangabad district of Bihar for the third consecutive day on Monday as authorities failed to contain the rising tensions.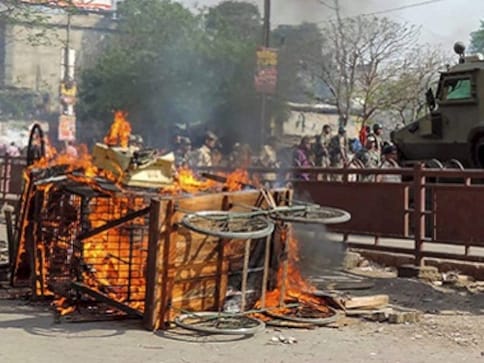 Communal violence broke out in Aurangabad district of Bihar for the third consecutive day on Monday. As many as 50 shops were destroyed and several people, including policemen, were injured. The tension escalated on Sunday when a Ram Navami procession was taken out by Hindu Akhadas which snowballed into full-blown mob violence by Monday.
At around 2 pm on Monday, more than 40 shops were set ablaze, ransacked and looted by the mob, superintendent of police (SP) Satya Prakash Singh told Firstpost, and added that a few shops were again torched after 8 pm the same day. The mob also attacked at least two dozen policemen, Singh added. According to Singh, the procession took a violent turn when it reached the Islamtoli Mohalla at around 2 pm.
"There were hundreds of people in the procession and someone threw a stone at them when they reached Jama Masjid which resulted in violence between the two communities," Singh said.
The district administration, meanwhile, suspended mobile internet services for 24 hours. Singh also said that three companies of CRPF, additional forces from the adjacent district and around 15 companies of PAC have been camping in the city to restore normalcy.
Curfew was imposed in the city but the district magistrate confirmed that Section 144 wasn't imposed in the area. On Tuesday morning, the markets remained closed, but the curfew was relaxed at 9 am.
What led to the clash?
"On Sunday, a clash ensued between the two communities when a Ram Navami procession reached the Muslim-dominated Kaji Mohalla and objectionable comments were made by the people in the procession," district magistrate Rahul Ranjan Mahiwal said.
While permission for Sunday's procession was granted by the district administration, Monday's procession was taken out after an oral assurance was given by both groups that they will help restore peace and communal harmony in Aurangabad, Mahiwal said.
"Both groups violated the assurance of reinstating communal harmony," he said, adding that both sides (people from both Hindu and Muslim communities) were at fault, as they went on a rampage across the city.
"The mob did whatever it could to harm the peace and harmony of this peaceful city. They destroyed shops and set ablaze anything that came in their way. The situation became peaceful only after the police chief and I came out on the street to pacify the outraged crowd. The mob was brought under control on Sunday without major loss, but unfortunately, it broke out again on Monday with larger intensity," Mahiwal said.
"Patrolling has been intensified and we are going through CCTV footage to identify the culprits and notorious elements involved in this violence. Over 200 people have been detained so far," he added.
'Police failed to learn a lesson'
Zahir Ahsan Azad, spokesperson of the ruling Janata Dal (U) in Bihar, said that people from both the communities were involved in disturbing the peace in Aurangabad.
"Remember it takes two to clap. There are wrong people in both the communities and anti-Islam slogans were raised when the procession reached the Muslim-dominated area. The event took a wrong turn when community members objected to the slogans," he added.
A total of six localities, all Muslim-dominated, which fall on GT Road were the worst affected by the violence. The mob also resorted to firing and allegedly used hand-made bombs, people in these localities said.
A video shot by one of the Hindu mobsters accessed by this reporter shows hundreds of men raging havoc at a Muslim burial ground and proclaiming victory with loud chants of 'Jai Shri Ram', after having pitched a saffron flag there.
"How is it right to destroy a mosque, or how is it right to raise slogans that hurt sentiments and damage the Karbala?" questioned the JD (U) spokesperson.
"Is sheher ke musalmaano ne mishaal pesh ki hai. Wo chup chaap sehte rahe aur kuch logo ne is sheher ko jala daala (Muslims of the city have proved a point by silently enduring (violence) while some folks went out burning the city)," Azad said, while also holding the district administration and police accountable for the entire episode.
"I fail to understand why proper deployment of forces was not made when people in such a large number were gathering for this procession. Police's carelessness shows they did not learn a lesson from Sunday's incident. What were they (police) doing when shops of the Muslim community were ransacked and set ablaze by the mob," he questioned.
A repeat of Kasganj
Mohammad Naeem, a resident of Purani Kaji Mohalla, who was admitted to the Aurangabad district hospital, told reporters that he had sustained a bullet injury but his condition was stable.
"I think it was a police bullet that hit me. I am an ambulance driver and I do not have animosity with anyone. It was a mob, so I cannot name a single person," Naeem told media.
Chief surgeon at Aurangabad district hospital, Dr Janardan Prakash, told Firstpost that five additional doctors had been called in and added that the condition of all the injured was stable by Tuesday.
Aurangabad's mob violence unfolded in a manner similar to how the riot broke out in Kasganj, Uttar Pradesh, in January. A procession was taken out in both the incidents, objectionable comments were raised, which resulted in stone pelting, and then shops and religious places were set ablaze.
While the impact of violence was within a six-kilometre radius, borders of Aurangabad city were sealed and vehicles were diverted on GT Road, away from the affected area. Senior police officers from Gaya and Patna also reached Aurangabad on Monday night.
Medical services have not been affected, but schools and colleges have been asked to remain shut on Tuesday.
District BJP unit representative, who participated in the peace committee meeting, refused to comment on the turn of events.
The author is a Lucknow-based freelance writer and a member of 101Reporters.com, a pan-India network of grassroots reporters.
also read
India
The home minister on Thursday asked people to surrender arms and ammunition before the Manipur police by the end of the day and warned of strict action against those who failed to do so.
India
Union Home Minister said that six cases related to the violence will be probed by the Central Bureau of Investigation.
India
Sub-divisional educational officers and principals of state-run higher secondary schools said in a letter sent to all district and school authorities to allow the displaced students to be enrolled in state-run and government-aided schools if they seek admission