Atal Bihari Vajpayee will be remembered for disrupting Cold War order, sowing foreign policy seeds for future
Any examination of India's foreign policy would be incomplete — starkly so — unless we look at how instrumental the late Atal Bihari Vajpayee was in key areas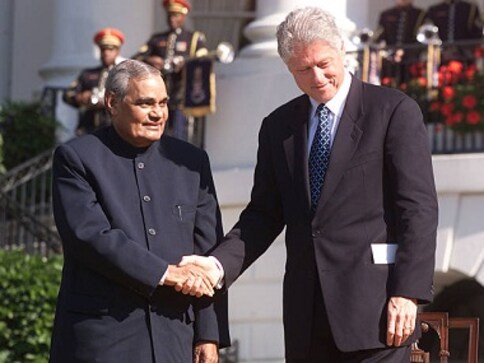 India's foreign policy continues to be one of the most fascinating segments of the country's governance since Independence, particularly given the several twists and turns it has endured. Through the Non-Aligned Movement, past Cold War equations and an enduring friendship with the USSR/Russia, through wars with Pakistan and China (followed by the on-off thaw with China), and all the way to the manner in which India-US relations have transformed, there's hardly a dull chapter in India's external affairs, and plenty of people to whom it owes its success.
That said, any examination of India's foreign policy would be incomplete — starkly so — unless we look at how instrumental the late Atal Bihari Vajpayee was in key areas that have gone on to define the way India interacts with the world.
As Minister of External Affairs
Vajpayee took office as Minister of External Affairs in the Morarji Desai Cabinet on 26 March, 1977. It was that year at the UN General Assembly that he became the first person to address the world body in Hindi. An indication of how ahead of his time — or alternately how certain central aspects of Indian foreign policy endure despite numerous regime changes — the speech was, lies in Vajpayee's reference to "Vasudhaiva Kutumbakam". The notion that the 'world is one family' remains a regular aspect of Prime Minister Narendra Modi's public addresses overseas as well.
Another notable aspect of Vajpayee's tenure as foreign minister was his commitment to rebuilding India-China relations that had taken a beating following the 1962 war between the two countries and Beijing's support to Islamabad in the 1965 India-Pakistan War.
With that in mind, Vajpayee paid the Chinese capital a visit and set the wheels in motion for the reestablishment of diplomatic relations between the two Asian countries. It is also believed to have been his idea for the two countries to list their differences — including each country's idea of where the border lies — so that these could be addressed through consultation groups.
India as a nuclear power
The Pokhran-II tests on 1998 — in which India announced loudly on the world stage that it was a nuclear power — were as much an exercise in boosting India's defensive capabilities as one in foreign policy.
The sanctions that flew swiftly following the 14 May, 1998, tests were testament to that fact. "India is now a nuclear weapons state... We have the capacity for a big bomb now. Ours will never be weapons of aggression," said Vajpayee at the time, and stated that India's would be a 'no first use' policy — something our neighbour to the northwest has staunchly chosen not to espouse.
This supposed 'act of aggression' — viewed as it was in certain parts of the world — took place over two decades ago and in the time since, India has never wavered on 'no first use' and never threatened any State with nuclear weapons. This serves as a vindication of Vajpayee's words that India's nuclear arsenal would never be weapons of aggression.
Relations with the US
Among the countries that sanctioned India the heaviest following Pokhran-II was the US. Bilateral relations were at a low — perhaps not quite as low as 1971 when Richard Nixon sent the US' 7th Fleet to the Bay of Bengal to attack the Indian Army during the Bangladeshi War of Liberation; but still pretty bad. It is therefore all the more astonishing that under two years after the nuclear tests, Vajpayee's government had invited then US president Bill Clinton to India.
And the Arkansas-born president went on to make the first State visit by a US president in 22 years (Jimmy Carter had visited in 1978). Two things were happening simultaneously — evident in the signing of the landmark agreement titled, A Vision for the 21st Century: The gradual dissolution of Cold War hardlines and the equally gradual formation of post-Cold War partnerships.
Clinton signalled Washington's shift from its close ties with Islamabad, while Vajpayee showed India's willingness to no longer be as reliant as before on Russia. It was that landmark document that laid the platform for his successors Manmohan Singh and Modi to build on and turn the bilaterals into one of the most robust ones in India's foreign policy network. Of course, Donald Trump might have a thing or two to say/do about it.
Relations with China
History has not judged Vajpayee's outreach to China in as positive a light as the outreach to the US — with one publication describing the former prime minister as "a bull in a China shop". However, it's worth looking at his role in setting out a structure for New Delhi and Beijing to arrive at an understanding. As prime minister, Vajpayee was invited by then premier Wen Jiabao in 2003 for a milestone State visit and it culminated in the signing of a Declaration on Principles for Relations and Comprehensive Cooperation.
Within this text, were the lines: "The common interests of the two sides outweigh their differences. The two countries are not a threat to each other. Neither side shall use or threaten to use force against the other... Both sides agree to qualitatively enhancing the bilateral relationship at all levels and in all areas while addressing differences through peaceful means in a fair, reasonable and mutually acceptable manner. The differences should not be allowed to affect the overall development of bilateral relations."
And since then, all sorts of ministerial and special representatives' consultations have been put in place between the two countries, not to mention the array of multilateral institutions that number both countries as members.
Relations with Pakistan
It is perhaps Vajpayee's hand in this particular bilateral that history will remember most clearly in the decades to come. The former prime minister saw peace with Pakistan as a key step in resolving the Kashmir conflict, and made it a priority.
On 19 February, 1999, Vajpayee was among the passengers on the Delhi-Lahore bus at the invitation of  his Pakistani counterpart Nawaz Sharif and proceeded to sign the Lahore Declaration. The 2001 Agra Summit came as a breath of fresh air and a new hope for peace following the Kargil War (more on this later). And following a spell of tensions with Sharif's successor General Pervez Musharraf, Vajpayee called for the resumption of bilateral talks in January 2004.
In fact, another facet of his policy towards Pakistan was evident in his message to Sourav Ganguly's Indian cricket team ahead of its historic 2004 tour of Pakistan. Vajpayee's words were not exhortations of "Bleed Blue" or "Jeetke aao varna Pakistan mein ghar basao" or anything of the sort. He simply told Ganguly and his cohorts, "Dil jeetke aao (go and win hearts)", demonstrating how even as the wounds of 1999 Kargil War were still healing, here was a man capable of drawing distinction between sports and politics. That said, and on the topic of 1999, if anyone was under the impression that Vajpayee was soft on Pakistan, his unwavering and firm response to Musharraf's aggression in Kargil proved otherwise.
Southeast Asia
Elsewhere, while Vajpayee did not himself create India's 'Look East' policy — the credit for that goes to PV Narasimha Rao, he did infuse it with energy and an widening of India-ASEAN linkages. No longer was the relationship purely based on economics and trade. A more expansive agenda that included connectivity, maritime security and joint Humanitarian Assistance And Disaster Relief operations was adopted and pursued. Subsequent prime ministers have sought to and successfully pushed it forward, with Modi's 'Act East' the most recent avatar of the policy.
The sower of seeds
Ultimately, a lot of the fruit of Vajpayee's labour in the realm of foreign policy is being borne today/will be borne in the years to come. His disruption of the Cold War order and broadening of India's international relations horizons were responsible for sowing foreign policy seeds that remain the former prime minister's biggest contribution to India's foreign policy.
World
Irish unity did not play a big role in this year's Northern Ireland election campaign, which was dominated by more immediate worries, especially a cost-of-living crisis driven by the soaring costs of food and fuel
World
The protocol approved for use in the United States includes two medications. The first one, mifepristone, blocks a hormone called progesterone that is necessary for a pregnancy to continue. The second, misoprostol, brings on uterine contractions
India
On this day in 1998, India led by Atal Bihari Vajpayee carried out nuclear tests in Rajasthan's Pokhran area, away from the prying eyes of America. After the detonation of all five warheads on 13 May 1998, India declared itself a full-fledged nuclear state