At least 11 people dead due to landslides, flash floods caused by heavy rainfall in North India; 'red alert' issued in Punjab
Red alert issued in Punjab and Incessant rains triggered flash floods and landslides in hill states of northern India, with at least 11 people killed on Monday in Jammu and Kashmir, Himachal Pradesh and Haryana.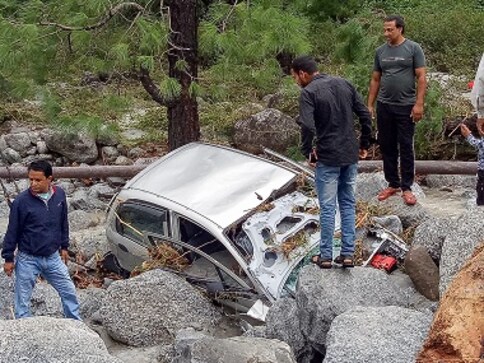 New Delhi: Incessant rains triggered flash floods and landslides in hill states of northern India, with at least 11 people killed on Monday in Jammu and Kashmir, Himachal Pradesh and Haryana, and a 'red alert' being issued in Punjab.
The Bhakra Beas Management Board (BBMB) issued an advisory to the Punjab government that it will release "excess" water from the Pong dam in the wake of incessant rains in catchment areas of the Beas river.
Educational institutes have been ordered to remain closed on Tuesday in Punjab. Schools have been closed in Doda district of Jammu and Kashmir and in most places of Himachal Pradesh.
Heavy rains led to landslides which blocked the roads to Badrinath, Kedarnath and Yamunotri, affecting the Chardham Yatra, while traffic snarled in the national capital due to waterlogging following heavy rains.
The Punjab government has asked district authorities to maintain vigil to avert any untoward situation due to heavy rains, an official said.
Punjab has been witnessing widespread rainfall for the last two days and the downpour continued on Monday, prompting state authorities to review preparations to tackle flood-like situations.
Incessant rains in Punjab and Haryana could cause damage to kharif crops and dip in their yield, farm experts said.
In Haryana's Ambala, a 45-year-old man died when the roof of his house collapsed due to heavy rains, police said.
Five people, including a minor girl, died and as many injured in separate incidents during heavy rains in Kullu, Kangra and Chamba districts of Himachal Pradesh on Monday, the officials said. A "high alert" has been sounded for Kullu district.
Several houses were also swept away in flash floods as the Beas is flowing at a dangerous level, HP Forest Minister Govind Singh Thakur said, cautioning people against going near rivers and nullahs.
An Indian Air Force team had rescued, with the help of a chopper, 21 people stranded due to flash floods at Dobi in Kullu district in the last 48 hours.
BJP MP from Hamirpur Anurag Thakur said, "So far, 126 roads have been affected by landslides triggered by rains and news of the loss of lives are too pouring in from many places."
People residing in the low-lying areas, especially in Kangra, Chamba, Kullu and Mandi districts, are being evacuated, officials said.
In Chamba, the Ravi river is still flowing at a dangerous level and people are being evacuated from low-lying areas by the administration since Sunday, Superintendent of Police Monica Bhutunguru said.
In Uttarakhand, most of the places, including state capital Dehradun, received showers with around 45 rural roads blocked in these districts, the state emergency operation centre said.
In Rajasthan, heavy to moderate rainfall was recorded in various parts of the state in 24 hours, an MeT official said.
Heavy rains lashed several parts of the national capital, causing waterlogging and traffic snarls on major intersections in the city.
In Jammu and Kashmir, five members of a family, including three minors, were killed Monday when their house was buried under debris after a landslide in the Doda district, while 29 people stranded in Kathua district after flash floods were rescued.
Doda and other parts of Jammu region have been lashed by incessant rain for the past two days.
"A total of 29 persons, including six women and 10 children, were rescued from various flood-hit areas of Kathua district during overnight operations," a police officer said.
With improvement in weather, authorities Monday morning opened the 270-km Jammu-Srinagar national highway for traffic.
Multiple landslides and shooting stones from a hillock along the highway between Ramban and Udhampur districts had blocked the arterial road since Sunday morning.
India
Curfew was imposed in Bhaderwah in Doda district on 9 June following communal tension in the wake of protests over remarks by now-suspended BJP spokesperson Nupur Sharma on Prophet Mohammad and some social media posts by local right-wing activists in her support
India
The Union minister also said that the StartUp culture in Jammu and Kashmir is now evolving with women seen building their startups in every sector which is a positive thing in itself and will enthuse others towards StartUps
India
IGP Kashmir Vijay Kumar said that the Jammu and Kashmir police will continue counter terrorism operations in all Kupwara, Pulwama and Kulgam and won't let terrorists deter security forces efforts to bring peace in valley