Uneasy calm in Assam's Kokrajhar district as killing of Muslim leader revives memories of 2012 riots
The incident happened an hour after Prime Minister Narendra Modi left for New Delhi from Guwahati after reviewing the damage caused by the recent wave of floods.
The gunning down of All Bodo Minority Students' Union (ABMSU) president Lafikul Islam at Kokrajhar's Titaguri market area on Tuesday by unidentified motorcycle-borne gunmen sent a chill down the spine of people living in the Bodoland Territorial Area Districts (BTAD) and brought back gruesome memories of the 2012 communal riots.
The gravity of the situation can be gauged from the swiftness with which the state machinery swung into action, with Chief Minister Sarbananda Sonowal directing state director general of police Mukesh Sahay to immediately visit the communally sensitive area and ensure law and order is maintained.
"I strongly condemn the killing of ABMSU president Lafikul Islam. (I have) Directed Assam police DGP to visit Kokrajhar and do a thorough investigation," said Sonowal on Twitter.
"At this moment, we are actively investigating (the incident). We are not ruling out anything. We are examining all angles. We are ensuring extra security. The DGP is on his way and we are definitely taking all precautions. Additional security forces are also being brought in from the headquarters. We are taking all steps to maintain law and order," said Kokrajhar's additional superintendent of police Tabu Ram Pegu.
A police officer who was posted in Kokrajhar when the 2012 riots took place, said on condition of anonymity that it all depends on the circumstances if the situation snowballs into something tragic like it happened five years ago.
According to media reports, special DGP Kula Saikia has been entrusted with bringing the culprits to task, and he has 24 hours to do so.
According to a police official, Islam was not accompanied by the personal security officer provided by the Assam Police when the assassination happened.
ABMSU has called for a shutdown of BTAD area for an indefinite period, while many minority organisations have taken to the streets in places like Tamulpur, Abhayapuri, Bijni, Golaghat among others. They also blocked roads, burned tyres and effigies of Sonowal and Bodoland Territorial Council (BTC) chief executive member Hagrama Mohilary. The BTC looks after the administration of BTAD districts of Kokrajhar, Baksa, Udalguri and Chirang.
Former Assam chief minister Tarun Gogoi sought a CBI enquiry to the incident.
"The Assam government completely failed to assess the threat perception to the young man who was involved with many social activities. They provided him with one personal security officer which was grossly inadequate. This killing is purely political in nature," the former chief minister told reporters in Guwahati.
BTC chief Mohilary, who visited the crime scene, urged people to cooperate with law enforcing agencies so that culprits could be caught at the earliest. "This is no doubt a political conspiracy to destroy the unity between Muslims and Bodos. People should not be emotional. Nobody who is guilty will be spared," he vowed.
What makes it particularly embarrassing for the state administration is that the incident took place just an hour after Prime Minister Narendra Modi left for New Delhi from Guwahati, after reviewing damage caused by the recent wave of floods.
All political parties, however, quickly condemned the incident and appealed for peace. "We are extremely sad by this killing. We condemn it in the strongest possible words. Islam was a powerful leader and I knew him personally. He always spoke for the upliftment of the minority. It's a worrisome situation, if even leaders are not secure, what will happen to the general public? He was killed in broad daylight in a marketplace," said Aminul Islam, general secretary of the All India United Democratic Front.
Aminul Islam further blamed the BJP government for the state's deteriorating law and order situation. "We have taken a lot of effort and reached out to different communities to bring about peace and harmony in Bodoland. But I think there is a 'third force' that may be trying to ignite the communal fire again. I fear there is an outside hand and a section of the people that is always trying to cause communal violence. We hope there is no repeat of 2012. AIUDF strongly urges the state government to maintain peace at any cost and nab the culprits," he added.
However, he did not speculate who this "outside" or the "third force" could be.
Congress MP from Assam Gaurav Gogoi also stressed that it is the state government's responsibility to maintain law and order in tact. "It is a very unfortunate incident and I condemn it strongly. Law and order must prevail. Perpetrators must be apprehended soon. We hope that the government of Assam would do its best," Gogoi said from New Delhi.
The BJP also alleged that some unscrupulous elements were behind the incident, and they may be trying to create disturbance to derail the state's development process.
"Since the BJP is working well and causing all-round development in the state, some people are trying to create a repeat of the 2012 situation. Some opportunists are trying to defame the government. The BJP has strongly condemned this cowardly act. We have appealed to all communities that peace and harmony should continue. Although the differences that occurred in 2012 have been largely resolved, there are still some sticky issues. Our immediate priority is that the culprits should be caught forthwith, and we have already spoken to the Kokrajhar deputy commissioner, superintendent of police, and our party state president," said Bibhuti Borgiari, Kokrajhar BJP district president.
In 2012, districts of Kokrajhar, Chirang and Dhubri in Assam were the worst hit, while Bongaigaon and Baksa districts also saw rioting take place. Over three lakh people were affected in the violence and nearly 80 people lost their lives. The clashes had occurred between Bodos and the Bengali-speaking Muslims, who, the former alleged, were illegal migrants from neighbouring Bangladesh.
India
Union Home Minister will lay the foundation and take part in the groundbreaking ceremony for CENWOSTO-II (Central Workshop and Stores) for Central Armed Paramilitary Force (CAPF) at Kelenchi in Tamulpur district
Politics
Like the BJP, the Congress too just concluded a conclave of its senior leaders called 'Chintan Shivir'— coincidentally also in Rajasthan, at Udaipur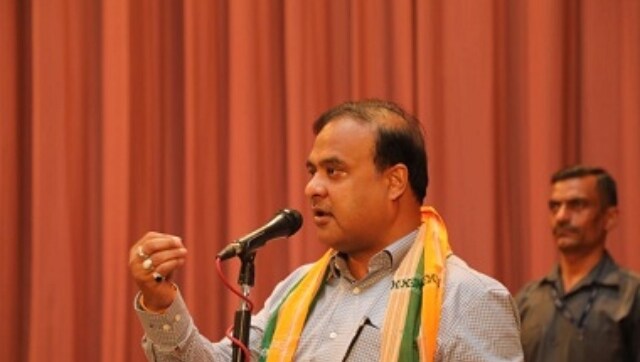 Politics
The BJP maintains it was a 'human error', while the Opposition smells conspiracy to 'promote' Amit Shah as the next prime minister